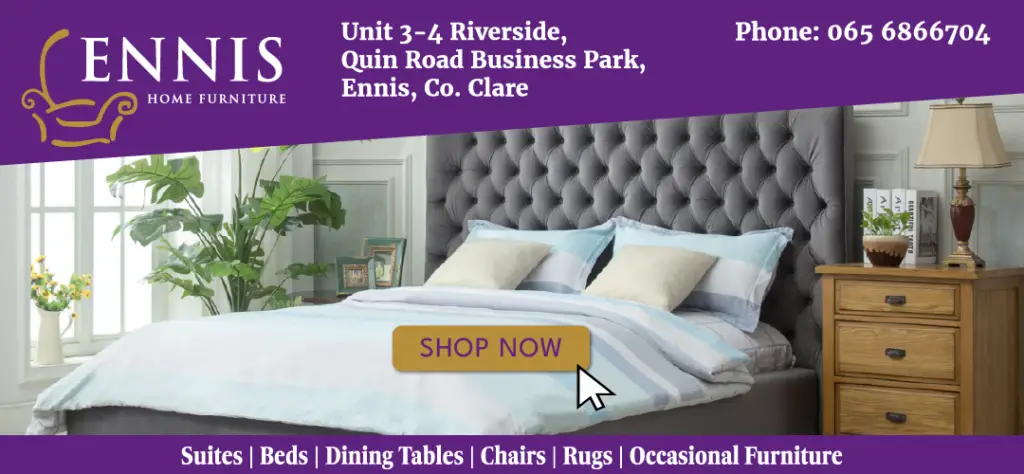 The Ennis ladies' Christmas Spirits week two competition was won by Peg Hanrahan (19) with 31 points from Bridie Hanrahan (21) with 29 points with third place filled by Suzanne Deane (17) with 28 points.
The winner of the week one competition was Helen Gallery (25) with 31 points from Peggy Costello (23) with 29 points. In third place with 27 points was Patrice Ryan (35) followed by Monica Finnerty (23).
Patricia O'Reilly (25) won the nine hole competition 20 points from Mary Woulfe (15) with 16 points. Patricia O'Reilly (25) also won the previous week's 9 hole competition with 21 points from Margaret Flanagan (19) with 15 points with Carmel Verling (10) in third place, also with 15 points.
Last week's senior ladies competition was won by Brid Cunningham, Margaret Flanagan and Marie Dileen with 48.8 from Margaret McEnery, Mary Kearns, Carmel Verling and Eileen Daly with 57 points.
The previous week's competition was won by Brid Cunningham, Liz Kelly and Ann White with 50.57 from Frances O'Reilly, Claire Ruane and Mary Kearns with 54 with third spot filled by Carmel Verling, Ann Kelly, Mary McMahon and Eileen Daly with 54.4.
Meanwhile the men's competition at the weekend was a team of four with two scores to count. The winners, with 72 points, were Peter Quinn (15), Michael Sullivan (15), Noel Ryan (17) and Seamus Bowe (23). In second place with 70 points were Dermot Doheny (3), John Coleman (12), Martin Moran (3) and Darren McGill (12) and they were followed by Pat McInerney (19), John Casey (20), Joseph Griffin (13) and James Casey (10) with 69 points.
Dromoland Golf Club:
Philip Hehir was the winner of the singles stableford competition at Dromoland at the weekend with 40 points from John O'Shaughnessy with a similar score. In third spot with 36 points was Tony Kelly.
The winner of the ladies turkey competition was Joan Ryan with 19 points from Joan Dunne with a similar score. Leslie O'Flynn also with 19 points, was third with Ann McMahon in fourth spot with 18 points.
Kilrush Golf Club:
John K. Ryan (12) won the mens turkeys singles competition at Kilrush last week with 32 points He had one to spare over Bernard Coleman (11) with third spot filled by Sean Lyons (12) with 28 points.
Gort Golf Club:
Kieran Hannon (12) was the winner of the men's 18 hole singles stableford competition at Gort at the weekend with 41 points. Joe Moran (5) won the gross with 30 points.
The ladies Christmas 3 person waltz competition was won by Carmel Joyce, Bernadette Burke and Teresa Brennan with 58 points from Josie Collins, Josie Cummins and Patricia Skehill with 51 points.
East Clare Golf Club:
Last week's senior men's competition at East Clare was won by Martin McKeogh, John Farrell and Noel Earley from Kevin Wallis, Tony Kay and John Brett with third spot filled by Jimmy Nagle, Pat Duggan and Paddy O Brien.
The winners of the Friday mixed scramble last week were Tony McNulty, Terry Coughlan and Mary Jo Minogue from J.J. Barton, Pat McNamara and Willie Hayes with third spot filled by Mary Hogan, Willie Roche and Richard Pomfret. The Friday morning mixed scramble continues every Friday at 10 a.m.