IN THE Snack Shack in Ennis sits a countdown clock to Christmas Day, which gets whipped on display every year when October rolls around.
Today, the countdown clock says there are 74 days until Christmas. It's a timely reminder to get your shopping lists in order but equally, a nudge to your boss that it's time to organise the office Christmas Party before everything gets booked up.
Here at The Clare Echo, we like to support local businesses but equally point readers in the direction of the most happening spots to enjoy a Christmas shindig this year. So here's our list of the best places for a Christmas Party this year.
The Old Ground Hotel
This iconic spot has it all. The Town Hall Bistro which provides a welcoming environment with great food championing local ingredients; The Poets Corner Bar, the perfect place for a pint and session after your meal, or if you're feeling really fancy, The Brendan O'Regan Restaurant for special occasions. Book now on 065 682 8127.
Shannon Springs Hotel & The Old Lodge Gastro Pub
Celebrate Christmas 2023 at the Shannon Springs 4-star hotel and The Old Lodge Gastro Pub. The hotel has been transformed into a stunning 4-star location in recent years under the management of John Gavin and Dermot Kelly. Party Packages are available from €39.95 per person, while Christmas lunches start at €28.50 per person. You can also avail of a festive afternoon tea for a fun alternative earlier in the day from €25 per person. To book, call 061 364 047 or email info@shannonspringshotel.com.
The Monks Society
One of the coolest establishments in the county, The Monks Society on Abbey Street in Ennis will be a massive hit with Christmas parties this year, so be sure to get booking early. A variety of menu options and separate private areas for eating, dancing and drinking, there's also entertainment every weekend. The Monks Society also has a very exciting cocktail menu. To book, call 065 670 0111.
Inn At Dromoland
The Inn At Dromoland are running shared Christmas Party Nights with only two dates remaining, Friday December 8th and Friday December 15th. For just €60 per person, included is a mulled wine reception, four course festive meal with mince pies, and MC through the night with games and spot prizes, a live band and DJ, midnight snack while there's also discounted accommodation rates. For deposit and booking, call 061 368 161 or email info@theinnatdromoland.ie.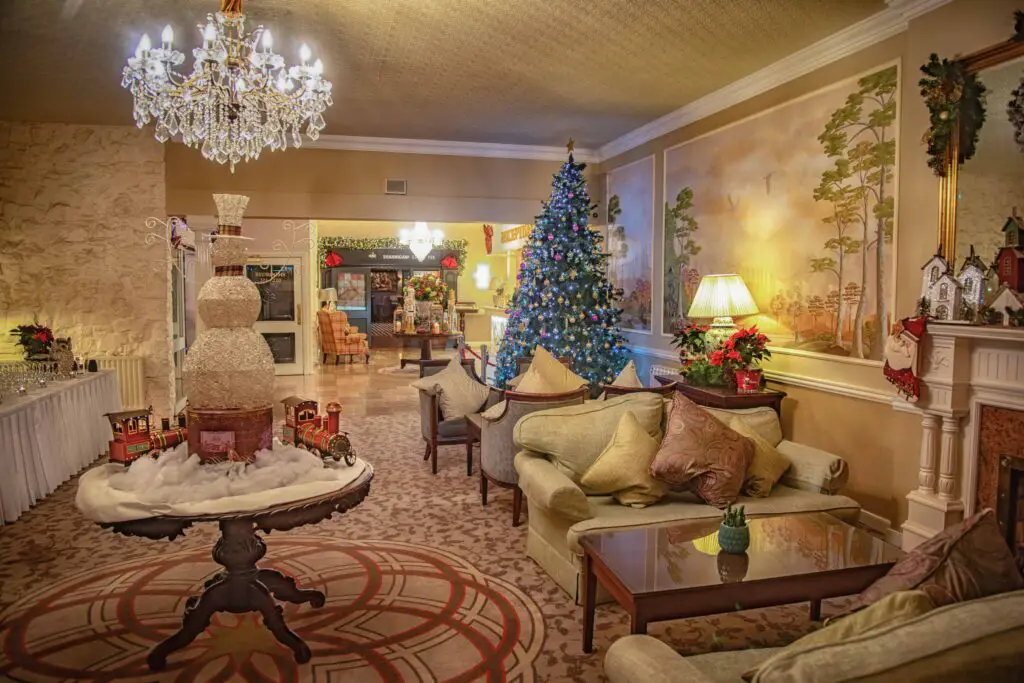 Dromoland Castle
The world-famous Dromoland Castle might be known for its luxury but they know how to throw a party too. On Saturday, December 16 at Dromoland Castle, there will be a specially created five-course dinner menu with festive flavours, entertainment on the night with James Sexton including quiz and spot prizes, followed by a band and DJ. Tickets priced at €100 per person. To book, call 061 368 144 or email banqueting@dromoland.ie.
Durty Nellies
Durty Nellies, it doesn't get much better for atmosphere! Durty Nellies will have lots of Christmas and New Year's packages available, with live music every night and private function rooms available throughout the festive period. They can cater for groups between 20 and 140 and will work with you to provide the perfect setting for your festive night out. Call 061 364 861 or email info@durtynellies.ie to get booking.
The Grove, Roslevan
Relax and enjoy delicious food and refreshments in Ennis at The Grove. For your Christmas Party, you'll get a two-course meal for €26 pp or a three-course option for €32. The mouth-watering menu includes the likes of sirloin steak, crusted fillet of hake, vegetarian wellington and more. To book, call 065 689 3280.
Nora Culligan's Bar, Ennis
Nora's has a number of areas suitable for party groups this Christmas such as the sophisticated Balcony Bar upstairs with its own outdoor area, or the classic Lounge area downstairs or the cosy Whiskey Bar. Nora's will work with you to accommodate food brought in from local food businesses and will liaise with customers to find the right option for suit all budgets and tastes. Top class DJs and bands will play the Christmas classics all the way through the festive period. To book, call 065 6824954.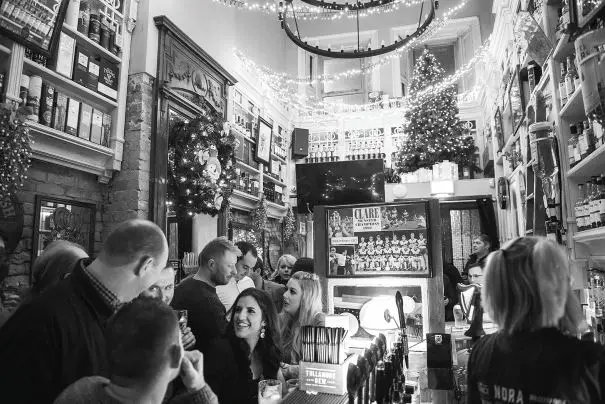 Knox's Pub & Storehouse Restaurant
One of Ennis' most recognisable buildings, Knox's Pub and Storehouse Restaurant has a number of options over the Christmas Party period. From a three-course meal in the Storehouse with an option to reserve an area in the pub afterwards, or finger food in the bar, Knox's have the best bands and DJs with late bar til 2am on the weekends. Special lunch menu available on request. Call Knox's on 065 6822 871 or email info@knoxs.ie.
A night at the dogs
If you're looking for a fun night out, Limerick and Galway Greyhound stadiums are offering Christmas party bookings now, where you can take in a few races while enjoying your meal and a few drinks. Visit www.limerickgreyhoundstadium.ie or www.galwaygreyhoundstadium for more details.