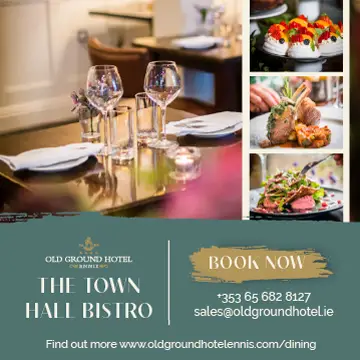 *Dean Casey. 
Dean Casey had a weekend to remember as he was crowned a National Cross Country Champion.
Casey was first home in the U18 National Cross Country race beating Antrim duo Adam Ferris and Matthew Lavery to the top spot. His Ennis Track clubmates, Mark Hanrahan, Matthew Power, John O'Donoghue and Jason O'Regan finished in thirtieth, eighty seventh, ninety second and ninety ninth respectively.
A TY student at St Flannans College, Dean's result was the highlight for the county at the Irish Life Health National Cross Country Championships. He had a top ten finish as did Donal Devane in the Junior Men's race with Mark Hanrahan making it into the top fifty, Padraig Cahill (87th), Matthew Power (112th) and Jason O'Regan (125th).
Laura Healy also of Ennis Track was fifteenth in the Junior Womens followed by Roisin Cahill (40th), Eva Carey (58th), Carla Griffin (77th), Róise Ní Lachtain (102nd),
Finn Duignan of St Cronans AC took the silver medal in the Boys U12 with James Rochford (17th), Oliver Finn (21st), Ian Ryan (30th), Daithí O'Leary (34th), Brian Wallace (42nd), Aodán Ó Lachtain (56th), Ryan Kelly (79th) all putting in strong runs.
Ennis Track's Faye Mannion had a seventh place finish in the Girls U12 with others from the Banner County including Millie Watts (13th), Sophie Maher (16th), Clara Keogh (24th), Sinead Robertson (29th), Evie Quinn (37th), Siobhán Healy (80th), Ava Robertson (111th), Aoibhe O'Leary (159th).
St Johns' Gemma Galvin got to celebrate finishing in the top twenty of the Girls U14 with Grace Rynne and Aoife Lillis in the top thirty. Tara Casey (37th), Lucy Shannon (45th), Clodagh Carey (52nd), Hazel O'Shea (53rd), Nicole Keane (59th), Holly O'Boyle (99th), Maria Wallace (100th) all got over the line.
There were ten Clare runners in the Boys U16. Niall Murphy (15th), Barry Conway (21st), Gerard Dunne (48th), Cian O'Boyle (57th), Conor Faulkner (58th), Thomas McGuire (65th), Colin Ryan (77th), Kieran Doyle (82nd), Cillian McElroy (85th), Oisin Hayes (110th), 7
Likewise in the Girls equivalent, Neasa Ní hÁiniféin (7th), Ellen Mannion (55th), Michelle Healy (57th), Avril Lillis (70th), Alma Griffin (104th), Katie Arthur (112th) and Saoirse Crowe (121st) kept the county flag flying.