*Joe Carey. Photograph: Arthur Ellis
Joe Carey (FG) is of the view his team of canvassers is the strongest of all fifteen candidates in the field.
FACTFILE –
Occupation – TD
Family – One brother and a sister. Married to Grace with two children, Alma (10) and Dan (8).
DOB – 21/06/75
Schools/Colleges Attended – Clarecastle NS, St Flannan's College, Galway IT, Athlone IT
Political CV – Involved in local Tidy Towns in Clarecastle. Member of Clare County Council 1999 – 2007. TD since 2007, ex Fine Gael Asst Chief Whip. Son of former TD, Donal Carey.
Top 3 Priorities – Shannon Airport, Health, Rural & Community Development
Something the electorate don't know about you – I cook the Christmas dinner every year.
Ahead of the 2016 General Election, it was reported that Carey had the lowest profile of the Clare TD. The same allegation and that he was the quietest of the Banner quartet in the Dáil Éireann has once again been levelled at the Clarecastle native by voters and pundits. "I was a backbench Government TD and it is a difficult place to be politically particularly in the last Dáil where you had eight different groupings, there was speaking rights for all the different leaders of these groups, in terms of the Government there was always a Minister or Junior Minister that would respond so backbench Government TDs didn't have as much airtime as others".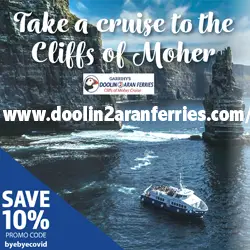 As Chairman of the Joint Oireachtas Committee on Rural and Community Development, Joe pointed to their work on remote working as one which made inroads. "There is huge opportunity for the creation of co-working space, the opening of the digital hub in Ennistymon is a very good example of a state of the art co-working space and it is a hub of activity for North Clare housing various different employers in a modern building which had been derelict for many years. There is huge opportunity in Co Clare for this, we have a wonderful quality of life, it cuts out the commute to larger centres and it's good for the environment and communities, the workers have more family time and more time to give back to their communities".
Recently he clashed with party colleague, Pat Breen regarding efforts to sell Roche. When asked by The Clare Echo how their relationship is now, Carey said, "You were talking earlier on that I was quite but I am vocal on issues, when I see something is wrong I will say that too". He added, "It's a critical issue for me, for the town of Ennis and the Mid-West region that there is industry located on that site in Clarecastle, I'm working intensively to ensure that will happen, we need a strong marketing team made available through the state agencies whether they be the IDA or Enterprise Ireland, I've secured the support of Clare County Council for the site to be included in the Ennis 2040 Strategy".
Further opportunities on job creation can be sourced in the county by investing in the Clare Technological Park and by putting a bigger emphasis on Shannon Airport, Carey believed. A change in Government policy could yield an additional one million passengers he estimated and highlighted Frankfurt as being a viable route which could be sustained.
Most of the commentary regarding his third successive election in 2016 centred on a poll by The Clare Champion which predicted he would not be successful. "There was a lot made out of that poll, it was unscientific and I think it is significant The Clare Champion are not doing a poll this time because they know what they did at the time was unscientific, it did galvanise support around me but there is only one real poll and that is on the voting day. I've left no stone unturned and have a huge amount of supporters, every day and hour is spent knocking on doors canvassing around the county, I would say that I've the strongest team of people in this campaign canvassing for any candidate and I'm confident that I will put a very bold showing and I'm going to retain my seat".