*St Breckan's captain, Cian Burke. Photograph: Gerard O'Neill
ST BRECKAN'S bid to lift the Jack Daly for the first time in their history on Sunday and in captain Cian Burke they have a leader who continues to give every last drop for the North Clare club.
A member of the senior panel since 2016, Cian's first year was restricted due to a broken bone in his hand so it was a year later when he began to make the corner back his spot his own. Their response to being relegated in 2018 was immediate, winning the intermediate title under Donie Garrihy's watch in 2019 and coming back a stronger senior side than before.
With St Breckan's rising status in the top tier, the growth of Cian's involvement with the team has also grown parallel to this. This season, he has been moved from corner to centre back and has also been appointed captain.
Getting the nod to captain the side came as a shock to the 24 year old. "It was something I was very surprised with at the start of the year, there's many lads on the team that should and could have the role that I have, I feel very honoured and I feel like it gives me more of a responsibility to hold up to a standard that I think a captain should be, I'm definitely not one of the loudest speakers in the dressing room, it is more Alan (Sweeney) and Colm (O'Brien), I just try to keep the standards high, it's an honour, I love that I've been given the responsibility".
When it comes to what standards the captain has to set the way on, Cian explained, "Hard work, discipline, different things like helping out with the Club Executive, selling tickets for fundraisers, coaching young players, showing up to training on time, gym work, food, being a good teammate and club member".
He has certainly practiced what he preaches, for the past four years Cian has been a member of the club Executive, serving as the player's representative while he has involved with the club's minor side this season having been coaching the U13s in 2022. "It's nice to be able to help out, it is just finding the time to do all of these things, when I'm older it is something I will go into more because there was a lot of people who have helped us out during the years".
Leading his best friends into battle is an honour, he said. "There's many lads doing more than me for the club, Mark, Alan, Padraig Kelly do more with the underage teams than me so it could be anyone doing it so it makes it more special to me that I can do it, it is an honour, it really is, I almost don't feel worthy because there is so many amazing people in this club growing up and I look up to so many of them older lads, it is weird that I'm now in this position to do it, I feel honoured".
On the transition from corner to centre back, Cian commented, "It is my first year out from corner back, in previous years I'd be running up the pitch and it's something I'd nearly be given out to for, this year I started like that but I've been given more freedom but I tend to still look to the sideline at times and Dec is nearly waving me on, I'm still a corner back at heart".
Flanked by O'Brien and Sweeney, he noted the half-backs are two of their louder players. "We have a lot of leaders around that area of the pitch, them men stepped up at a time when we needed them to step up, they have pace as well so it definitely helps the situation. Our communication is something we've been working on, them lads used to be the major vocal points in our game but there's a lot of other lads stepping up, it is all of us talking but them lads are definitely still the loudest but we're trying to work on them too".
Given he spends so much time at the field in Lisdoonvarna, getting a break from football can be a challenge. "In previous times I didn't find it too difficult to detach but it is different now that you are into a final it is all everyone is talking about so it doesn't feel like I've come down from the last game because it was such a challenge and Miltown put up such a good fight and it went down to the last minute, I'll have to do my work to bring myself down to my usual level, there is more hype and more of a buzz around the place now than what there usually is for games".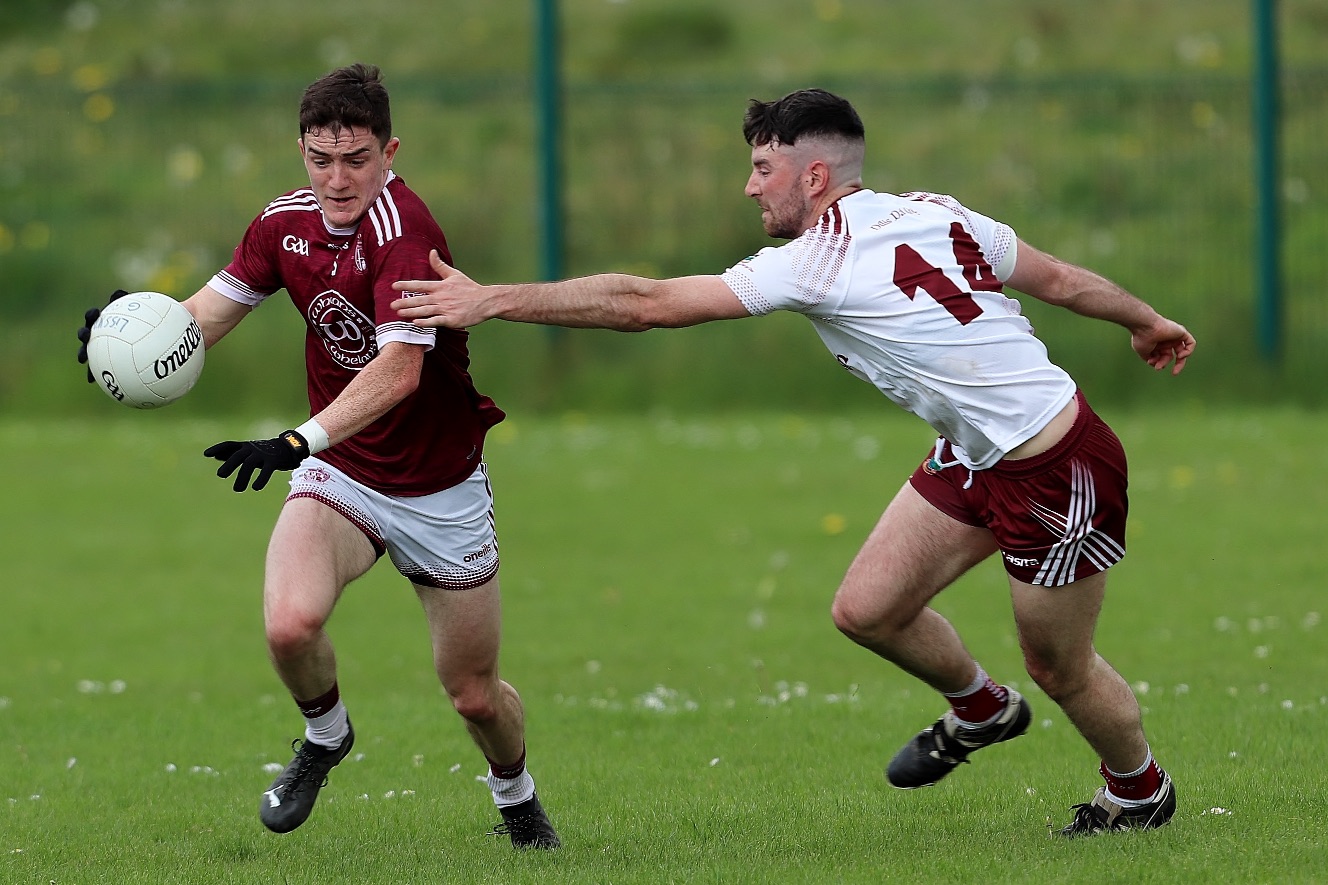 Noting the extra hype surrounding the county final, Cian had attempted to try limit the amount of football talk in the Burke family WhatsApp but it was a futile effort. "I sent in a text to the family WhatsApp after the Lissycasey game saying 'well done and stuff', they are all very proud which is 100 percent honest but I sent in a text saying 'can we just limit the football talk for the next few weeks', I try not to think about it too much, I'm into my own space and my own time, they all respect that but they're still talking about it so I just let them off. I came home into the driveway after work on Thursday morning, Mam was putting out flags on the car, I was laughing away thinking that she was keeping it very calm". Fortunately "making fun" of his younger brother Fergal has limited some of the football talk in the chat.
Originally from Tullamore in Co Offaly, the Burke family moved to Toovahera in Lisdoonvarna when Cian was "ten or eleven". He recalled, it was pure soccer until we moved down here and then the football took over". He explained, "My great-great granddad was born in a house in Toovahera so there are family roots here, we used to always come down every summer to cousins and eventually we decided to make the trip down".
Their journey to become one of the top senior sides in Clare since winning promotion from the intermediate ranks in 2019 has been impressive. This according to Cian is "really down to a few people, the lads on the Executive are really committed, Donie Garrihy, Declan O'Keeffe, Pat Haugh, Jersey O'Loughlin have instilled a belief and a passion for our club and that we can get better and start winning games, it is really down to them and the bond we have as teammates. All the lads there are my best friends and all my best friends are the lads I play football with, it might be a bit sad but I just love all my teammates, they are just class men and it is a special place to be".
Unity among the squad is very evident. "It is something that Mark O'Donnell always says to us, he is in and out of a lot of football clubs all the time with the nature of his job, he always harps on about the fact that we're so lucky to have the bond that we have and the friendship we have, we go on nights out and we don't leave each other, to be honest we go on nights out with each other, it is a really special group, we do swims and yoga together, we cry together and we laugh together, we do a lot of things together".
It will come as no surprise that the personnel responsible for organising the nights out are a different cohort to those encouraging the yoga sessions. "We have a beer committee, we don't drink too much but when we do we make up for it, Tristan O'Callaghan, Denis O'Callaghan and Eoin Fitzpatrick love a session. Everyone in general loves swimming so it is easy to organise. We started the yoga during the lockdown with Trish O'Donnell, it has stuck now so every once in a while we will go to yoga, go swimming or go for our sports psychology sessions with Tony Óg".
He continued, "The yoga we probably don't do as much as I've let on, individually a good few of us do a lot, we swim in Doolin a lot, nearly every day a lot of us would go out there, it is nearly like a home pitch for us we're out there so much, it's a special place".
Tony Óg Regan, the former Galway hurler has been an asset, Burke maintained and his work has been aided by dealing with a receptive bunch. "Tony is amazing, a lot of us have bought into it, a few lads were still on the fringes but they are getting there, we're really buying into the meditation and the visualisation, having tough conversations, he is the mediator to have tough conversations and figure out why you play, who you play for, what it means to certain lads, the meditation and visualisation is something that sits home with me and a lot of lads".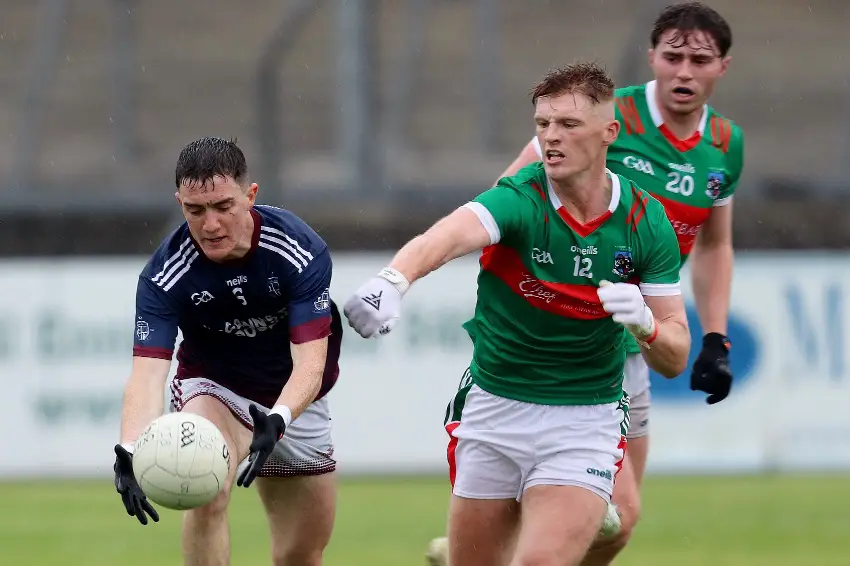 On what particular benefits he gains from such sessions, Cian outlined, "It is more so separating from the fact that is not everything, sometimes you can devote your whole life to something and it just consumes you, you can get too worked up over games, you're constantly thinking about it and when you get to the day of the game you have this space and you can do the meditation and not think about the game for the rest of the day, it gives you space from something that can very stressful". Meditation has subsequently become part of Cian's pre-match ritual and is likely to increase in advance of Sunday's final.
Over the summer, Cian graduated from the University of Limerick as a mechanical engineer, he has since commenced employment in Ennis with Rengen Power and admitted their sponsorship and promotion of ladies football in the county was one of his reasons for wanting to join the company.
Setting out in their journey for this season, St Breckan's had a new manager with Declan O'Keeffe moving from coach to bainisteoir while the side was also reeling from the emigration of several players such as Aiden Davidson, Micheál Flanagan, Evan Barrett, Ciaran Flanagan and Tristan O'Callaghan while former county player Dale Masterson was sidelined with an anterior cruciate ligament injury.
Reflecting on this time, Cian remarked, "At the start we lost lads that you'd look up to, there was boys than when I started they were the only men I looked up to and they've parted ways with injury and emigration, you're hearing off other people that we'd find it hard because we were missing so many players, we don't really feel that way because although we've lost these men we still everybody else and we've put in all these years of hard work so it didn't feel like we lost as much, we felt like the pressure was off and we could just play rather than have the stigma that we were down players and still enjoy our football. We had a bad initial start to the Cusack Cup but we progressively got better and better, we find ourselves in the final and started to believe we could get better in that".
He added, "Declan came in the year of the intermediate towards the latter end of the season and he progressively got more involved as the years went on, he is a very special man, he is very smart and has given us the game plan, whatever game plan or decisions he makes we all trust him fully because of how talented he was and he really knows his stuff, we trust his game plan, he stuck with us too through many a disappointment and we've let him down many times, Cratloe in the semi-final, Ennistymon in the quarter-final and Éire Óg, it is nice to get over the line for people like that who don't like you saying 'thank you' because they'd prefer if you just won games, that is the thank you that they want so it is nice to be able to do that for them".
Belief and experience or lack of is cited by Cian for those season-ending losses over the past four seasons. "We've never been to a final in twenty seven years but we've been to the latter stages of this tournament for a good few years in a row so I feel like that experience is really making a difference this year".
Within the Burke family, Cian is the second youngest of five boys. Danny (32) is the eldest followed by Conor, Ryan, Cian with Danny (22) the youngest. Older brother Conor will line out at corner back but is also the founder of the Gentian Press and is putting Lisdoonvarna on the map as a centre of excellence for a renaissance of printing skills.
Captain Cian admitted his interests may not be as unique as his older brother. "I spend a lot of time thinking about football and trying to help St Breckan's to become a better club, there's been some work put into this club for the last eight or nine years, to see how much time and dedication has been put in, it makes me feel like I should be doing the same thing, this is my interest, his is the printing press, mine is the club at the moment".
Conor's commitment to football is not impacted by his passion for the printing press, though, "he loves football, Conor wears his heart on his sleeve, you can see that after games, it means a lot to him".
As part of his preparations for the final, Cian said he plans to delete social media and do more meditation. "Social media in general keeps your brain moving too fast and doesn't allow you to live life and relax, I won't be doing it just for a game perspective, I'll be doing it for myself, it will keep me calm and allow me do my work better".
This social media ban will not include him leaving the Burke family WhatsApp, despite the football talk, he confirmed. "My brothers are hilarious in it sometimes they just give me a laugh, making fun of Mam or each other so I won't be leaving yet".