"If she can't see it, she can't be it" goes the slogan of 20×20, an initiative launched last October with the objective of increasing media coverage, participation and attendance at female sporting events.
Its aim is to see a twenty percent increase by 2020 across all three areas. Thankfully, The Clare Echo have sanctioned a request by this writer to commence a fortnightly series that will highlight different personalities who through playing, mentoring, administrating or promoting are flying the flag for female sports. The series will increase the amount of media coverage and subsequently our hope is to see greater participation and attendance at women's sporting events.
On December 18th, the views of Louise Galvin when speaking on Today with Sean O'Rourke struck a chord. Louise if you don't know is one of the country's most versatile sportspeople, a winner of multiple national Superleague cups with UL Huskies, she played senior football for Kerry for five years and since 2013 has turned to rugby where she has represented her country.
"A personal gripe that I really have is if you go into any sports store here, you have the male sports stars be it the rugby players, the county GAA players or international sporting stars wearing the different brands but if you look across at the female section it's the popstars or models that you don't even know their name, we need a cultural shift where female sports stars are being put up there by sponsorship or different clothing companies so that young girls can look up and say I want to be that".
Also, one Dublin Ladies footballer questioned why reports from women's games tend to be about morale victories without critique. Inter-county players are putting in huge efforts regardless of the sport or gender, while they deserve an equal amount of coverage, this in turn leads to the same standard of criticism being applied. 'Brave Banner' should not be handed out as a headline for our Clare ladies footballers or camogie team just for the sake of it.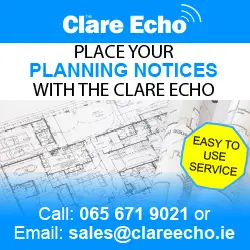 50,141 people attended the All-Ireland Ladies Football final in 2018 as Dublin defeated Cork. That's the marquee fixture when droves of underage teams from across the country are encouraged to head to Croke Park with their clubs. The figure is brilliant but how many people were in Whitegate to see Clare play Offaly in the second round of the camogie league and what level of support did the Laurie Ryan captained ladies footballers have for their opening league game in Doonbeg at the weekend? To stagger a guess, probably 500 between them.
In an age of gender quotas and calls for equal pay, the time has come to start giving women's sport the respect it deserves. Over the next few months, The Clare Echo will sit down and tell the stories of some of the county's leading lights, it's our way of standing up and speaking out for 20×20. To get in touch about this series with your views or with personnel you feel are worthy of interviewing, email paraic@clareecho.ie.
"This isn't a 'women for women' initiative, it's 'all of society for all of society'. If sport is good, which we know it to be, then more sport is better. If we all play, we all win.  20×20 is asking all sections of Irish society to show their stripes and pledge one small action to increase the visibility of women's sport in Ireland because if she can't see it, she can't be it".