Workers at three Clare tourism sites owned by Shannon Group have been temporarily let go for the remainder of the year, at least.
As part of a cost-saving measure, Shannon Group employees at Bunratty Castle and Folk Park, Knappogue and Craggaunowen have been let go. During peak season, 350 people are employed by Shannon Heritage with the figure dropping to 145 for full-time all year round staff.
No clarity has yet been provided on the amount of individuals that will be let go.
A spokesperson for Shannon Group has confirmed that Bunratty Castle and Folk Park along with King John's Castle will open for a six week period this summer from July 20th to August 31st in accordance with Government guidelines plus health and safety recommendations.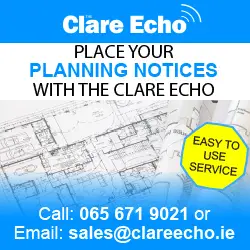 Visitor attractions managed by Shannon Heritage in Dublin will remain open in line with contractual obligations, staff that do not return to work will remain on temporary lay-off with direct engagement ongoing.
"It is becoming increasingly likely that there will be no international tourists in Ireland for the remainder of this year, a market that Shannon Heritage relies heavily on. As a result of this, Shannon Heritage has had to take difficult but necessary business decisions".
Staff have been informed that the decision was made to allow the reopening of the Shannon Heritage owned sites in 2021. Fears have been voiced by let go employees that they may no longer have a job at all.
Trade Union representatives are to meet with Shannon Heritage today (June 4th) over its decision not to reopen its tourism sites on a full-time basis in line with the Government's return to work protocol.
SIPTU official Rachel Keane said the decision not to reopen the historical sites on a full-time basis was greatly concerning. She said the company had told staff that Bunratty Castle and Folk Park, and King John's Castle in Limerick will only open for a six-week period from July 20 to August 31. All other sites in the region, including Knappogue and Dunguaire Castles, the Adare Heritage Centre and Craggaunowen will remain shut.
Clare TD, Cathal Crowe (FF) called on management of Shannon Group to keep sites open on weekends to allow for "continuity" for the remainder of the year and "to keep the workers at least somewhat in pocket for the remainder of 2020".
"It pains me to see so many people facing uncertain futures and this will come as a body blow to workers down at Bunratty Castle. I've got an annual pass to the castle and my family and I are there every other weekend and have missed it hugely during this pandemic. I would implore Shannon Group management to consider keeping their sites open," Crowe stated.
He added, "I think this period of shutdown should be used for capital and expansion plans so that when they can reopen in full from next year, there is no interruption to services".