*James Breen. Photograph: Eamon Ward
A former Clare TD has declared the construction of a three storey car park is key to making the pedestrianisation of Ennis a success.
James Breen who served as an Independent TD for Co Clare from 2002 to 2007 and sat as an elected representative on Clare County Council until his retirement from politics in May of last year has called on Ennis Chamber of Commerce and the County Council to assess the potential of building a car park at the Post Office field that would form part of a public/private partnership.
Currently, pedestrianisation is in place along O'Connell St and Abbey St in the county town on a temporary basis as part of the COVID-19 mobility plan implemented by the local authority. A local retail representative group has been formed in objection to the measures.
Speaking to The Clare Echo, the Kilnamona native outlined his belief that the construction of a three storey car park on stilts is needed to make the measures a success if they become permanent.
"I have been campaigning for years for something to be done with the Post Office field, I can recall cows being milked on the field when I was going to school, there have been many suggestions but forward for the site but nothing has happened," he stated.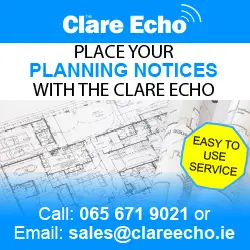 He believed the addition of another multi-storey car park in the town would "enhance pedestrianisation". "It would really make the town of Ennis," Breen commented.
Currently, multi-storey car parks already exist in The Market and Dunnes Stores, both of which are not at full occupancy on a consistent basis, however James felt the proximity of the Post Office field to the town demonstrated its potential.
"There is certainly a need for another car park. People want to go as close as possible to the shop as they can. It would add to what is already there in the Market and Dunnes. The Post Office field would be an ideal place," he added and maintained that the greenery of the site would not be interfered with by the construction of a car park.
Businesses have been impacted by both COVID-19 and pedestrianisation in the town of Ennis and James confirmed that the pandemic highlighted a need for pedestrianisation in order to maintain physical distancing and follow public health advice.
Future planning has been neglected in the county, the former SIPTU shop steward felt. "We're not planning enough for the future, we have left the Post Office field lie idle for far too long and things are only getting more expensive". James continued, "When it comes to proper planning, when there is a will there is a way".