Keelan Sexton was away for Clare's championship run in 2019 but it's as if he was never gone, such is the ease at which he has assimilated back into the squad.
On completion of his interview with The Clare Echo, Sexton is put through his paces not on the pitch but posing for photographs. One such example takes place in the gym of Caherlohan where Kevin Harnett is quick to joke "this is the first time I've seen you in here Keelan" while prior to the interview Colm Collins issued a piece of advice, "your biggest problem will be getting him to stop talking".
That's the way it has been with the Kilmurry Ibrickane attacker ever since he has been on the panel, capable of taking a slagging but well able to dish it out too. He had the distinction of playing minor, U21 and senior for Clare all in the one year when initially bursting onto the scene.
Gaelic football is not the only sport at which Sexton has excelled. On the soccer front, he was a star man for Moneypoint AFC with League of Ireland side Bohemians expressing an interest in him, he also played underage hurling with Inagh/Kilnamona and county development squads. But it is the boxing ring that he really made an impression.
That comes as no surprise as like gaelic football, boxing is in his blood, Martin Burke, his grandfather boxed in London during the 1960s and 1970s. In his youth, Keelan won five national titles and represented Ireland in European and international tournaments.
Having companions in the dressing room that he will go to war alongside with him but who he will also make bits of when it comes to slagging is one of the reasons why Sexton has opted to focus on gaelic football. "I was lucky enough to have success underage, boxed for Ireland a couple of times in a couple of Europeans, it was a good platform for me sporting wise, I was into all sports when I was younger and took a shine to boxing. I got to do a bit of travelling too.
"When I hit the seventeen mark I was getting good at football and more people were asking me about it, Colm picked me young and pulled me in, I've been here since that age being in and a part of it. It's a great asset to have, any sport that you do play growing up is a great foundation for your life and gives you life skills. There's a great group of lads here, it's like a brotherhood or a family as such, there's always someone there to be chatting to, everyone is bubbling off each other, you're playing for this group of people and that's who you are representing, that is what drew me to the GAA over boxing the whole collective whereas it's more individual based in the boxing".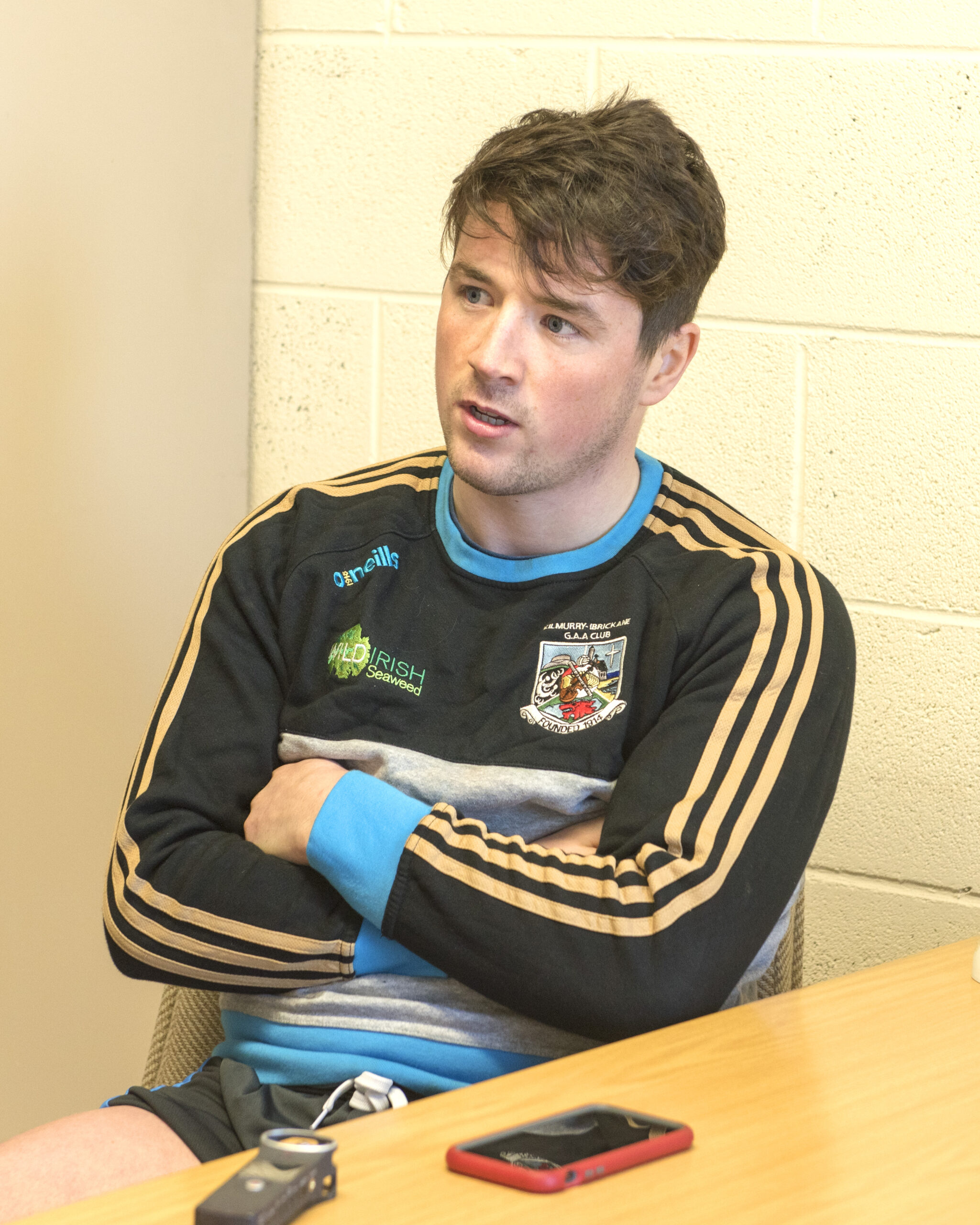 After playing the League last year, Keelan informed management of wish to go to Boston on a J1. An opportunity he was very thankful to have. "It's a great experience in your life and nice to live over there, I picked up a lot of things and came home to Kilmurry with the batteries recharged, I enjoyed it and was happy to do it because it was my last chance with the college ending up".
"I'm not going to say everyone should go in case everyone ups and leaves but I think it's a great outlet that you can avail of. The great thing about the GAA is that it connects a lot of lads, people are absolutely invested in one thing which is football out there, you're coming out and they're welcoming you in as one of their own, it's like a piece of home but just a bigger city and a bigger platform to look, learn and enjoy yourself. It was really enjoyable and I'd say if you were looking into it, do a bit of research and if it was the right time in your life definitely do it because I'm glad I did".
On successful completion of his final year exams in UL, he'll start a training contract with global multinational law practice Eversheds Sutherland in Dublin. This and wishing Liverpool win the Premier League will be his aim over the coming months but for now the twenty two year admitted he is adjusting to being seen as a more senior player in Collins' setup. "The good thing about our set up is that it doesn't matter if you're in the door the first day or there ten years Colm will always voice that it is player driven and that is what's great about that structure.
"If you see something or don't understand it's easy to ask or voice your opinion, you're not trying to cut anyone you're just trying to better the team, if you think you have a point to make it just make it and that is one of the things he always emphasises and it's one of the great things about his managerial skills he can get the young lads to do it and they blend in with the older lads".