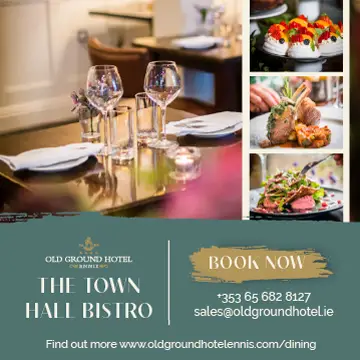 Ninety seven members of the inter county hurlers golf society played for their captain's prize on Friday last.
In bright sunshine, they came to Ballyneety from all corners of the country to honour society captain Eamonn Cregan from Limerick.
Sixmilebridge man Gerry McInerney, who played at all levels for Clare, emerged as the overall winner with 38 points. Gerry is a member of Dromoland Castle Golf club and is a past captain and president of the Munster Press golf society
Dromoland Golf Club:
Darren Sherlock with 68 won the May monthly medal at Dromoland from Liam Hayes with 71 and John M. McCarthy with 72. Killian Howard won the gross with 75 while Frank Melody was the winner of the 22 and over handicap category with 75.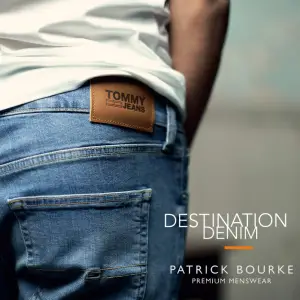 The 9 hole competition winner was Patrick McCoy with 20 from Ian Mulready with 19 and Brian Maloney with 18.
The ladies two day crystal 36 hole stableford competition was won by Julie Fitzgerald with 72 points from Leslie O'Flynn with a similar score. Deirdre Cooney was third with 65 points followed by Susanne McConway with 64 points. Joan Ryan won the gross with 41 points.
The day 1 18 hole cometition was won by Linda Kochhar with 33 points from Mairead Bergin with 33 and Sheila Kent with 33.
Geraldine Ryan won on day 2 with 33 points from Dorothy Brennan with 29 and Siobhan Fitzpatrick with 29.
East Clare Golf Club:
The ladies 18 hole stableford golfer of the year competition at East Clare last week was won by Rachel Whelan (17) with 36 points.
The club's lady captain had two to spare over Noreen Doyle (21) with Pauline Nugent (30) a point further back in third spot. Siobhan Shanahan (16) won the gross with 20 points.
Oisin Donnellan won the men's May medal competition with 69 from Tom Larkin who had a similar score as did third placed Shane Chaplin. Anthony Sweeney won the gross with 77.
The winners of the senior men's competition last week were Danny Minogue, Seamus O Dwyer and Jimmy Nagle with 76 from Ger Shortt, Willie Roche and Jackie McHugh with 69 while third place was filled by Kevin Wallis, Kieran Gibbons and Ailbe McDonnell with 63.
Kilrush Golf Club:
The Clean Ireland men's open at Kilrush last weekend was won by Terry O'Hare (9) with 38 points.
In category 1 Thomas Coffey (12) was the winner with 37 points from Jim Young Senior (9) with a similar score.
The category 2 winner was Cyril Kelly (15) with 37 from Sean Lyons (17) with 36 points.
Brendan Carey (19) won category 3 with 36 points from Fergal O'Connor (17) with 34 points.
The nines were won by Tony McMahon (15) with 18 points and John Stapleton (21) with 20 points.
In the ladies Kerry Agri Business stroke competition Mary Downes (42) won with 70 from Mary G. Nolan (21) with 73 with third place filled by Mary Bolton (17) with 74. Anne Brennan (11) won the gross with 89 while the nines were won by Mary Young with 33 and Geraldine Burke with 38.5.
Shannon Golf Club:
The ladies May medal, sponsored by Lyn Darcy and Brian Mc Goey, was played for at Shannon last week and resulted in victory for Jean Murphy with 71 nett, Mary Flynn was second with 73 while Michelle Pyke won the gross with 82. The category winners were Brid Walsh with 74, Pauline Nally with 76 and Anna Corry with 80.
Woodstock Golf Club:
Kathleen McEnery with 25 points, Eilis Neville with 37 points, Marianne McGough with 40 points and Eilis Neville with 31 points won the ladies 18 hole stableford competitions at Woodstock for the past four weeks.
Last week's open singles competition was won by Adrian Kearney (14) with 44 points from Sean Myatt (2) with 40 points.
In the matchplay qualifier Cathal Clune (14) won with 40 points from Luke Duffy (29) with 39 points with Niall Reynolds (13) in third spot with 38 points. Brian Gilligan (2) won the gross with 34 points.
The category winners were Callum Hayes (9) with 38 points, Ross Kenny (16) with 38 points and Ronan Lynch (29) with 38 points.
The draw for the Al Hayes Matchplay Singles has been made and is on the notice board in the locker room. The first round is to be completed by May 29.
There will be an open singles this Thursday while the captain's (Aidan Mulcahy) fourball will take place this weekend.
Entries are now being taken for the Shanaway Cup sponsored by AMR Golf, a fourball betterball competition and entries must be in by Monday next, May 22.
Ennis Golf Club:
Ann O'Loughlin (15) and Peig Hanrahan (17) with 41 points won the Tadhg O'Flynn fourball at Ennis last week. In second place with a similar score were
Marion Irwin and Mary Nagle while the gross was won by Della Burns (18) and Mary Lenihan (15) with 23 points.
In the 9 hole stableford competition the overall winner was Ann Kelly (14) with 19 points.
Sinead Hegarty (10) with 16 points won division 1, Anna Glynn (16) with 15 points won division 2 while Sarah Connolly-Barnes (24) with 18 points won division 3.
Last week's senior ladies competition was won by Claire Pyne, Mary Glynn and Frances O'Reilly from Mary Woulfe, Jean Moloney, Peig Cleary and Gert Finn.
The Cahercalla Cup, a golfer of the year competition for men, was played for at Ennis last weekend when David Considine (14) emerged as the winner with 68. He had a shot to spare over James Casey (11) with Matthew Kennedy (12) in third place with 69 followed by Noel Whelan (9) with 70.
Martin O'Neill (6) won the gross with 76 while other prizewinners were Liam Pyne (5) with 71 in division 1, Brian O'Gorman (12) with 70 in division 2 and Ciaran Coote (19) with 71 in division 3.
David Reidy (15) (Dromoland) won the Friday open singles with 41points and he had two to spare over Oliver McNamara (14), Woodstock. In third place was James Broderick (11) with 39 points followed by Kevin Frehill (20), Woodstock.
The captains' mixed foursomes on Friday was won by Enda Burns and Helen Harnett with 26 points followed by Michael Ball and Anne Dunne with 24 points with third spot filled by John Gavin and Clare Ruane also with 24 points.
Last week's seniors' team of four competition was won by Ollie O Loughlin, Peadar Cosgrove, Sean Fitzpatrick and Kevin Murray with 49 points, one more than Tony Lawler, Ronnie Guinnane, Tom Heath and John Kearse.
In third spot, also with 48 points, were Eamonn Connaughton, Tim Scanlon, John Guilfoyle and John Vaughan followed by Sean Kitson, Ollie Kennelly, Ger Hanrahan and Tim Kelly with 47 points.
In fifth place with 46 points were Eamon Corry, Michael Cummins, Gerry Kelly and Jimmy Kearns followed by Tommy Timpson, Dave Boylan and Brian Considine with 46 points. Seventh place was filled by Tom Woulfe, Conor Murphy, Jack Keane and Michael Ball with 45 points and they had the same score as Don Ryan, Ger O Brien, Frank Sheedy and Seamus Bowe.
Last week's Tuesday fourball winners were John Kearse and Michael Irwin with 34 points, two ahead of Senan Ryan and David Murphy with Walter O'Brien next, also on 32
Gort Golf Club:
The men's competition at Gort at the weekend was an 18 hole scotch foursomes sponsored by Giblin Financial services.
The winners were Niall Hoarty and Kevin Roche (21) with 45 points followed by John Dempsey and Declan Grimes (17) with 43 points. The gross was won by David Quirke and Niall Loftus (6) with 31.
Shane Byrne (17) with 39 points won the 18 hole open singles on Friday. The ladies competition for the Bob Forde trophy was won by Fran O Reilly (42) with 40 points from Hannah McInerney (7) with 36 points with third place filled by Petra O'Connor (17) with 35 points. Siobhan Forde (10) won the gross with 22 points.
Teresa Kavanagh (22) won the ladies 9 hole singles with 21 points.
Late Rory Kennedy:
The sudden death of Rory Kennedy, Ballyalla, Ennis, took place on Saturday last. A past captain (2006) and president (2016/2017) of Woodstock golf club where he served as treasurer. He was an honorary life member and he was also a member of Lahinch golf club. As a mark of respect Woodstock golf course was closed on Tuesday from 10.45 to 1pm.