Clare's longest serving councillor has declared all members of the County Council both elected representatives and staff were "asleep at the wheel" with regard to planning Moneypoint's future.
At a recent meeting of the local authority, Cllr PJ Kelly (FF) called on the Government "to construct a trans-shipment port at Moneypoint". Director of Economic Development, Liam Conneally noted in response that the Shannon Estuary "is a key national strategic transport corridor and a natural deepwater resource which routinely hosts the largest vessels entering Irish waters. It has facilities that serve the national and regional economy, as well as providing the necessary maritime and ancillary resources to facilitate value-added activities serving national, European and global markets".
Conneally felt the Shannon Estuary "with its considerable deep water resource and location on the western edge of Europe, is in my opinion well placed for the potential development of a trans-shipment port feeding into the near European, Baltic and Scandinavian Ports. It would allow large trans-shipment vessels to avoid the busy shipping lanes in the English Channel and is immediately accessible from the main Atlantic route".
He described Moneypoint as "a strategic development location" and referred to objectives of the RSES which seeks to capitalise on its natural deep water potential. "Over the past eighteen months this Council has been in regular contact with the owners of Moneypoint, the ESB and these discussions include the possible future uses for the site outside of power generation and transmission".
"Sadly Moneypoint is not what it used to be," Cllr Kelly lamented. He stressed that it was "incumbent on us to look for an alternative". Kelly recalled that three years ago, he got information somebody from Britain was looking at property outside the river, "I began to make inquiries. Wondered why the interest in trans-shipping, dawned on me that it was Brexit".
Looking across the water, Cllr Kelly claimed there was a "two day delay" at Milford Port Haven, a three to six day wait at the Port of Rotterdam "costing ship owners €60,000 a day, there is no such problem in Moneypoint, there is no congestion and has the deepest water, there is 600 acres of land on the Moneypoint property and 200 zoned nearby, we have plenty of skilled workers in West Clare. It wouldn't need an awful lot of work to do and ESB want to get the monkey off their back".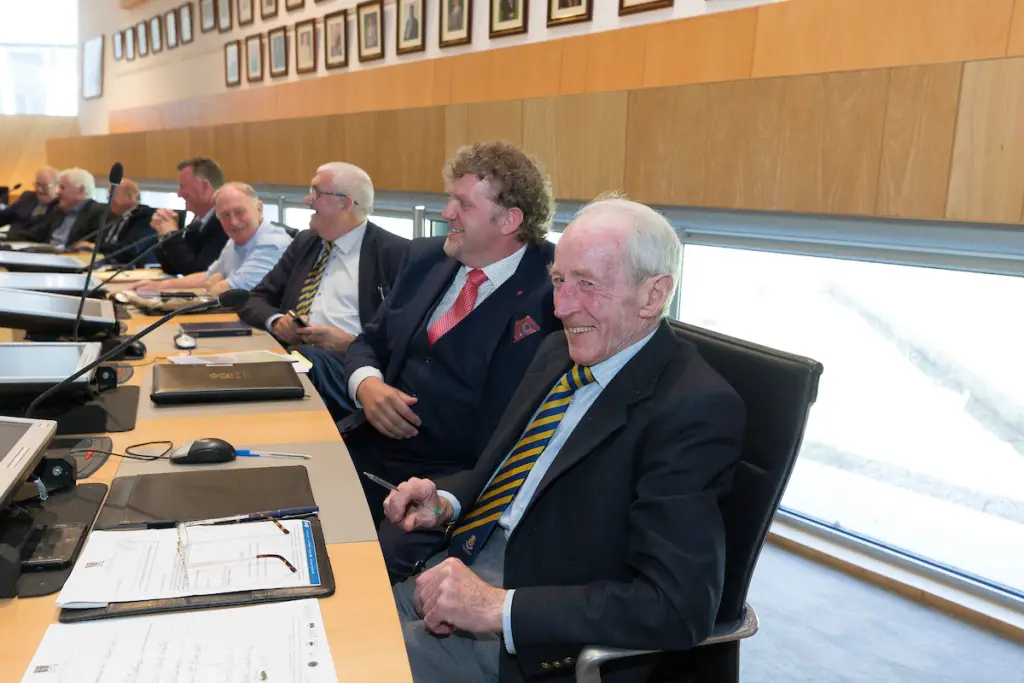 Kelly continued, "Unfortunately in retrospect and I'll put up my hands, we were asleep at the wheel and we should have researched Brexit properly. Being asleep at the wheel in public life doesn't involve penalty points". He was adamant a port would "sort many of the employment problems we have in West Clare". The Lissycasey man added, "The problem with Brexit could be our advantage. I would urge the CEO to talk to Moneypoint, talk to the Government and try be on a winner. It is about time for us to get off our asses and saddle our horses to do something serious. The public will never forgive us if we don't do something.
"If we get going with Moneypoint we can exploit the difficulties of Milford Haven, Rotterdam and Southampton. It is something we have to move on and move on quickly, it might be the solution. Moneypoint is past tense, Moneypoint as it was is no longer".
Chief Executive Pat Dowling acknowledged the "well-informed motion" but stressed, "It is important to assure Cllr Kelly we're not sitting idly by to see what might happen. We're all aware of the journey Moneypoint was on, the closure in 2025 came quicker than expected. Alternatives are being looked at in terms of future uses. There is a financial reality too in terms of balancing our books, I will be meeting with our Head of Finance to discuss financial implications, they are a significant contributor to our rates income". He added, "The glass is half full, let's see how we can re-invent Moneypoint into the future".
"Not all councillors might be asleep on the wheel," Cllr Ian Lynch (IND) stated as he seconded the motion. Lynch pointed out that Kelly previously commended a motion seeking an assessment of Brexit's impact on the county. "I'm not one for riding horses but my horses are fed and watered. The shipment isn't Trans-Atlantic, it is from Asia across". He queried why Dublin and Foynes are not benefiting from Brexit.
Former Mayor of Clare, Cllr Michael Begley (IND) emphasised the need to communicate with Limerick. "There is a saying, south is south and north is north but never the twain shall meet. Limerick was not mentioned in the discussion. Since I came into the Council in 91 I'm hearing the deepest water in Europe but we've never seen anything done only a few reports. We will go nowhere with this without collaboration from our nearest neighbours. When Limerick 2030 Plan, was launched our former manager and myself were invited, neither of us were acknowledged by anyone in the hall, the biggest chasm we have is to start talking to Limerick".
Support was voiced by Cllr PJ Ryan (IND) but he was not optimistic. "I can't see anything like that happening in West Clare unless our friends in Dublin get it into their head that we want to do something because they will think of forty ways of making it not happen. There is opposition in Limerick, they want to see Foynes developed and not something on the other side of the Shannon. I don't think we'll get a deep sea port there overnight".