*Pat Breen. Photograph: Joe Buckley
A Junior Minister in the 32nd Dáil, Pat Breen (FG) has expressed his pride with the drop in unemployment figures but maintained big job losses in the county would not hurt his vote.
PAT BREEN FACTFILE –
Occupation – TD
Family – Two sons, Kenneth and Patrick. I've three sisters and one grand-daughter
DOB – 21/03/57
Schools/Colleges Attended – Lisheen NS, St Flannans College, Limerick Technical Colleges
Political CV – Former Chairperson & Secretary of Clare Fine Gael, Member of Clare County Council 1999-2004, TD since 2002, Junior Minister
Top 3 Priorities – Jobs, Health, Balanced Regional Development
Something the electorate don't know about you – I don't like birthdays
Since June 2017, Pat has been Minister of State for Trade, Employment, Business, EU Digital Single Market and Data Protection, along with it being one of the longest titles in Irish politics it gave him the highest profile post of the outgoing Tds in the county.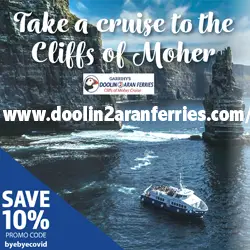 During this time, significant job losses were suffered in the county most notably at Molex, Roche, Moneypoint and Avara. On the impact the closures would have on his bid to be re-elected, he said "None whatsoever".
Breen maintained Moneypoint "has a bright future" and Avara being "a profitable company" helps its cause to secure a buyer. "We'll have no problem attracting a new client in the lifesciences area whether it's in the med-tech sector or something that is not pharma" he commented regarding Roche while "time is on our hands" so far as Molex is concerned.
He pointed out that Clare is "close to full employment" and defended his record as a Junior Minister referring to the various positive announcements during his tenure. "6,000 less people unemployed in Clare, youth employment down 72 percent, we have great attractions in the county outside of tourism, the Wild Atlantic Way, the Airport is very important to us and the universities on either side play an important role".
When queried by The Clare Echo if the employment statistics look more favourably because people from the county have had to leave for work, Pat replied, "Of course there are people working outside the county, there is also Limerick and Galway people working in Clare. Go out to Beckman Coutler and you'll see a lot of Galway people working there, we can't be parochial in the way we think, you can do that in sport but not with jobs. When we're on trade missions, we're competing with the likes of Manchester who have 3 million people, we're a small region in the Mid-West that is competing with places like Birmingham. We have to think regionally, we all need to work together to ensure the viability of the region and we will all get our share of the jobs particularly in Clare and Limerick".
One of his election signs reads 'The Voice of Shannon Airport', given there was an eight percent drop in passenger numbers last year, The Clare Echo questioned Breen if it was an old sign. "It is an old sign but the voice is still there and it's as strong as ever," he responded and pointed out that one of his "Budget asks" to Leo Varadkar and Pascal Donohoe was "to get some supports for Shannon Airport" and claimed routes to Barcelona, Paris and Vienna followed as a result.
2011's poll-topper, Pat lost 3,272 votes in 2016. "I lost votes because people in my party asked all the members of Clare not to vote for me, they did opinion polls which had me topping the poll, then Dr Harty came into the race. I could not stop the erosion of votes the week of the campaign, they were dripping away from me and it went to such a way that my cousins actually voted for someone else because they were told I was safe, that won't happen this time the way Fine Gael is in the opinion polls. I lost about 2,000 votes in the last week, I got a fright".