*Conor Whelan finished as Whitegate's top scorer. Photograph: Ruth Griffin
BODYKE finished the group stages of the Clare IHC unbeaten while Ruan and Whitegate ended their last game of the round with a draw to ensure they all advanced to the knockout stages.
The group stage in the TUS intermediate hurling championship concluded at the weekend and the road is now clear for the quarter finals and for the relegation play off.
The final series of games produced two draws with Ruan holding a fancied Whitegate to a share of the spoils while St. Joseph's Doora/Barefield and O'Callaghans Mills couldn't be separated in their battle to avoid the relegation play off.
Scoring difference has sent the Mills into the battle to avoid dropping down to junior A. The quarter finals and the first game in the relegation play off will take place on Saturday and Sunday week.
Howard's brace extends Bodyke's unbeaten run
Bodyke 2-17
Smith O'Briens 0-19
Venue: Whitegate
Bodyke have completed the group stage of the TUS intermediate championship unbeaten. Their final game was against neighbours Smith o'Briens which took place at Whitegate in bright sunshine this Sunday.
Two second half goals from substitute Jamie Howard were key to their latest success which was hard earned.
Smith O'Briens made much of the early running and they held a four point advantage at the midpoint.
Howard's arrival caused problems for the Killaloe outfit whose defence will be disappointed at the manner in which they conceded some scores in the second half.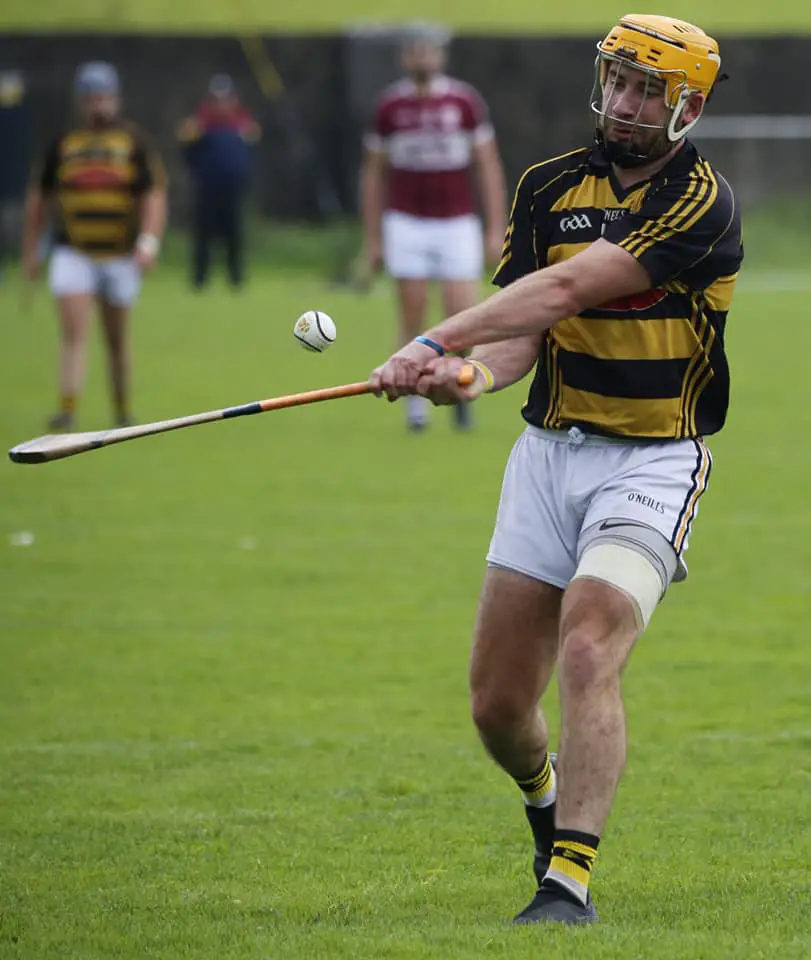 The loss of Seanie Doyle ruled out through injury, was a blow to the winners for whom Paddy Fitzgerald again emerged as their top scorer with 0-9 to his credit.
Bodyke: Daryl O'Donnell; Kevin Drost, Eanna Doyle, Cormac Treacy; Ian Murray, Sean Wiley, Cian minogue; Cathal Doyle, Jamie O'Donnell; Tomas Wiley, Fionnn Slattery, Paddy Fitzgerald; Michael O'Brien, Tomas Minogue, Tiernan Slattery;
Subs: Jamie Howard for T. Minogue; Cathal McKenna for M. O'Brien; Peter Flower for T. Wiley
Smith O'Briens: Mark McInerney; Dwayne Sheedy, Cian Nolan, Ben Murnane; Mark O'Halloran, Cathal Stritch, Mike Gough; Eddie Bourke, Sean McMahon; Eoin Heffron, David Gough, Micheál Ryan; John Cusack, Patrick Aherne, Cathl Howard
Subs: Eoin Power for Aherne; Cian Moloney for E. Bourke; Keith Stritch for Heffron; Jason Monahan for M. O'Halloran
Referee: John Bugler (Whitegate)
Tubber make sure of intermediate status
Tubber 3-12
Killanena 1-10
Venue: Dr Daly Park, Tulla
Tubber bounced back from the disappointment of bowing out of the title race when going down to Bodyke in midweek, to finish their group with a win over Killanena.
There was a lot at stake in this tie as Tubber needed at least a draw to avoid being involved in the relegation play off.
Scores were difficult to come by in the opening half but the winners managed to get through for two goals, the first from Domhnall McMahon and the second from a Lorcan O'Grady penalty and these heped them to a 2-5 to 0-5 half time lead.
Blaine Early found the net in the second half as the Tubber men sealed their intermediate status for next season leaving Killanena to contest the relegation play off with O'Callaghans Mills and Newmarket-on-Fergus.
Tubber: Ronan Taffe; Emmet Quinn, Patrick O'Connor, Joey Droney; Mark Earley, Pappy Taaffe Fergal O'Grady; James Howard, Cathal Droney; Aidan McNamara, Domhnaill McMahon, Aidan Forde; Blain Earley, Lorcan O'Grady, Ronan Monahan;
Subs: John Fawle for J. Droney (inj); Dara 0'Connor for Aidan McNamara; Clive Earley for McMahon; Liam Clancy for B. Earley
Killanena: David Noone; Ryan Keane, Jason Keehan, Aidan McMahon; Seamus Keane, Cathal Noonan, David Moloney; Damian McMahon, Micheal Smyth; Shane Broderick, Tobis O'Mara, Seamie O'Donnell; Gearoid Keane, Ian McNamara, Stevie O'Brien;
Subs: Dara McNamara for D McMahon; Jamie Canny for A. McMahon; Darren Keehan for S. O'Brien; James Green for G. Keane; Diarmuid McMahon for S. Keane
Referee: Niall Malone (Éire Óg)
Spoils shared in high scoring tie
Whitegate 3-20
Ruan 4-17
Venue: Dr Daly Park, Tulla
Whitegate struck for two goals in the closing minutes to earn a share of the spoils with Ruan in this intermediate hurling championship final group game played at sun splashed Dr. Daly Park in Tulla on Saturday evening.
The East Clare side carried the favourites tag into the game but they played second fiddle for much of the contest.
Whitegate held a one point advantage, 0-5 to 1-1, at the end of the first quarter but by half time Ruan had gone one point clear, 1-8 to 0-10, the goal having come from Aidan Lynch.
Another Lynch goal and one from a penalty by Robin Mounsey stretched Ruan's advantage to four at the three quarter stage when the score was 3-13 to 1-15,
Whitegate's goal having come from Paddy Burke who got all of his side's three goals in this tie.
He wasn't the only one with a hat trick of goals as Aidan Lynch struck for his third and his side's fourth early in the final quarter and the Ruan men led by eight points.
A strong finish from Whitegate saw them find the net twice in the last few minutes to earn a somewhat fortunate share of the spoils.
Whitegate midfielder Conor Whelan top scored with 0-15 while Shane Punch landed 0-8 for Ruan.
Whitegate; George Waterstone; Dylan White, Finn Madden, Ciaran Quinn Brendan Bugler (0-1), Conor McDermott, Ian Fahy; Eoin Quirke, Conor Whelan (0-15, 9 f, 1 line ball); Danny Hynes (0-1), Thomas Holland, Colm Madden; Luke Sugrue, Ronan Hayes (0-1), Paddy Burke (3-2)
Sub: Mark Bugler for Quinn
Ruan; Keelan Mounsey; Alan Woodford, Killian Ryan, Jason Power; Michael Lyons, Colm Rice, Patrick O'Halloran; Ashley Brohan, Robin Mounsey (1-1); Piaras O'Se (0-2), Ryan Power (0-2), Aidan Lynch (3-3); Frankie Lyons Shane Punch (0-8, 6f), Jack McDonagh (0-1);
Subs: Tom O'Halloran for Woodford; Darragh McInerney for Lyons; Conal O h-Ainifein for Brohan; Patrick O'Gorman for O'Se (inj)
Referee: Gus O'Callaghan (Feakle)
Draw enough for Doora/Barefield
St. Joseph's Doora/Barefield 0-16
O'Callaghans Mills 1-13
Venue: Fr Murphy Memorial Park, Newmarket-on-Fergus
Both St Joseph's Doora/Barefield and O'Callaghans Mills were pointless going into this final group which ended a square leaving scoring difference to separate the sides on the table.
Unfortunately for O'Callaghans Mills, they finished bottom and must now face the relegation play off with Killanena and Newmarket-on-Fergus to determine who will drop to junior A for next season.
St. Joseph's led by two points at half time, 0-10 to 1-5, the goal coming from Jamie Keane. The Mills got back level early in the second half and from here to the finish there was little between them.
St. Josephs; Mike Roseingrave; Dara Murphy, Ciaran O'Driscoll, Eoghan Perrill; Darragh O'Callaghan, Aaron Landy, Peter Collins; Luke Carmody, Arthur Rodgers; Padraic Geraghty, Eoghan Talty, Conor Hassett; Barry Millane, Conor Kerns, Eoin Burke;
Subs: Senan Crosby for Hassett; Mark Hallinan for Landy; Odhran O'Connell fort Rodgers;
O'Callaghans Mills: James McNamara; Liam McNamara, Niall Donovan, Cathal McNamara; Liam Boyce, Rory McNamara, Niall McNamara; John Cooney, Henry McGrath; Conor Cooney, Kevin O'Callaghan, Ian Donnellan; Barry Heffernan, Jamie Keane, Sean Murphy;
Subs: Dan Burke for L. McNamara; Alan O'Dea for Heffernan; David McGrath for O'Callaghan; Christy Phillpott for I. Donnellan
Referee; Kieran Liddane (Sixmilebridge)
Parteen/Meelick seal top spot
Parteen/Meelick 3-19
Inagh-Kilnamona 1-14
Venue: Shannon
Parteen/Meelick's impressive form continued at Shannon on Sunday when they accounted for Inagh/Kilnamona, making it four wins from four outings in this season's championship race.
The early exchanges were even but goals from Sean Connolly and Jack Kirwan helped the South Clare outfit to a four point half time led when the score was 2-8 to 1-7, the loser's goal having come from Paul O'Looney.
Connolly found the net again in the second half when Dara Nolan, and Oisin Hickey were amongst those to pick off some good points.
Phil Lavin impressed at full back ass did Nathan Fox at centre back as the side from the Limerick border emerged with a merited victory.
Parteen/Meelick: Jamie Fox; Damian Moloney, Phil Lavin, Danny Williamson; Gavin Rackard, Nathan Fox, Adam Sherlock; Darragh McDermott, Daniel Cooney; Jack Kirwan, Dara Nolan, Joe O'Connor; Peter Small, Sean Connolly, Oisin Hickey;
Subs; Gearoid Reddy for Small; Eanna Mulvihill for A. Sherlock; Shane Fox for Kirwan; David O'Sullivan for Rackard; Eoin Phelan for D. Nolan;
Inagh/Kilnamona; Jack O'Connor; Podge Devitt, Brian Foudy, James Cullinan; Jamie Wynne, Liam Hehir, Colm Kearney; Mark Barry, Dean Lynch; Keith Barry, Paul O'Looney, Cathal Ryan; Dean McInerney, Jamesie McConigley, John Keane;
Subs: Darragh Power for D. McInerney; McInerney for Lynch;
Referee: Kevin Corry (Sixmilebridge)
Ogonnelloe avoid relegation battle
Ogonnelloe 3-22
Newmarket-on-Fergus 3-10
Venue: Glenomra Park, Broadford
Ogonnelloe's first win of the campaign was enough to save them from the relegation contest to determine who will drop down to junior A for next season
At Glenomra park in Broadford on Sunday they proved too strong for Newmarket and emerged with a merited win.
The winners had 0-13 on the scoreboard at half time and this gave them a two point advantage over the Blues whose tally at this stage was 2-5, the goals having come from Ronan Good and a James Power penalty, the assists for both coming from Cian Foley.
Good found the net again in the second half but it wasn't enough to deny Ogonnelloe who had goals from Gearoid Sheedy, Henry Vaughan and substitute Colin Harte.
Nine players shared in the East Clare side's tally with Rory Skelly contributing 0-8 to their final tally.
Ogonnelloe; Rob Dreelan; Eoghan Heffernan, Barry Kiely, Thomas Condon; Aaron Fitzgerald Bradley, Gearoid Sheedy, Noah Sheedy; Adam Cunnane, Adam Sheedy; Mici Sheedy, Cian Fitzgerald Bradley, Rory Skelly; Paul McGee, Henry Vaughan, Donnacadh McNulty;
Sub: Colin Harte for C Fitzgerald Bradley;
Newmarket-on-Fergus: Adam Enright; Eoghan McInerney, Darragh Burke, Alan McInerney; Noel Frawley, David Frost, Conor McCarthy; Cathal Finucane, Darragh Jones; Sol Frost, James Power, James Liddy; Seadhna Liddy, Ronan Good, Cian Foley;
Subs; Aaron Moroney for J. Power; Alan McInerney for S Frost, Niall Woods for C. Foley (inj); Ronan O'Rourke for Finucane;
Referee; Aaron Hogg (Clonlara)