*Photograph: Gerard O'Neill
CLARE COUNTY COUNCIL has been forced to pause works on the construction of a band stand in Bunratty after realising it did not own the lands on which the structure was to be built.
Town and village renewal works have been underway in Bunratty since June 2023. Part of the plans included the construction of a band stand in the heart of the locality but a stumbling block has been met after Clare County Council realised they were not the owners of the land that the feature was to be erected on.
This discovery was made after an estimated €35,000 to €40,000 had already been spent. The site is located at the back of The Creamery Bar and Restaurant.
Prior to the works, the Council were unable to find a registered owner for the land and had maintained it for in excess of thirty years. This is despite the owners being well-known in the locality for their contribution to the area.
The Clare Echo understands that the landowner has made themselves known to the Council in recent weeks with negotiations on what happens next now at a delicate point. The site is currently blocked off.
Statutory approval for the town and village renewal works in Bunratty were obtained under Section 38 of the Roads Act 1994. The enhanced public realm works are to include traffic calming measures and the introduction of a number of pedestrian crossing points which will connect the north and south of the main road in Bunratty for the first time.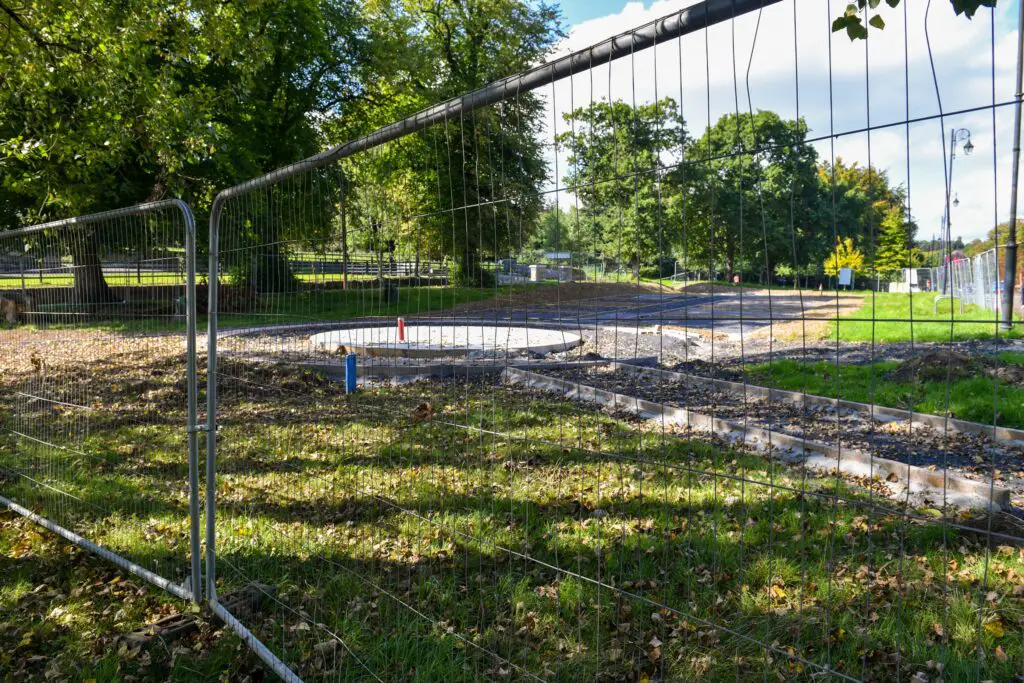 A spokesperson for Clare County Council told The Clare Echo, "A bandstand will be installed in due course. While such a development does not require planning permission, the Council is currently engaging with relevant Parties to deliver this community project. The completed bandstand would create a focal point in the centre of Bunratty and would add considerable amenity value to the village".
When pressed as to why the planned bandstand had been paused, the spokesperson confirmed, "An issue regarding land ownership has arisen and this is currently being addressed in communication with the relevant parties".
Cllr PJ Ryan (IND) admitted that the setback was "an unfortunate thing". The former Mayor of Clare told The Clare Echo he was optimistic that an agreement could be reached between the Council and the landowner. "I would be hoping there would be a solution found to it very soon and the owners would see their civic duty to the area, they have massive links to the area, if they see the bigger picture and donate it to the people, to the Bunratty area and it would be suitably recognised".
Such recognition could include the erection of a plaque to acknowledge the donation by the family, he suggested.