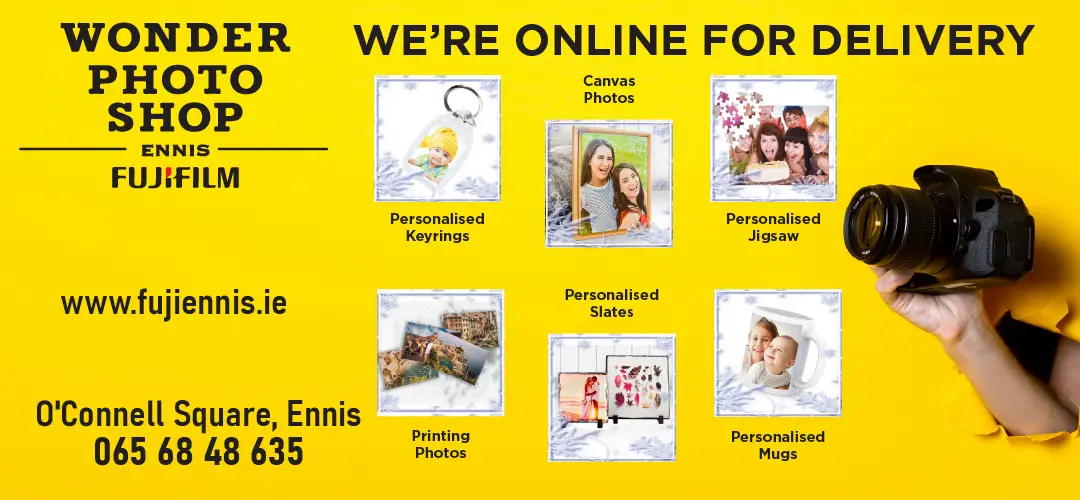 Clare GAA's biggest critics have been urged by the longest serving member of the County Board to air their views with officers in a bid to drive the county forward as he rejected comments that he holds too much power in the organisation.
In a rare media interview, secretary of Clare GAA, Pat Fitzgerald spoke at length with The Clare Echo on Monday afternoon. He has appealed to supporters of the county to come forward to either himself or fellow officers with ideas and critiques to help Clare reach the highest level while outlining some future plans and aspirations of his own.
Appointed county secretary on the 15th of July 1990, he said this became a full-time role nineteen years later. His contract with Croke Park expired in July 2016 and is currently under a full-time contract with Clare GAA.
For the launch of his autobiography, Ger Loughnane chose Pat to launch the book and described him as one of the most intelligent, constructive and progressive administrators in the GAA. That was 2001. Fitzgerald insisted his hunger for the job still existed. "I'd be honest with you, my appetite is as big now as it was ever, I don't know what other people think. The volume of work has increased significantly and I mean significantly, that is probably another reason why I am not out and around is the amount of emails you have got to deal with in any one day. I look after Cusack Park and Tulla also. I would be continuously in touch with people around the county to keep myself abreast with what is happening, I contend that I know what is going on in the club scene, I would always like to be aware of the downsides of a club and the problems that exist in the community, we're a community based organisation".
More recent years have seen Loughnane comment that the county secretary has too much control and that he is holding back Clare GAA. Pat disagrees with the view that he is a dictator. "I've nothing but the greatest of admiration for Ger Loughnane, everyone knows that. He could have got anyone to launch his book, I remember Bertie Ahern was Taoiseach at the time and he would have been privileged to do it. People for whatever reason say that (I've too much power) but you have 13 officers, a fixtures committee which has 12 people on it, you have a hearings committee and I can assure you that the fixtures committee will have their say and if they see anything wrong do you think they will sit around a table and allow me to dictate on everything".
Writing in The Irish Examiner last year, All-Ireland winning captain Anthony Daly stated the "culture is all wrong" within Clare GAA. Fitzgerald has appealed to individuals such as Daly to confront Clare GAA officials with their ideas to leave the organisation in a stronger standing. "Anyone that wants to ring me directly anytime and anything they have to say I have no problem, I will meet them at any place. With some people, I have offered to go to their houses and sit down, if there is an issue and I've done something wrong I will say come and tell me and I will talk about the bloody thing. Even if they don't want to talk to me, they can talk to the Chairman. I believe and I hope that we can work together and go on as a unified approach, that is what I've always been hoping for. I've stretched out the hand, I may be tough in a meeting but I've often met people five minutes afterwards or the day after and they would look for something, you can rest assured the day I couldn't separate those two issues I would walk away from it. Not bearing grudges or holding something against a club is a principle I've held since the 15th of July 1990, people may think different but I will debate it with anybody".
There is an annoyance on his behalf that people allow this view go undisputed as he mentioned he has less of a role in appointing referees for club games in Clare. "It's like everything, people will associate me and the other thing is people in the know will put that out. I would like to ask those people, where and what aspect of the Association do I have all that power in, if they say everything I think it would be important for them to come to the Chairman or me directly if they want to and ask about this. Someone once said, give a dog a bad name".
Clubs who have spoken out against the tenure of the secretary feel they have paid the price when it comes to the venues for games involving their teams and the match officials chosen. It is an assertion rejected by the Sixmilebridge resident. "There is one particular club who have given me a torrid time and I'd say if people looked at it, they've played outside Cusack Park three times in the past three years and that is a club that have not been very nice to me. I can assure you, I've probably been one of the first people that have always said because of their location that I would put them down for Cusack Park. I would like to think whether it is the Bridge or whoever it is, I know they all say the Bridge get the favoured treatment but they are at a level that they will be seen and people will use that. That is one thing I would like to scratch, if someone had an argument with me today and came back tomorrow looking for €100 and I had it I'd give it to them if I trusted them".
Tuesday's Convention will elect a successor to Joe Cooney as Chairman. A man Fitzgerald has immense admiration given his commitment and dedication to the post "despite being heavily involved in a number of different roles". He also paid tribute to all officers past and present for their "tremendous work and dedication" to Clare GAA.
One narrative looming over the nomination process has been the age-profile and gender of persons put forward. He acknowledged that consideration must be given to attempting to entice quality energetic candidates as opposed to solely allowing clubs select the shortlist. "Getting young blood is very difficult in all areas of the Association for a number of reasons, the fabric of society has changed dramatically in recent times, the younger people are taken up with domestic life, it is very difficult to get people because they don't have the time and thus that is why I think invariably you haven't the interest shown by any of the younger people".
An "enormous interest" in the GAA is cited by Pat for continuing to stay in the role. He admitted, "I have no other interests really, I don't socialise and I don't do anything else. When I get home in the evening time, there is still some work to be done, maybe you don't have to do it or get a lot of other people and costs would escalate but it gives me great pleasure to be doing it and I enjoy doing it. I have a great pride in the Association and the people in it. There can be some bits of tension and you've said it that I do very little interviews, one of the things I was often tempted to do was to come out and say what was said or written here was wrong and get the facts right, I'm always hopeful that we should be working together particularly in this county. We should be all in it together and working for a common purpose, I believe that even with that it is difficult to succeed at the higher level, rather than I coming out and scoring points. I hope people will do their research, in 2002 we had two pitches Cusack Park and Ballyline and from there we developed".
He believed fairness has been a consistent trait of his tenure. "I spent many years in Shannon and was involved in union matters, dealing with many issues. The job of secretary was to get the job done, you can be sure that I would have been quizzed at a Board meeting if there was anything wrong, in all the time I've been secretary I have missed one meeting in all of those years, I was there to be held to account for anything that I've done that is the point I'm making. I've got nothing but support and help, okay I have been pretty tough with the way I deal with issues but I do that because I believe and if I learned anything it was from my previous area in the union is that you cannot take two sides, you've got to be straight down the middle and to be straight down the middle is not being popular and it is the most unpopular way you can be. The one thing I would challenge people on, I don't mind them saying I am this, that or the other that I may not be a nice guy to deal with or whatever but I've always been straight and fair as much as I can, I make mistakes yes I make thousands".