by Muireann McGrath
Tá Comhordaitheoir Pleanála Teanga le beith fostaithe mar pháirt do phlean teanga na hInse. Tá an Clár as Gaeilge ag cur an phlean i bhfeidhm. Tá sé mar pháirt don aidhm atá acu chun Gaeilge a spreagadh ar fud Chontae an Chláir. Ón am a bunaíodh é in 2002, tá an Clár as Gaeilge ag obair an t-am ar fad chun Gaeilge a chur chun cinn anseo in Inis. Ritheann said imeachtaí cosúil le Féile na hInse, Féile Scoil Dramaíochta, ranganna Gaeilge agus iomaíochtaí eagsúla eile chun an aidhm seo a bhaint amach. Cé gur mheas daoine go raibh an Gaeilge "neamhfhaiseanta" agus "neamhriachtanach", ceapann an Clár as Gaeilge go bhfuil athrú tar éis a theacht ar mheoin an phobail le cúpla bliain anuas. I mí Mhéan Fómhair na bliana seo, fuair siad 80 milliún i gcomhair an phlean Gaeilge nua.
Thosaigh an t-ullmhú don phlean teanga chomh luath le 2015 nuair a chur an Clár as Gaeilge iarratas chuig Foras na Gaeilge chun Inis a ainmniú mar bhaile Líonra na Gaeilge. I ndiaidh sin, bronnadh an teideal "Baile Líonra Gaeilge" ar Inis chomh maith le Baile Locha Riach, Cluain Dolcáin, Carn Tóchair agus Iarthar Bhéal Feirste. Thosaigh an pleanáil tar éis é sin. Rinne an Clár as Gaeilge taighde le muintir na hInse chun a fháil amach céard go díreach a bhí uathu sa phlean teanga agus tar éis roinnt blianta ag scríobh agus ag áthscríobh bhí an plean déanta acu in 2019. Ghlac an t- Aire Joe McHugh leis an bPlean in 2020 roimh a lainseáladh é faoi dheireadh in 2021. Mar sin, céard atá ag tarlú anois?
Tá a lán beartais curtha le chéile acu i gcóir an chóras oideachais, an earnáil gnó, seirbhisí poiblí agus rudaí eile chun plean a dhéanamh amach dóibh. Mar shampla, tá airgead curtha ar leataobh chun scolairí a thabhairt ar turais go dtí an Ghaeltacht agus agus chuig campaí samhraidh chun a gcuid Gaeilge a fheabhsú. Anois, tá an foireann ag fanacht go dtí go mbeidh Comhordaitheoir Pleanála Teanga fostaithe acu chun na beartais seo a chur i bhfeidhm.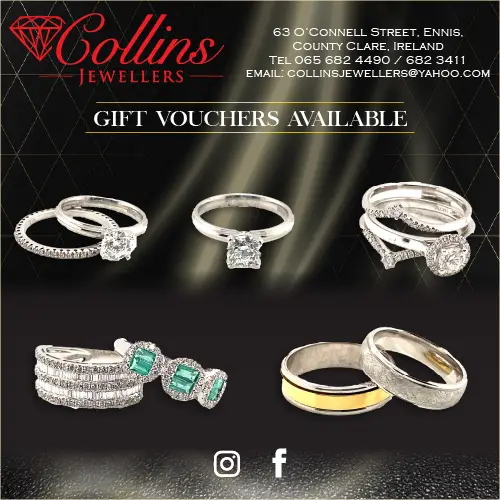 "Tá sé soiléir dom san oifig go bhfuil muintir na hInse sásta Gaeilge a labhairt" a dúirt Marc Mac an Adhastair, an tOifigeach Forbartha don Chlár as Gaeilge "Tá mana againn anseo. Beatha an teanga í a labhairt. Má tá orainn Gaeilge a thógail amach as na seomraí ranga agus a chur ar na sráideanna nó isteach sna hamharclanna, agus sna tithe tábhairne, sin céard a dhéanfaimid. Fiú mura bhfuil agat ach cúpla focail cosúil le Dia dhuit, Slán nó Go raibh maith agat is leor sin. Mar a dúirt an seanfhocail is fearr gaeilge briste ná béarla cliste. An t-aon rud atá muid ag iarraidh ná níos mó Gaeilge a chloisteáil. Níor thosaigh an plean seo inniú ná inné. D'oibrigh muintir na hInse ar feadh 40 bliain chun an Ghaeilge a spreagadh. Is 40 bliain rathúla a bhí iontu agus tá súil agam go mbeidh 40 bliain eile rathúla againn". Ba é Inis an chéad bhaile as an liosta chun a bplean a lainséail agus leanfaidh an Clár as Gaeilge ar aghaidh ag obair chun Gaeilge a chur chun cinn anseo i gContae an Chláir.
In English:
A new Language Planning Officer is being employed as a part of Ennis' new Irish Language Plan. The plan is being implemented by an Clár as Gaeilge, who have set out to strengthen Irish here in Clare. Since it was first founded in 2002, An Clár as Gaeilge has been working continuously to promote and spread the Irish language in Clare. They've been running events such as Féile na hInse, Féile Scoil Drámaíochta, Irish language classes and activities to achieve this goal. Despite Irish being deemed "uncool" and "unnecessary" An Clár as Gaeilge believe there's been a change in attitude in recent years.  As recently as September 2021, they were granted 80 million euros for a new Irish language plan.
The preparations for this new language plan began as early as 2015 when An Clár as Gaeilge sent a request to Foras na Gaeilge that Ennis be named an Irish language town. Later, Ennis was awarded the status "Irish Network Town" along with Loughrea and Clondalkin as well as Carntogher in Derry and West Belfast. The planning began shortly afterwards.
An Clár as Gaeilge surveyed the people of Ennis to discover what the public would like to come from the language plan and after several years of writing and rewriting, the plan finally came together in 2019. The plan was then approved in 2020 by Minister Joe McHugh before finally launching in 2021. So, what exactly is happening now?
The team had to put various policies together for the educational system, the business sector, public services, and others in order to plan what they could do for all of them. For example, part of the money will be allocated to support and bring students on trips to the Gaeltacht and Irish summer camps so they can strengthen their Irish.  The team is now waiting to employ a new Irish Language Officer before putting their plans into action.
"It's obvious to me that the people of Clare are happy to speak Irish," said Marc Mac an Adhastair, the Development Officer for An Clár as Gaeilge. "We have a motto here. 'Beatha an teanga í a labhairt'. If we have to take Irish out of the classrooms and onto the streets or into the theatres and pubs to hear it, that's what we'll do. Even if you only have a few words, just hello, goodbye or even thank you, that's enough, for as the saying goes 'is fearr gaeilge briste ná béarla cliste'. All we wish for is to hear more people speaking Irish around Clare.  This plan didn't start today or yesterday. The people of Ennis have worked for 40 years to encourage more people to speak Irish. It was a successful 40 years and I hope the next 40 years will be successful as well". Ennis was the first of the towns listed above to launch this plan and An Clár as Gaeilge will continue to encourage the advancement of Irish here in Clare.