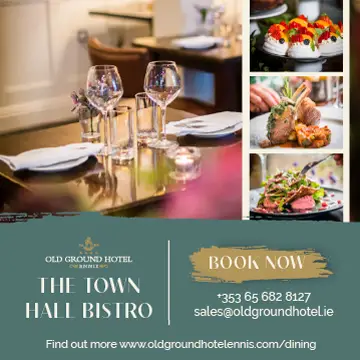 *O'Callaghans Mills captain Bryan Donnellan. Photograph: Gerard O'Neill
In his youth dreaming of soccer finals occupied the mind of Bryan Donnellan but the sole focus this week is their shot at destiny and taking on Sixmilebridge in the Clare SHC final.
An ex League of Ireland footballer with Limerick FC and an Oscar Traynor winner with Clare in 2004, Bryan admitted that hurling was never his number one priority growing up. "Back then it was World Cup finals I was dreaming of, I wasn't the most gifted underage hurlers so any thoughts of playing in hurling finals were a long way from my mind back then".
Finding a work/life balance made club hurling more enticing for the O'Callaghans Mills captain. "A lot of the League of Ireland games were midweek, once I qualified and had my finals done in the accounting it wasn't really an option to be heading to Dundalk for a Monday night game with a 7pm kickoff or Monaghan of a Thursday, hurling was at weekends and was a bit easier to fit in around a normal working life".
His senior debut for the Mills was back in 2002 against a St Josephs Doora/Barefield outfit that included the likes of Ollie Baker, Seanie McMahon and Jamesie O'Connor. Eighteen years on, he finds himself sixty minutes away from leading O'Callaghans Mills to their first senior championship success since 1937.
"It's great the way things have gone for us. Two years ago we were in a semi-final and missed our chance to get to a final and going to relegation last year we thought it was gone but the way things have worked out this year we've managed to string a few wins together and we're delighted to be there," the chartered accountant said of their run to the final.
He continued, "When we came into the first game against Broadford both ourselves and them had nothing to gauge form on, we had no idea how we were going and we were going in hoping you were right and not too far behind other teams. Winning that Broadford game was huge for us, last year the only game we won was the relegation final, getting the win the first day out was big for us".
Two years ago, the Fireballs lost the county semi-final to Ballyea and within the space of twelve months found themselves narrowly fighting off relegating as they demoted Tulla. It is the experience from the relegation final as opposed to not taking their chance in 2018 that Bryan referenced as a factor that entered his head as they prepared for their recent semi-final redemption over Ballyea
"The relegation final last year was playing on my mind, we haven't spoken about it as a team but it was definitely a situation I wouldn't like to be in again, that was real pressure. Lots of people around the club have worked to get us up from intermediate back in the seventies, we really didn't want to be the team that went down. We had plenty of hurt from losing two years ago but the relegation final was the real thing on our minds".
Now lining out at centre-forward, the thirty eight year old has enjoyed the new role. "I would have played most of my hurling at wing-back or midfield, I wouldn't get in the team now for either of those positions! As you get older, if you can change it up there is probably no harm in that because it gives you a new lease of life to try something different and see how you get on, it doesn't always work out but it's going okay this year".
Building up for their first SHC final since 1993 has been "low-key" on account of COVID-19. "It has been a strange one, in other parishes in previous years there has been a lot more excitement but people have to stay away from each other now, you can't be getting together in groups, there is no one around here only us if there is a training session on, it has been fairly low key, there has been more colour around the village than there normally would be in September, other than that it has been pretty low key which is unfortunate in some ways but at the same time, it's the way of the world at the moment".
Clare hurling folklore will forever remember Patrick Donnellan as the man that captained the county to All-Ireland glory in 2013. Sixty minutes on Sunday will determine if his older brother Bryan is afforded the honour of bringing as much pride back to O'Callaghans Mills by returning with the Canon Hamilton under his arm.