*Dylan Casey celebrates clinching the Premier Division title for Avenue Utd. Photograph: Natasha Barton
REIGNING LEAGUE AND CUP champions Avenue Utd have received a major lift before a ball has been kicked in the defence of their titles.
Off the back of his greatest season at adult level for Avenue Utd, captain Dylan Casey had piqued the interest of numerous Limerick clubs with a move to Fairview Rangers AFC almost edging over the line.
However the centre-half to the relief of the Roslevan based club made the decision to stay put and this statement alone is a sign of intent that Avenue Utd will not be resting on their laurels for the new season.
Elias Kunz who netted over 45 goals for the club in his debut season and left wing Mark Roche also caught the eye of Limerick clubs but will be lining out with Avenue Utd.
On top of this, they've snapped up Nabuike Nneji, the player at the centre of the registration controversy with Sporting Ennistymon last season and Vincent Onouha who formerly played in the same Ukrainian semi-professional league as Nneji.
David Russell who became the first person in Avenue Utd's history to captain and manage the club to a Premier Division and Clare Cup double said that the decision of the trio to stay loyal has given the entire squad a lift. "It's a compliment when the big teams from Limerick want our players, we'd Elias Kunz who scored over 45 goals and Mark Roche, big clubs from Limerick had a look at a few of them, we kept everybody, that shows the commitment to the club and to us and we're going to back up what we did with hopefully another good season".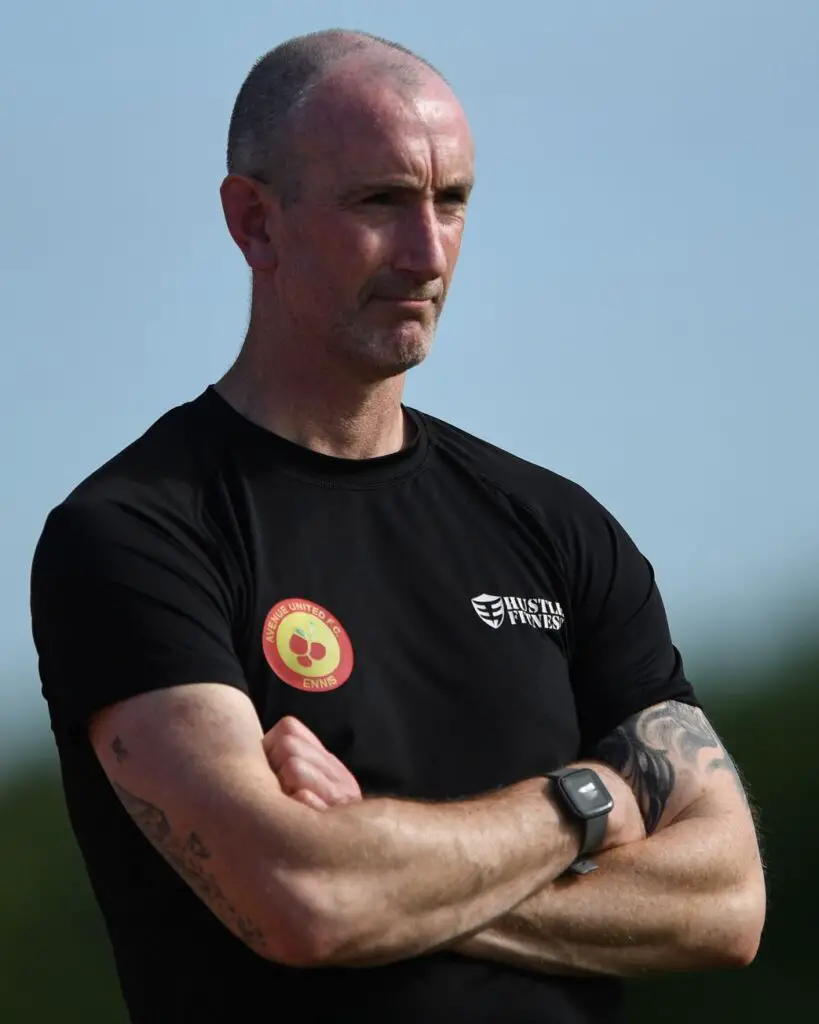 Back training since the 7th of July, Russell noted that the determination of the squad is matching the mood that was evident in their camp last season. "The first thing we stated as a management was we wanted the players to work as hard as they did last year. The players were raring to get going, it's been player driven to get going as early as possible, that shows the hunger is there to not to be a flash in the pan and to build on our success".
Former Chairman of the Clare District Soccer League (CDSL), Oliver Fitzpatrick has joined Russell's management team this season with Kieran Ryan a panel member of Irish Youths and Junior sides on board as their new coach.
According to the Clarecastle native, the duo have strengthened the atmosphere at Avenue Utd. "I've always got on with Oliver, he managed Inch Crusaders in the past, he knows the ins and outs of Clare league better than most, I always thought he'd be an addition to any club, he's insightful, he's the quite man of the management and it is nice to balance it with the pragmatism of Kieran, Oliver is a man of few words but when he does speak it's well regarded. Kieran has been coaching numerous teams in underage and senior football, he has 25 years experience, he has stepped in and the lads have really warmed to him. I've been there for three years, it was important to get a new voice in and Kieran is an Avenue legend".
Russell himself admitted he had little doubts about returning to the hotseat. "It was a fair high to win the double but it was followed by an emotional relief for a week or two after that we did it. Not long after that, the players were onto me looking for a plan, they wanted to know who were playing in pre-season friendlies and when we'd be back training, there was no doubt I wasn't going to come back, it's all down to the players and with their attitude and application it was a no brainer for me".
Throughout their run to claim League and Cup titles, the Oscar Traynor medallist often cited the level of work they had clocked up as central to dethroning Newmarket Celtic. "It was unprecedented the amount of training and friendlies we played last season. With Kieran and Oliver coming in, it was up to the guys to impress them, they've noticed the work ethic, there's no moaning and an eagerness to get going. Oliver and Kieran have been impressed with the players' honesty and work ethic which is a good sign, it starts off on a good forward step".
Runs to the last sixteen of both the FAI and Munster Junior Cups also boosted the confidence of the Avenue charges last season. They are keen to also back this up. "The bread and butter is always the most important, first and foremost we want to retain the League and Cup. The momentum of winning and staying unbeaten before Christmas means we'd still be in FAI and Munster and that would be excellent preparation for the business end of our season here".
Avenue Utd A:
Management: David Russell (manager), David O'Grady (Asst Manager), Oliver Fitzpatrick (Asst Manager), Kieran Ryan (coach), Trish O'Donnell (physio)
Captain: Dylan Casey
Key Player: Elias Kunz
One to Watch: Stephen Talty
Fresh blood: Nnabuike Nneji (signed from Sporting Ennistymon), Vincent Onouha, Stephen Talty, Ben McDonagh, Kaylan O'Loughlin.
Departures Gate: Shane Browne (has signed for Fair Green Celtic)