*Avenue Utd celebrate their Cup success. Photograph: Gerard O'Neill
AVENUE UNITED were crowned Clare Cup champions for the first time since 2011 after they ended Newmarket Celtic's aspirations of claiming an unprecedented tenth title in succession.
Avenue Utd A 2
Newmarket Celtic A 1
Venue: Frank Healy Park, Doora
Played in glorious sunshine on one of the warmest days of the year, Frank Healy Park was glistening on Saturday evening in what was the showpiece event of the Clare District Soccer League (CDSL) calendar.
By no means was this a classic to reflect the occasion but rather a contest which in time may be referenced as the turning point for when the wheel of dominance in Clare soccer finally shifted.
Avenue Utd are Clare Cup champions for the first time since 2011. They end Newmarket Celtic's bid for an unprecedented ten in a row.

Eoghan Thynne exceptional for the winners as David Russell's men collect an eleventh Cup win.

FT: Avenue Utd 2-1 Newmarket Celtic

— Páraic McMahon (@thepmanofficial) May 28, 2022

Given the progress shown this season and the squad built, Avenue could accept no other outcome but by dethroning Newmarket as either Cup or League champions, they've one part of the task accomplished and will certainly fancy their chances of finishing off the job when they renew rivalries on Wednesday evening.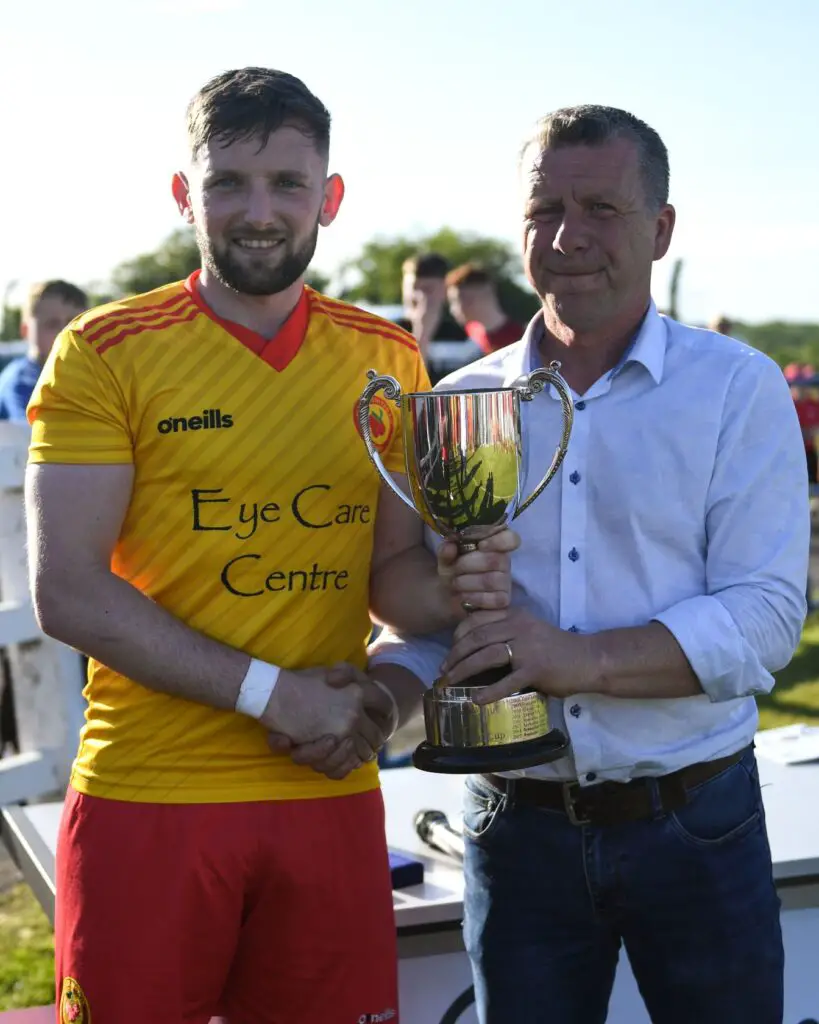 "We're back", was the statement of winning captain Dylan Casey when he accepted the Banner Carpets and Flooring Clare Cup from CDSL Chairman, Jason Ryan. They are indeed and they came back with a bang, getting off to a dream start.
Star man Elias Kunz broke the deadlock on seven minutes, Eoghan Thynne managed to find a gap in the spine of the Newmarket midfield and duly cut through, he found the powerful Kunz with the twenty two year doing well to control possession and even better to round Shane Cusack before calmly slotting to the back of the net.
Moments previously, Philip Talty did well to manoeuvre a cross but winger Mark Roche failed to get his head to the ball and with it squandered their chance of going ahead on five minutes.
With the experience and success at their disposal, Celtic's nervy start was surprising. They lacked energy throughout but really failed to gain a foothold in proceedings and continuously were beaten on the fifty fifty encounters.
To their credit, they initially responded well to the concession of Kunz's goal, it served as a wake-up call and they worked the ball up the field, Darren Cullinan played a pinpoint pass to Gearoid O'Brien who finished to the net but in what was a decisive moment, the Kilrush man was deemed to be offside and thus the goal did not count.
This setback seemed to hurt Celtic with Avenue putting together the next three goal-scoring opportunities, the last one proving to be their second goal.
Stephen Jordan remained a calm figure under pressure from Cullinan to win a throw-in from a mis-hit Stephen Kelly clearance, Philip Talty created space on the restart and smartly found Eoghan Thynne who struck to the bottom right corner of Cusack's net on seventeen minutes. Calls of a handball from the Newmarket camp in the lead-up to the goal fell on deaf ears.
Set-pieces appeared to be the most likely way Celtic would register a score but from their three opening half corners, there was nothing of note to test James Tierney. Indeed, for the majority of the tie, Newmarket were unable to put together a threatening goal chance, they had seven corners in total. They did have a potential chance to pull one back in the last attack of the half but Conor Mullen made a perfectly timed tackle to block Gearoid O'Brien.
Mark O'Malley's Newmarket enjoyed the bulk of possession for the opening twenty to twenty five minutes of the second half but again struggled to make it count. From every set-piece, they made their opponents nervous but the final touch always missed the vital connection to put the ball into the back of the net.
That energy that Newmarket were craving received a boost of sorts with the additions of Eoin Kelly, Kevin Harnett, Daithi O'Connell and Cathal Hayes from the bench but Avenue always managed to remain on top despite what was thrown at them.
In order to try register on the scoresheet, they shoved towering defender Stephen Kelly up the field, his presence in the danger area for corners always made Avenue uneasy, for every high ball the ex FAI Junior International of the Year was superior and he did come close with two different headers but both narrowly went over Tierney's cross bar.
Composure was a constant of Avenue's display, this was epitomised by Alan Roche and Eoghan Thynne at the heart of their midfield, the duo were the starting point for every counter-attack and were back to help the solid back four in clearing up any risky situations.
Eoin Hayes finally got Newmarket off the mark with a well taken free on ninety four minutes but regrettably from their perspective, it came too late turning out to be the final attack of the evening. The nine-time Clare Cup champion was perplexed moments earlier when appeals for a handball which would have resulted in a penalty were ignored.
Without question, the better team departed Frank Healy Park with the trophy, of that there can be no complaints. David Russell's Avenue ended a trophy drought of eleven years at adult level, a gap that anyone in the club will admit is far too long. They did so by building a strong squad and showing considerable progress throughout the year but on this day they ranked higher than their opponents in every single aspect of the contest, except the aerial ball.
Anytime the ball broke it was hoovered up a player in Yellow and Red, it summed up their determination and on Cup final days it is generally the hungrier side which prevails. Elias Kunz topped off his outstanding season with a tireless display, his work ethic is matched by a coolness on the ball. The dominance of Alan Roche and Eoghan Thynne in the centre of the park is where they controlled the game, Philip Talty broke forward on countless occasions ticking the box of dispossessing Newmarket while also launching attacks, Stephen Jordan gave one of his performances of the season while the defensive anchors of Dylan Casey and Conor Mullen limited the danger from play of the opposing attack.
To go fifty five games unbeaten in the Clare Cup is an outstanding achievement and one in which Newmarket deserve to be proud of. Their feat in winning nine Cups in a row is unlikely to ever be surpassed. An approximate eighty percent of the fifteen Celtic players to feature over the hour were aged thirty plus, this defeat could result in a crossroads for the club who tried to make efforts to blood new players at adult level but require an injection of something different, identical to what Avenue did at the beginning of the season, in order to bounce back.
From their perspective, few players will be happy with their showing. Darren Cullinan had a strong performance at left-full while Eoin Kelly strengthened their defence when introduced, Kevin Harnett and Daithi O'Connell asked questions when brought on while Eoin Hayes led the way in fighting the cause to the dying moments but utltimately they fared second best in too many of the individual battles.
Wednesday's league decider between the clubs becomes even more interesting. A draw is enough for Avenue and could see the Roslevan based commence their own period of dominance while a response from Newmarket would certainly indicate they have no intention of going anywhere, anytime soon.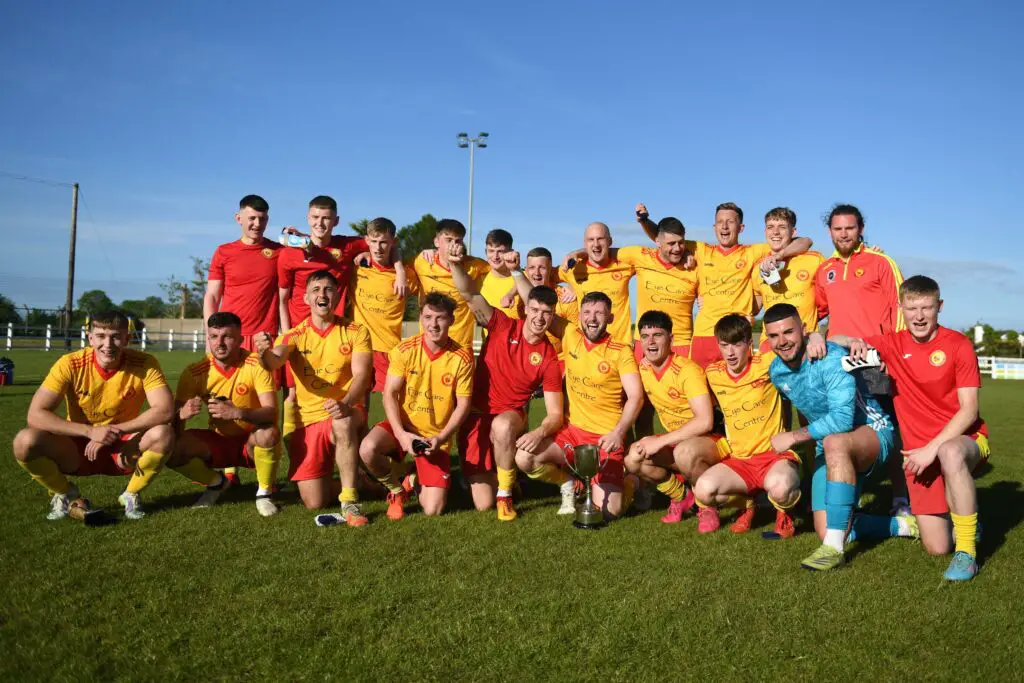 Avenue Utd: James Tierney; Cullen McCabe, Conor Mullen, Dylan Casey, Conor Hehir; Alan Roche, Eoghan Thynne; Stephen Jordan, Philip Talty, Mark Roche; Elias Kunz.
Subs: Jamie Roche for M Roche (77), Callum Barrett for Jordan (86), Gary Roche for Kunz (89), Mikey Dinan for Talty (92).
Newmarket Celtic: Shane Cusack; David O'Grady, Paddy Purcell, Stephen Kelly, Darren Cullinan; Conor McDaid; Colin Smyth; Ronan McCormack, Gearoid O'Brien, Eoin Hayes; David McCarthy.
Subs: Eoin Kelly for Purcell (44) (inj), Kevin Harnett for McDaid (59), Daithí O'Connell for Smyth (60), Cathal Hayes for O'Brien (70).
Referee: Mark Rellis