*Elias Kunz under pressure from Harvey Cullinan. Photograph: Gerard O'Neill
AVENUE UTD have ended Newmarket Celtic's reign as FAI Junior Cup champions.
Avenue Utd 3
Newmarket Celtic 1
Venue: Roslevan
Elias Kunz once again came up trumps for Avenue Utd scoring twice while Steven McGann marked his return from injury as the duo raided for goals to dethrone Newmarket Celtic as FAI Junior Cup champions.
Meetings of these two rivals have been tense and hostile in recent seasons. Sunday's third round FAI Junior Cup was almost over without an incident of note before unsavoury scenes boiled over the surface following McGann's goal.
When sport is played as it should be, it is the player on the field, the boxer in the ring or the athlete on the track that is left to be the hero or the villain. Sadly on this occasion and not for the first time between these sides, when a late goal was scored, a flood of supporters, substitutes and mentors flooded the pitch. Granted this can be a moment of high emotion and jubilation but the pitch has to be sacrosanct and kept to the players and match officials.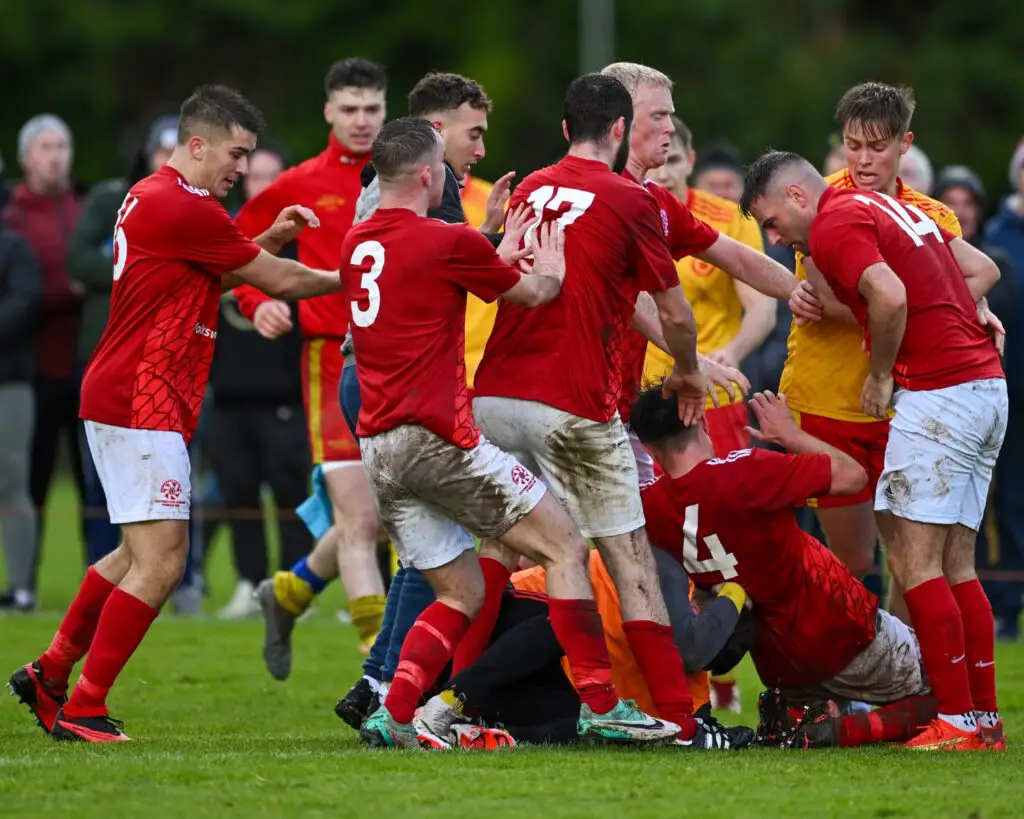 This occurrence led to a scuffle between Avenue Utd substitute Mikey Dinan and Newmarket Celtic's Gearoid O'Brien which kicked off a whole row involving far too many people, both individuals were issued red cards by referee Michael Rock but the emergence of spectators connected to either club along with substitutes and mentors to get involved in this row was complete unnecessary. Simply put, the row would not have happened at all if the substitutes stayed off the pitch.
Avenue Utd mentor David O'Grady showed remarkable restraint not to react when he appeared to be hit by a Newmarket Celtic supporter and then shoved by a player but the fact remains that dozens of personnel should have been on the other side of the white line instead of encroaching on the field to celebrate or attempt to rile the opposing club.
Referee Michael Rock and had his officials had done well to keep a lid on these tensions but it is not a realistic ask to ask three officials to also be in charge of keeping supporters and substitutes from entering the field of play.
Had the rules been obeyed then football would have been the main talking point and how a well drilled Avenue Utd side were deserving of their victory against Newmarket Celtic, instead a bitterness between both clubs continues to grow thanks to a needless scuffle.
Back to the football, as expected Avenue started with all guns blazing and ensured Shane Cusack was on alert from the get-go. Mark Roche was causing problems down the left wing, when a quick free on the opposite flank from Mossy Hehir came to Roche, his cross was met with a touch by Ronan Kerin but saved by Cusack.
In what was arguably Newmarket Celtic's best passage of play in the game, a counter-attack began when Cian Foley dispossessed Eoghan Thynne, Nathan Boaventura demonstrated his skill when carrying the ball forward, he played to Tadhg Noonan who gave a quick pass to the on-rushing Foley, he put power in the shot but it was pushed out for a corner by Luke Woodrow with seven minutes played.
As they cleared the danger from the corner, Elias Kunz flicked the ball in the direction of Roche, he played the ball to Mossy Hehir but his pull back was again saved by Cusack. Further interventions from the Newmarket Celtic netminder saw him deny Kunz and Roche as the hosts continued to pile the pressure on.
Captain Eoin Hayes almost broke the deadlock, the ball falling to him after Tadhg Noonan broke possession but Hayes' shot hit the legs of Noonan and Avenue could breathe a sigh of relief.
Conor Hehir demonstrated superb defending to win the ball back from Eoin Hayes, his turnover kickstarted the move which resulted in their first goal. Hehir's brother Mossy delivered the cross which was headed home by Kunz on twenty four minutes.
Eleven minutes later, Kunz doubled their advantage when a defensive blunder allowed for him to lob the ball over Cusack and into the back of the net, putting the reigning Clare Cup champions in a healthy position.
Knowing their title was on the line, Newmarket Celtic shuffled the deck at half-time with the experienced duo of David McCarthy and Eoin Kelly entering the fray at half time.
Their comeback started in earnest as they hit the net on their first attack of the second half. Noonan delivered the cross which fell all the way to the back post to be tapped home by Nathan Boaventura.
Noonan almost had the equaliser, he managed to beat goalkeeper Luke Woodrow but was denied by the post on fifty two minutes. Then Nnabuike Nneji was on hand to clear a Kevin Harnett attempt from the danger zone.
If it was Avenue who were more controlling in the opening half, Newmarket were the side who looked more threatening of raiding for goal in the second half. Jack Kelly's volley was their next best effort but it was parried by Woodrow on seventy six minutes before Mossy Hehir managed to block Nathan Boaventura who was on the attack.
Yellow cards were becoming increasingly visible but the play remained with Newmarket as they searched for an equaliser. Harnett had a header miss the target while McCarthy also didn't get his shot fully executed which allowed Avenue to hold on.
Substitutes combined to seal the deal for Avenue when Jamie Roche put Steven McGann through and he made no mistake this time round, having missed an effort moments earlier.
Advancing to the fourth round of the FAI Junior Cup is fully earned for David Russell's Avenue. Overall they were the better side on this occasion and of the two sides used the off-season to better effect in terms of the players recruited. Steven McGann, Gavin Cooney and Jamie Roche all contributed when introduced from the bench, coming at a time when their challenge was waning. Their first half showing was electric and lively but faded off some bit for the first twenty minutes of the second half, still they linked the play well and benefitted from the first half foundations. Elias Kunz, Conor Hehir, Dylan Casey and Mark Roche were best for the winners.
Not alone will Avenue gain immense satisfaction from beating Newmarket Celtic in this competition but dethroning them will make it that bit sweeter for them. So far as the FAI Junior Cup competition is concerned, they cannot let this win be their highlight and must now build on their campaign of last season by going further than the last sixteen. Their strength in depth is a huge aid in trying to make this a reality.
Having won the FAI Junior Cup in April, Newmarket Celtic celebrated this historic feat in their victory social a fortnight ago and last week claimed the President's Cup. The chance to win back to back titles would not have been mentioned at either event but to be eliminated from the competition by Avenue Utd an early stage will leave a sting, a potential refixture in the Munster Junior Cup won't take long to focus the minds should the pairing happen. Paddy Purcell's charges may no longer be in the FAI Junior Cup but still have a lot to play for and must maximise their remaining opportunities.
Key to their success last season was how they managed to use their best players, as has been referenced several times by this publication, Darragh Leahy's role up front allowed Irish international Eoin Hayes shine in a different light while the experience of Stephen Kelly complimented the talented Harvey Cullinan in the second half of key contests. Both Leahy and Kelly are not part of the squad currently and are huge losses. Both Eoin Kelly and David McCarthy steadied the ship when introduced at half-time but David O'Grady's injury and departure left Celtic exposed, a sight that was not visible last season. Standout players for Celtic included Shane Cusack, Harvey Cullinan and Jack Kelly.
Avenue Utd: Luke Woodrow, Cullen McCabe, Conor Mullen, Dylan Casey, Conor Hehir; Eoghan Thynne; Mossy Hehir, Nnabuike Nneji, Mark Roche; Ronan Kerin, Elias Kunz.
Subs: Gavin Cooney for Roche (61), Steven McGann for Kerin (72), Jamie Roche for M Hehir (77).
Newmarket Celtic: Shane Cusack; David O'Grady, Ethan Fitzgerald, Harvey Cullinan, Conor McDaid; Jack Kelly; Kevin Harnett; Eoin Hayes, Cian Foley, Nathan Boaventura; Tadhg Noonan.
Subs: Josh Lindsay for O'Grady (26) (inj), Eoin Kelly for Fitzgerald (HT), David McCarthy for Foley (HT), Gearoid O'Brien for Noonan (65), Ronan McCormack for Kelly (80).
Referee: Michael Rock.