*Darragh Leahy and Conor Mullen squared off against each other again. Photograph: Natasha Barton
AVENUE UTD AND NEWMARKET CELTIC LOCKED horns once again on the local soccer scene while Kilrush Rangers and Bridge Utd recorded wins in the Premier Division.
With the Christmas break fast approaching on the domestic front, clubs have been anxious to put themselves in a healthy position on the league table before the festive period. It added to the significance of the weekend games, most notably the clash of reigning champions Avenue Utd and their predecessors Newmarket Celtic.
Celtic comeback enough to deny Avenue three points
Newmarket Celtic 2
Avenue Utd 2
Venue: McDonough Memorial Park, Newmarket-on-Fergus
Tensions continue to increase between these two rivals in what is without question the number one rivalry in Clare sport at present.
Referee Dylan Shannon dished out a total of eight yellow cards in this Premier Division clash which surprisingly saw both sides finish with their full complement. Not alone had the match official to deal with the fouls and resulting negotiations from players but also plenty of feedback from each sideline, arguably had he brandished a red card or laid down a strong marker from the get-go, this level of engagement may not have been as vociferous.
David McCarthy picked up the first of the yellow cards with a late challenge on Conor Mullen. In a way it summed up Celtic's first half, a sense that they were not themselves and off with their timings.
On the other hand, Avenue completely dominated the opening half but only had a 1-0 advantage to show for it. They had a glorious chance to take the lead within five minutes when a corner from Eoghan Thynne beat everyone including the net, a simple touch from a player in yellow would have put the holders in a strong position from the off.
They did go in front on twenty six minutes when a scrappy effort from full-back Conor Hehir was helped to the net by a deflection which caught Celtic netminder Shane Cusack. The hosts received a further blow when captain Eoin Hayes limped off with a hamstring injury, early in the contest he showed the bother he could cause the opposing defence when easing by them and were it not for Tom O'Brien diving out to claim the ball from his feet, Hayes would have broken the deadlock.
O'Brien lining out in his first derby at this level had a finger-tip save to deny McCarthy on eleven minutes but would find matters more difficult when lining out in close proximity to the home support for the second half.
Avenue did have a second goal disallowed after Elias Kunz handled the ball before putting it in the back of the net on forty two minutes. They came close to hitting the target once again before the half-time whistle but Conor Mullen's header on an Eoghan Thynne corner narrowly over the crossbar.
On the restart, Avenue continued to be the more dominant of the chances with Kunz and Mossy Hehir having opportunities in the early exchanges.
David Russell's charges finally doubled their lead on sixty minutes when they once again profited from Newmarket cheaply gifting them possession. Ronan Kerin teed up Nneji Nnabuike who finished with a tremendous volley off his left foot.
Instead of pushing on, Avenue allowed their rivals back in the contest. The decision of Paddy Purcell and his management to introduce Davy Lennon brought an immediate impact on the right wing. He helped to win a corner which was hit with precision by Darren Cullinan and bounced off the head of Darragh Leahy to see the hosts reduce the deficit.
Momentum swung firmly in Celtic's favour from here with David McCarthy coming close to equalising from a free before Jack Kelly somehow missed a header from a McCarthy corner.
Another set piece did see Newmarket get back on level terms, McCarthy crossed a free into the danger area and it was met with power by Harvey Cullinan on eighty two minutes, much to the delight of the now vocal Celtic contingent.
Substitute James Fahy almost snuck a winner for Newmarket with his long-range clearance nearly catching O'Brien after the now strong wind coupled with the bounce of the ball came close to deceiving the Avenue netminder.
Set pieces are proving to be Avenue's undoing when it comes to facing Celtic this season, all four of their goals conceded have come from corners or frees. They will be kicking themselves for failing to push on when in the driving seat for this game and spurning the opportunity to end the league leaders unbeaten streak. For this outing, Nneji Nnabuike, Eoghan Thynne and Conor Mullen stood out.
Having played second fiddle for two thirds of the tie, Newmarket will have the chests out with the manner in which they secured a share of the spoils and planted a seed of doubt in the minds of their rivals. While set pieces were the downfall for their opponents, they gave away two goals by giving away the ball too easily and will have to solidify their team if they are to have aspirations of progressing in both the FAI and Munster Junior Cups. Harvey Cullinan, Conor McDaid, David McCarthy and Davy Lennon were the standout players for Celtic.
Newmarket Celtic: Shane Cusack; David O'Grady, Eoin Kelly, Harvey Cullinan; Aaron Rudd Jack Kelly, Darren Cullinan; Conor McDaid, Eoin Hayes; David McCarthy, Darragh Leahy.
Subs: Tadhg Noonan for Hayes (28) (inj), Davy Lennon for Rudd (61), James Fahy for Kelly (61), Ronan McCormack for Leahy (79), Cathal Hayes for D Cullinan (79)
Avenue Utd: Tom O'Brien; Cullen McCabe, Conor Mullen, Dylan Casey, Conor Hehir; Nneji Nnabuike, Mark Roche, Eoghan Thynne, Elias Kunz, Ronan Kerin, Mossy Hehir.
Subs: Cian McDonough for Thynne (66), Jamie Roche for M Hehir (88).
Referee: Dylan Shannon
Kilrush make it three wins on the bounce
Kilrush Rangers 2
Shannon Town Utd 0
Venue: Gallery Park, Kilrush
A double from Danny Clancy saw Kilrush Rangers pick up an invaluable three points and pile further pressure on Shannon Town.
Clancy goaled twice in the space of fifteen minutes in the second half, hitting the net with fifty minutes on the clock and again with sixty five minutes played.
Now with three wins on the board, all of which have come in their last three outings, the West Clare side are building up a bit of stream and pushing away from the relegation zone. Michael Clair's leapfrog Shannon Town to sixth place in the Maloney Hardware Premier Division and finish the first half of the season in a much better place to where they started.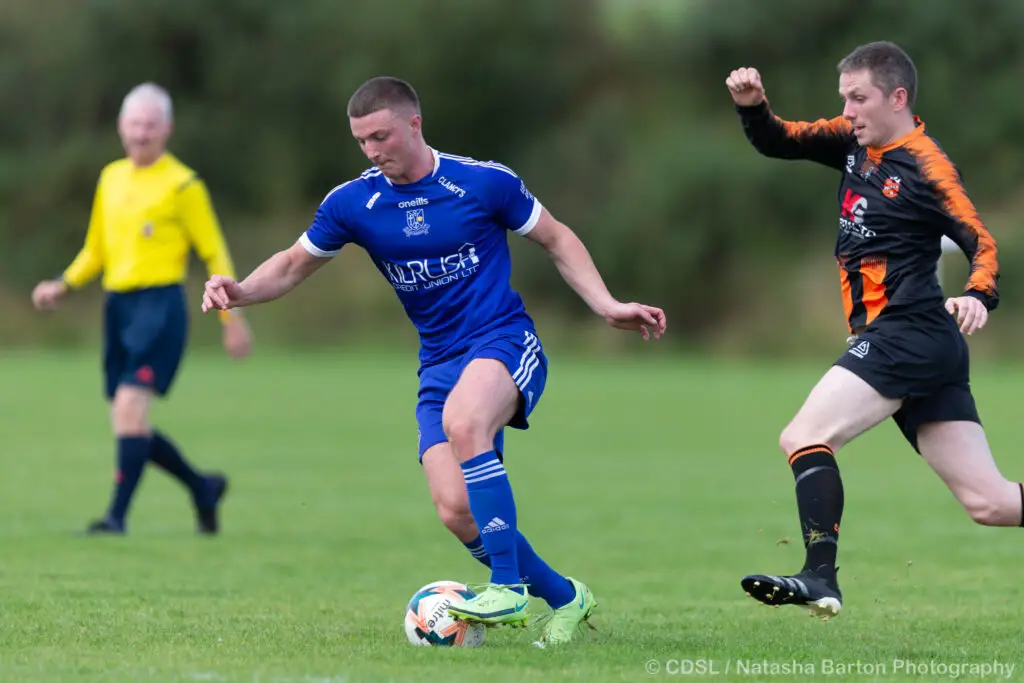 For Shannon Town, a recent run of inconsistency has seen them drop to third from bottom in the Premier Division and begins to see pressure mount on a youthful side.
Steo Dolan's men can finish the year on a high though if they are to overcome Corkbeg in the last thirty two of the Munster Junior Cup this Sunday.
Kilrush Rangers: Eamonn O'Dea; Tomasz Zajas, Thomas Clair, Alan Behan, Kirill Antonov, Patrick Clair, Ciaran O'Donoghue, Norbert Kunicki, Jack Cleary, Dean Neary, Danny Clancy.
Subs: Trevor Clancy for Cleary (inj) Sean Madigan for Zajas.
Shannon Town Utd: Eoghan Casey; Aaron Kelly, Steven Carroll, Fionn McInerney, Brian Monaghan; Cody Waller, Liam Boland, Kieran Hackett, TJ O'Dwyer, Charlie Morrison; Jack Ryan
Subs: Natty Nyakujara, Kai Khetan, Colin Curran
Bridge battle past Coole
Bridge Utd 5
Coole FC 4
Venue: Shannon Rd, Sixmilebridge
An entertaining battle between Bridge Utd and Coole FC on Sunday morning saw the Sixmilebridge side do just enough to pick up a home win and return to winning ways following two league defeats on the bounce.
Ronan Tuohy put Bridge deservedly in front on four minutes, he had been unlucky not to find the net a minute earlier. Adam Fitzpatrick supplied a weighted pass to tee up Tuohy for the opener.
Their lead was short-lived with Fergus Tuohy converting from the penalty spot two minutes later.
In the scoring battle of the Tuohys, it was Ronan to see Bridge Utd regain the lead, heading home from close range on twenty minutes.
Missed chances hindered the hosts from building up a stronger advantage and they soon fell behind with the concession of two goals as both Nathan Smith and Marvin Nkosi swung the tie in favour of Coole FC who led 3-2 at the sounding of the half-time whistle.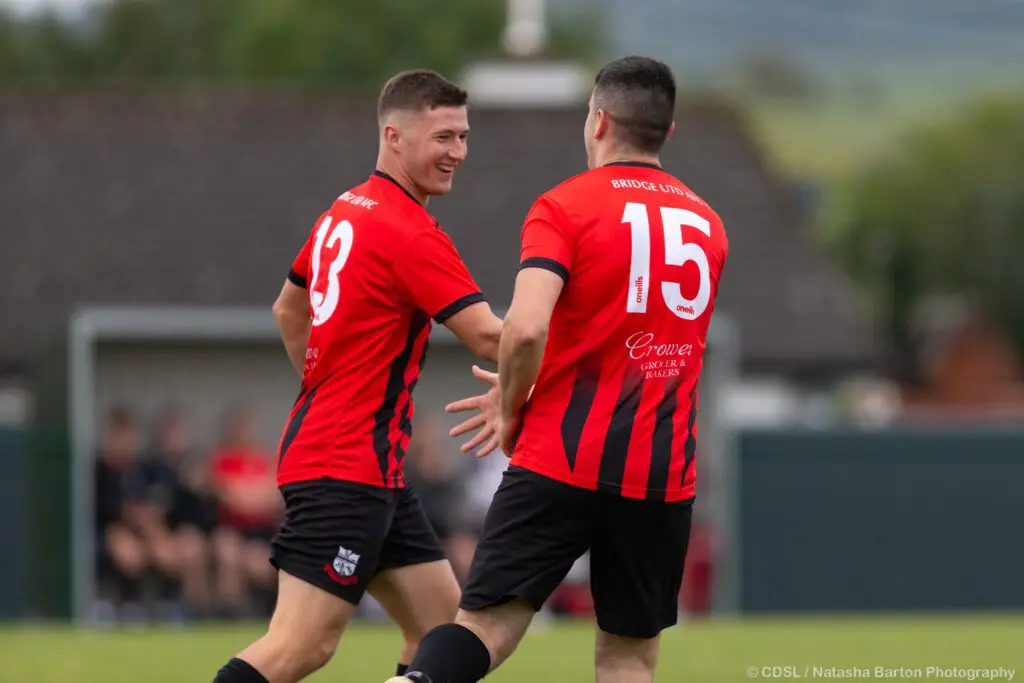 Three minutes into the second half, Bridge Utd were back on level terms with substitute Jordan Downes making an immediate impact.
Downes put the Bridge back in the driving seat, getting a super header on a fine delivery by the pacy Leon Daly.
Once again, it was a short-lived period of joy for the hosts with Carlos Moreira helping Coole claw back for the third time.
With fifteen minutes remaining, centre-half Alan Mulready stepped up with a powerful header at the back post following another accurate delivery by Fitzpatrick.
Edge of the seat stuff followed for the finale with Downes unlucky not to get a hat-trick, denied only by the post while Coole were misfortunate not to get an equaliser again, Adam Fitzpatrick making a goal-line clearance approaching the final whistle.
There was still plenty drama left with Downes unlucky not to get his hatrick, hitting the post, while at the other end Coole were unlucky not to take something hone with them, Adam Fitz clearing the ball off the line with time up.
Bridge Utd: Luke Woodrow, Jason Whyte, Mike Carr, Alan Mulready, Storm Devanny, Eoin Keenan, Adam Fitzpartick, Liam Buckley, Paul Corry, Ronan Tuohy, Leon Daly
Subs: Jordan Downes for Corry, Leon Kelly for Carr, Kieran Quinlan for Tuohy, Steve Stewart for Keenan
Coole FC: Peter Ziga, Kuba Mamala, Jason O Brien, Darren Grealish, Cian ONeil, Stephen McCarthy, Fergus Tuohy, Paddy Cummins Thomas Murphy, Nathan Smith, Marvin Nkosi
Subs: Harry Minogue, Carlos Moreira.
Maloney Hardware Premier Division:
Newmarket Celtic A 2-2 Avenue United A
Kilrush Rangers 2-0 Shannon Town A
Bridge United A 5-4 Coole Fc
Banner Fire First Division:
Shannon Hibs A 9-3 Moher Celtic
Shannon Town B 4-1 Bridge United B
Rhine Rovers 1-1 Connolly Celtic
Sporting Ennistymon 0-4 Newmarket Celtic B
Kilkishen Celtic 3-1 Shannon Olympic
Brian Pyne Tiles Second Division:
Avenue United B 2-0 Ennis Dons
Kildysart Celtic 1-4 Hermitage
Inch Crusaders 8-0 Corofin Harps
Brownie's Barbershop Third Division:
Manus Celtic 1-1 Fairgreen Celtic
Shannon Hotel Supplies Women's Premier League:
Hermitage 3-1 Tulla United