Authorities are more concerned with the protecting the identify of individuals illegally dumping across the county than solving the issue, Clare's youngest councillor has asserted.
Garda Commissioner Drew Harris has yet to respond to a request from Clare County Council to use CCTV under Section 38 of the Garda Siochana Act for the prevention and detection of illegal dumping. Four months have passed since correspondence was sent to Commissioner Harris following a resolution at the October meeting of the Clare Joint Policing Committee.
Temporary installation of cameras in certain parts of Cloughleigh "with the view of tackling illegal dumping taking place in the area" were assayed by Cllr Mark Nestor (FF) at the February meeting of the Ennis Municipal District.
Cyril Feeney in a written reply noted that the Data Protection Commissioner in a number of audits on local authorities in recent years shared her concerns regarding the use of CCTV under the Litter Pollution and Waste Management Acts. "There does not appear to be in her opinion a sound legal basis to prosecute offences utilising CCTV under these Acts," he stated. "We are currently awaiting a reply from the Commissioner and therefore it is premature to install CCTV in this area for the purpose outlined in the notice of motion".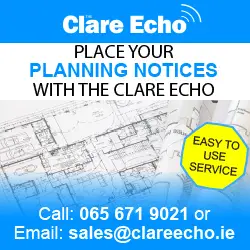 "I could have requested CCTV for the entire town of Ennis but said I'd be realistic," Cllr Nestor reflected. He said problems in Cloughleigh were carried out by one or two people. "The vast amount of Cloughleigh people are abiding by the law and disposing of waste in an appropriate manner. Are we more focused on preventing the identity of people carrying out the acts than actually eliminating the problem, from reading between the lines I think that seems to be the issue".
Correspondence has been issued to elected representatives from Senator Malcolm Byrne (FF) on his plans to bring a bill through the Oireachtas that will allow City and County Councils use CCTV to deter illegal dumping. "Groups are working very hard to keep their communities clean, safe and tidy but you have a minute number of people carrying out the acts and they are getting away with it," Nestor added.
Until the law changes, illegal dumping will continue Cllr Ann Norton (IND) predicted. "We're all very aware of the fact that CCTV isn't a deterrent sometimes for these people either. When you have to go to the likes of the Oireachtas to change the law it is such a pity, really the amount of illegal dumping is unbelievable," she commented. "These people don't seem to be prosecuted, CCTV can be used to show the damage they are doing. Until something changes within the law, people will continue to do this illegal dumping and unfortunately it is the most disgusting things that are being dumped that nobody should have to pick up. You have to admire the volunteers that go out on a day to day basis to pick up other people's rubbish".
Individuals carrying out the act were called "eco-criminals" by Cllr Clare Colleran Molloy (FF). She lamented, "These issues continue to rear their ugly heads incessantly over the years" and added "it seems we're protecting the dumpers rather than the public with protection of exposure". The Quin native continued, "They are eco-criminals, they are disposing of their personal waste and I can consider it criminal".
Houses where bins are not on display need to be monitored closely, Cllr Johnny Flynn (FG) maintained and called for the by-laws to be used to prove illegal dumping. Cllr Pat Daly (FF) felt illegal dumping was "very common in certain areas". Cllr Paul Murphy (FG) commented, "It is a bugbear of every local authority in the country not just Clare.. It is happening everywhere unfortunately".
All areas of Ennis have been blighted, Cllr Mary Howard (FG) surmised, she said the individuals are known who are carrying out the act in Drumcliffe "but we have been unable to catch them". She added, "We really need to get tough with people to find out where they are disposing of their rubbish. They need a receipt if they are going to Inagh with proof, I've heard of receipts being passed to multiple houses". The Mayor of Clare felt people were naive and trusting "the man with the van" to take care of their rubbish. "Nappies dumped everyday, a lot of the stuff dumped can be recycled which is the sickening part".