Beo Wellness is one of Clare's most unique business success stories in recent times.
Based in Ennis, founders Aoibhín Garrihy and Sharon Connellan have carefully crafted and built a nationally renowned brand which successfully blends live events promoting self-care, and their BEO Sleep Well product line.
The pair have consulted with a wide range of sleep experts to develop the range and along with their website, BEO Sleep Well is stocked nationally by The Kilkenny Shop, in Brown Thomas in Limerick, and Arnott's in Dublin. Now, the dynamic duo have also opened a pop-up shop at O'Connell Street in Ennis ahead to the busy Christmas period.
The trajectory of Aoibhín and Sharon's lives are uncannily similar – both have recently built their family homes in Ennis and both are mothers to three young children, all aged under four. "Since we began BEO, one of us has always been pregnant," Sharon laughs, noting the irony as Aoibhin quips, "We think, and talk and dream of sleep but don't get any of it."  The pair share a passion for their business and mirror each other's ambitions for BEO.
It seems fitting, then, that they were introduced to each other by another ambitious business woman in Jean McCabe (of Willow) on a girls' night out in Ennis. While BEO is now a recognisable brand, it all began as a happy accident when the pair planned a one-off fashion event in the Armada Hotel in Spanish Point, owned by Aoibhín's husband John Burke.
After the fashion event proved a big hit, they began to explore organising a one-off wellness event, which they called BEO. After selling out in less than an hour, they added a second date in the Armada with similar results. Next up was two dates in Limerick, before it snowballed into a nationwide tour and a brand was born. To date, BEO has welcomed more than 30,000 women to live events. And that's without a business plan. Sharon jokes, "our Whatsapp conversation is our business plan."
As the live events grew, one piece of feedback from their audience resonated with the pair; 'I wish I could take a piece of BEO home with me'. Aoibhín explains, "Sleep was one of the things that kept cropping up time and again at our events. We've welcomed some of Ireland's leading health and wellness experts… all of them champion sleep as the pillar of your health and wellbeing and it's something that tends to get overlooked. When you're not sleeping well, you're not eating well, you're not thinking straight and so it's something we wanted to champion and promote the ritual of it."
The results are a wide range of organic, home-grown and sustainable products which promote healthy sleeping; in their line is Pillow Mist, Overnight Lip Mask, Bath Salts, Aran knit throws and socks, bedroom wall prints, handmade linen nightdresses, silk eye masks, scrunchies and pillow cases, candles, and pulse point oil. All the stuff that might turn your bedroom into a dreamy, relaxing haven.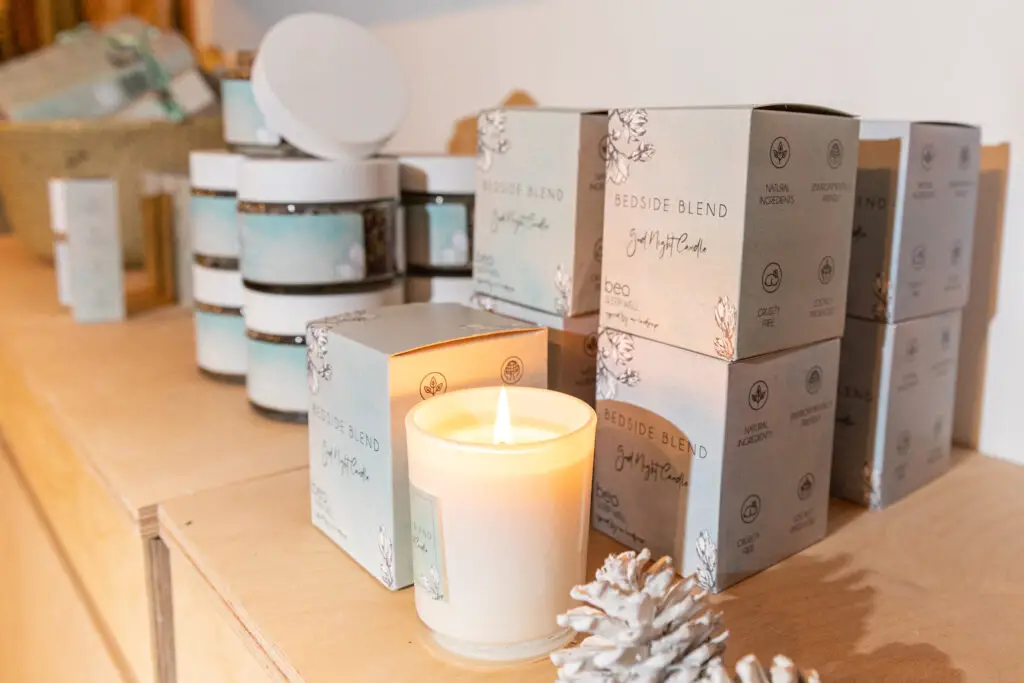 In creating their range, supporting local has been a key principle for Aoibhín and Sharon and they have collaborated with numerous Irish companies in creating their product line, promotional photography and videography. Even their pop-up shop wouldn't have been possible without the services of D2 Print, Shanahan Paints and local carpenter Michael Donnellan. "We always keep it local, the stories are all about County Clare. Our tagline is 'inspired by our landscape' and we are very much inspired by the West of Ireland and all that it has to offer because it is very therapeutic and calming and it lends itself to the sleep area," explains Sharon, who also job-shares as a teacher at An Mhodh Scoil in Limerick.
The pair stress that they've been "really lucky" to have had mentorship from Local Enterprise Office Clare "every step of the way", provided assistance on the website, graphic design, basic accounting and even trademarking. They even picked up the phone to LEO Clare prior to opening their pop-up shop for Christmas, a move which has left them "buzzing".
Aoibhín adds that it was a no-brainer to open in Ennis. "It's what inspired the products and the range, County Clare, and we've had great local support. We've been buzzing from the reaction so far – we're not even a week in but we feel like we've definitely made the right decision. I'm going to be absolutely gutted when we close the doors here because it's become our little humble abode now. We just love it, we are excited coming in, turning on the lights, and we're really proud of it.
Visit Sharon and Aoibhín in the BEO pop-up shop at 51 O'Connell Street or shop the line at beowellness.ie.