The world's most famous modern day astronaut Chris Hadfield jetted into Shannon Airport this evening and stated it was good to be back on Ireland's west coast.
Hadfield brought the International Space Station into popular culture in 2013 when he performed the David Bowie classic Space Oddity while rotating around the earth.
Canada's most accomplished astronaut and a big fan of Ireland garnered a huge social media following the recording and by the time he sent the first ever tweet as Gaeilge from space later that year, it reached all of half a million people.
Such was the response to his satellite sign-post to Ireland that Tourism Ireland since signed him up as an ambassador, resulting in him travelling to Ireland to record three short videos, including one on the Wild Atlantic Way.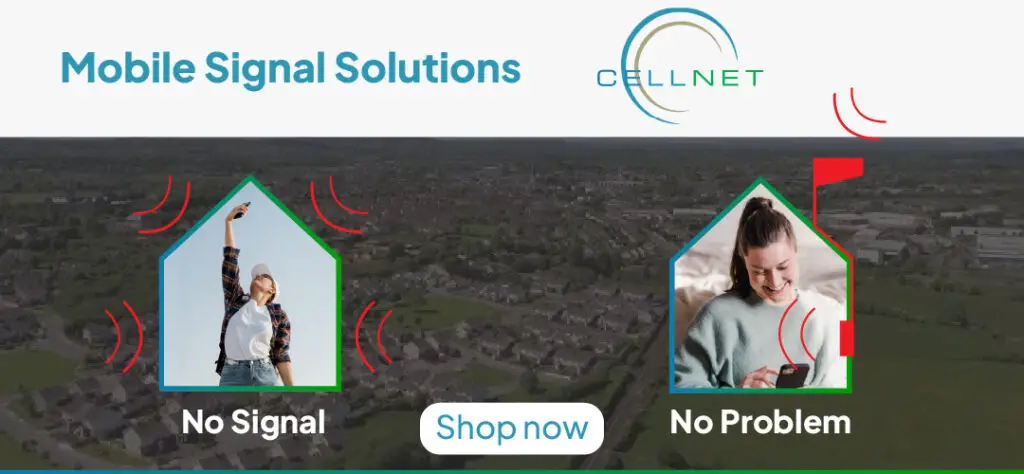 And when he stepped back on Irish soil this evening, he declared "It's good to be back".
Hadfield was given a warm Shannon welcome on arrival as he was greeted by scouts from the 1st Clare Shannon Scouts and by Rose Hynes, Chairman of Shannon Group – Shannon Airport's parent company – and Shannon Airport Managing Director Andrew Murphy.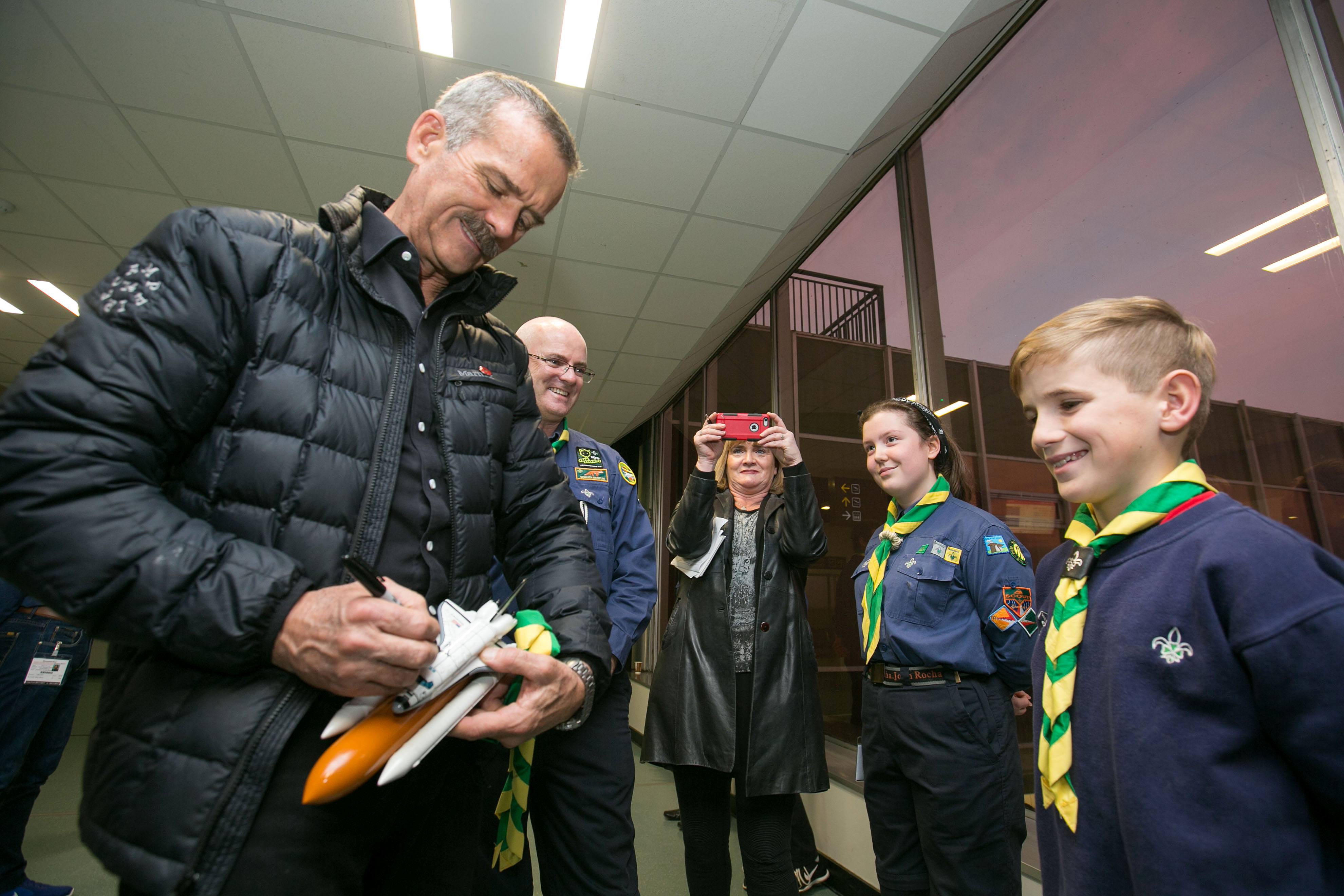 He attended a reception in the airport's Presidential Suite for refreshments and while there signed a VIP book that has been signed over the years by other space travellers, the most recent of which was Al Worden, one of only 24 people to have flown to the moon and another regular visitor to Ireland.
Said Hadfield: "I've always had an interest in Ireland and Irish culture; hence my tweet As Gaeilge from space.
"My daughter Kristin studied for her PhD to Trinity College and my niece Kelly is currently studying at the UL medical school so I have something of a love affair with this place.
"I was delighted to be a tourism ambassador for Ireland and that got me to see much more of the country than I could ever have hoped.  That included a trip along the Wild Atlantic Way, which was majestic. One of the most beautiful places I've visited.
"And now I'm back here at Shannon Airport, the gateway for the Wild Atlantic Way and an airport with its own space links given it was a designated emergency runway for space shuttles, but thankfully was never used as an emergency."
The Space Station star arrived in ahead of the Shannon International Leasing Conference (SILC 2017) that he will speak at tomorrow.  Tonight he performs at much anticipated charity gig in Limerick when he lines out for the Ghana Medical Health fund-raiser in the Clayton Hotel.
Looking ahead to his trip, he said:  "It will be short but very sweet. I'm looking forward to meeting Kelly, at tonight's gig and, of course, tomorrow's conference.
"I'm staying at a 15th century castle, Knappogue Castle in County Clare, which will be a great experience also.  Ireland is full of those experiences and it's great to be back," he added.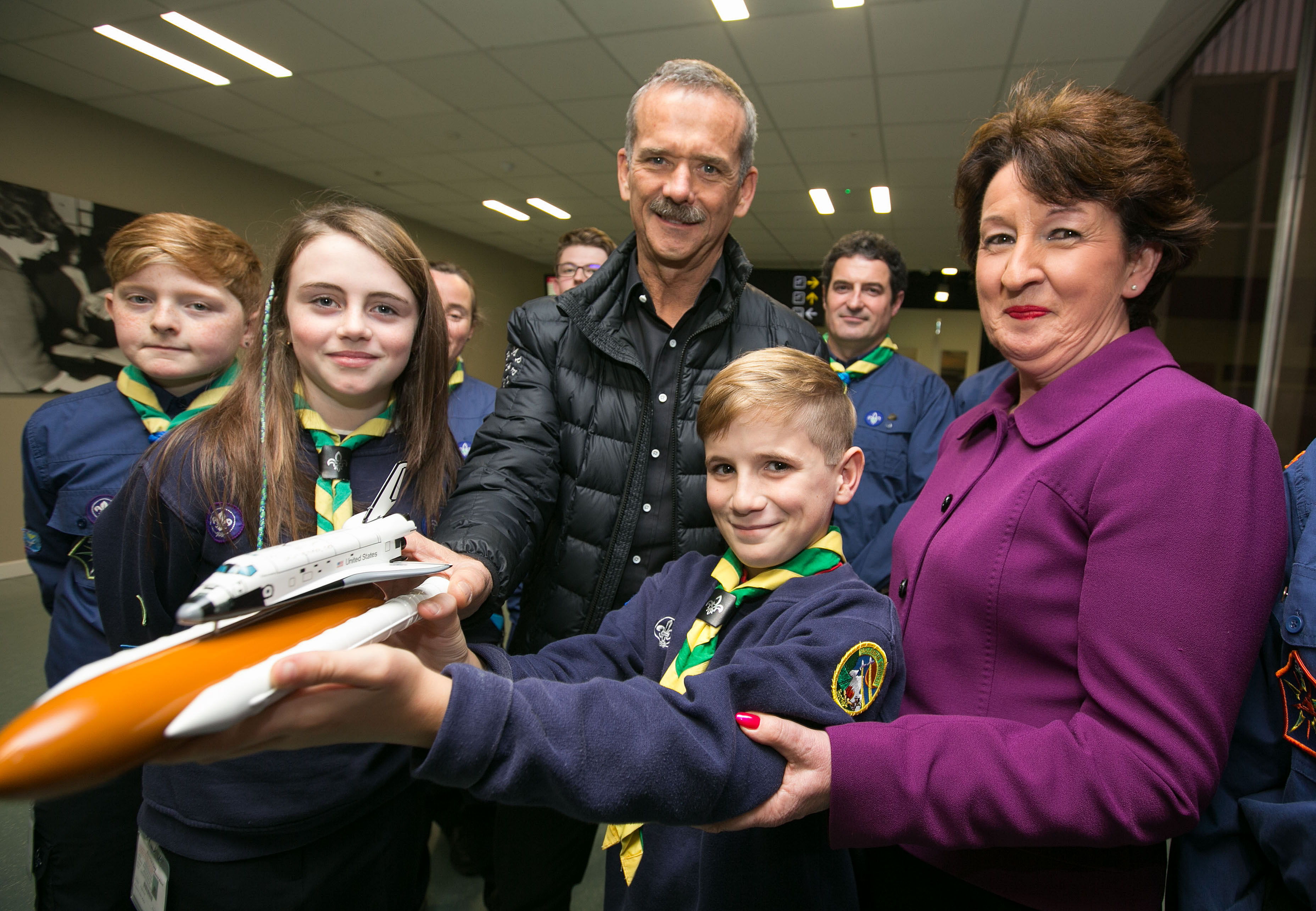 Said Rose Hynes, Shannon Group Chairman:  "We were delighted to welcome Chris as he touched down at Shannon.  He's been a wonderful ambassador for aerospace and for Ireland, and in particular, the Wild Atlantic Way. As the gateway airport for the Wild Atlantic Way, we're delighted that he will get an opportunity to stay in the area and rekindle his love for the Wild Atlantic Way."
Said Shannon Airport MD Andrew Murphy:  "It was a great privilege to meet Chris. As he says himself, it's not every day you get to meet a man who has circumnavigated the globe 2,650 times.  He's a space star for sure but the great thing is his feet are firmly on the ground and that's evident the moment you meet him. He's a great supporter of Ireland and the west coast and we made it clear to him that we'd have him back anytime!"