*Promoting the rollout of 'Ask for Angela' in Clare L-R: John Kerin, Chief Supt for the Clare Garda Division; Annette Donnellan, Administrator, Clare JPC; Leonard Cleary, Director of Rural Development; Councillor Mary Howard, Chair of Clare JPC; and Darragh McAllister, Chairman of Clare VFI. Photograph by Eamon Ward
Hospitality providers across Clare including bar, restaurant, café and hotel owners are being invited to help make Clare a safer destination to socialise by committing to the 'Ask For Angela' code-word campaign.
The Clare Joint Policing Committee (JPC), comprising Clare County Council, An Garda Síochána, Elected Members and community representatives, have teamed up with the Clare Branch of the Vintners Federation of Ireland (VFI) to back the countywide roll out of the campaign which encourages people who find themselves in an uncomfortable situation whilst socialising to 'Ask for Angela' at the bar or service counter. The phrase alerts staff that something is amiss and they can proceed to safely diffuse the situation.
Clare hospitality providers interested in taking part or finding out more are invited to two information evenings at Lucas Bar, Ennis, on 13 November at 7.30pm and at Malones, Kilrush, on 27 November at 8.00pm.
Councillor Mary Howard, Chair of Clare JPC, commented, "First piloted by Lincolnshire County Council in 2016 and in Waterford earlier this year, this campaign has proven to be an effective method of encouraging people who feel unsafe or vulnerable in hotels, pubs, clubs or restaurants, but feel they aren't able to openly seek support, to ask a staff member for assistance. The members of Clare JPC are committed to supporting the rollout of this innovative initiative across the county."
Clare JPC member and Chief Supt for the Clare Garda Division, John Kerin commented, "An Garda Síochána works closely with local businesses and the Council to ensuring that anyone socialising in Clare has a fun and safe experience. However, in some cases, people may feel at risk and isolated or afraid to seek help. Ask for Angela gives patrons at participating venues a simple way to seek assistance if they feel at all at risk."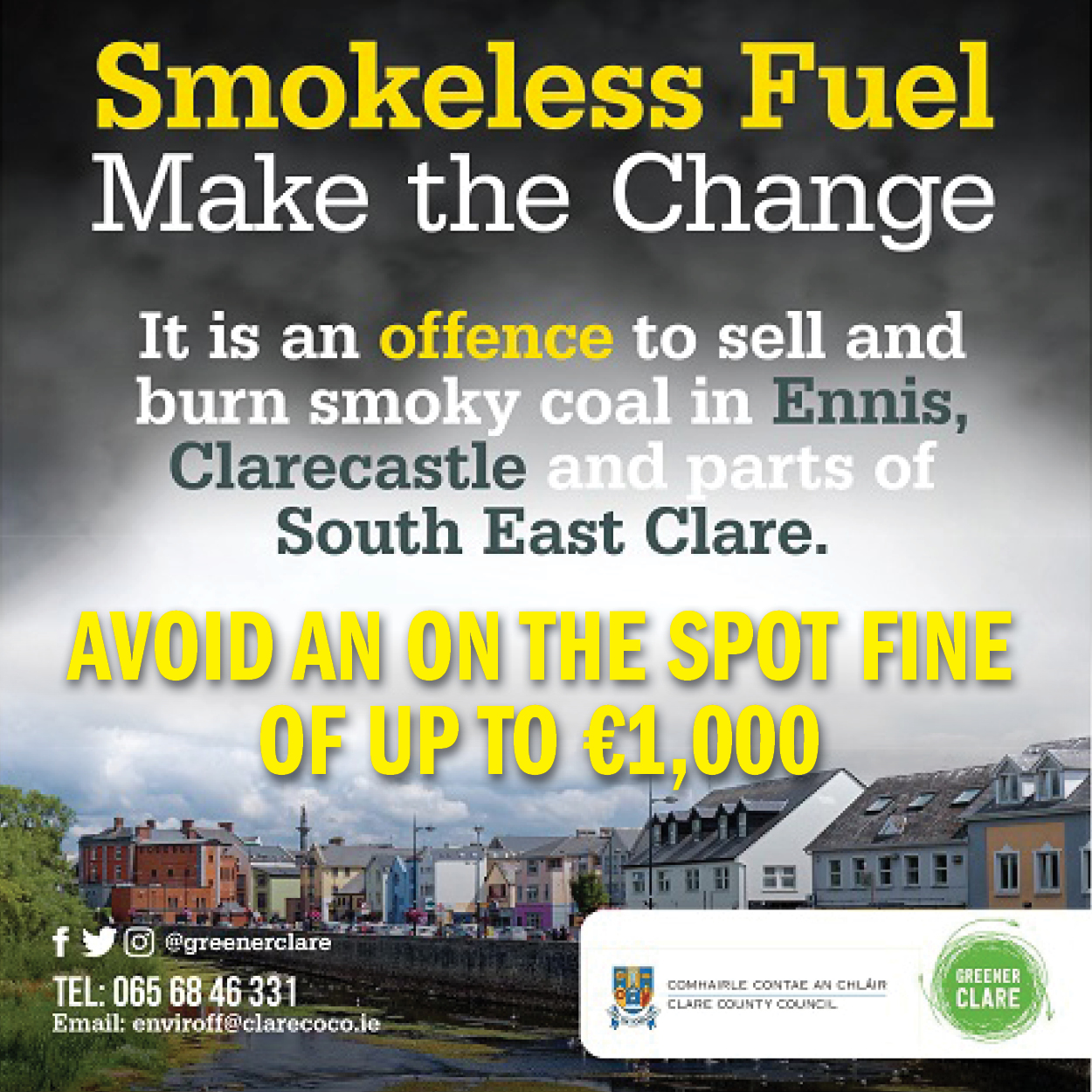 Darragh McAllister, Chairman of Clare VFI, said participating businesses and venues display signage in discreet locations to indicate they are taking part in the programme. "The purpose of the upcoming information sessions is to inform hospitality operators about the code word campaign and to encourage them to participate. I invite all VFI members in Clare to help build on our reputation as safe places to socialise and help roll out the initiative to other parts of the sector. Providing reassurance there is support available, if needed, will help the hospitality sector across the county".
Clare JPC's purpose is to provide a forum where a local authority and An Garda Síochána, with the participation of Oireachtas members, local Elected Members, and community interests, consult, discuss and make recommendations on matters affecting the policing of the local area in order to contribute to the improved safety and quality of life of the community. Clare JPC has 31 members comprising of 14 Councillors, Oireachtas members, and voluntary and community groups, An Garda Síochána and Clare County Council officials.