ADAPTING to life after Covid-19 will be like launching a new business, according to Clare hotelier John Burke.
On March 15, the Armada Hotel closed its doors to the public as Ireland's hospitality sector was directed by the Government to remain shut for 14 days. That picture changed rapidly as Ireland descended into lockdown and soon there were no staff on site. "For me, personally I took that time off to reset and rethink the whole business," reflects Armada owner John Burke.
Now nearly seven weeks into coronavirus beleaguerment, the former St Flannan's student is displaying the qualities that has made the Armada Hotel one of West Clare's great success stories. While the function hall and bedrooms overlooking Spanish Point beach remain empty, there's been a hive of activity on Armada farm, in the kitchen and online. The Armada continues to trade with the public through its online shop thanks to innovations such as The Carvery Hatch, Armada At Home takeaway service, Mist+Moss Irish gin, while a new whiskey and a range of pantry products are also in development. John, known for his feat as the first Clareman ever to scale to the peak of Mount Everest, has even been getting in touch with the great outdoors again but this time on Armada Farm where the fresh organic produce goes straight to the hotel kitchen for the Armada At Home takeaway service.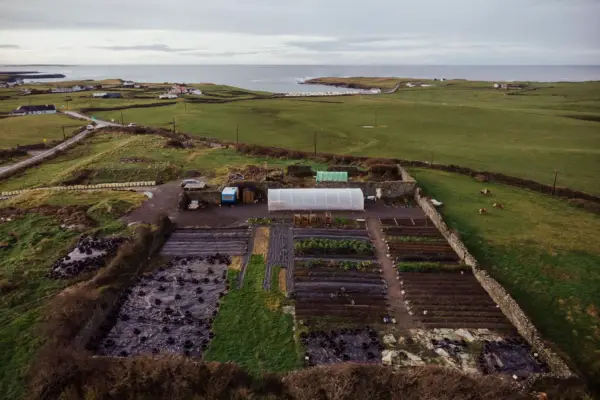 The Miltown Malbay native explains that it became obvious last month that he would have to reinvent the wheel in terms of how his business would operate. "It was about giving up the fight for what was the business and the model that was there and refocus the mind to accepting that it's going to be a hell of a lot different moving forward. It's going to be potentially an entirely new business going forward.
"In the last two or three weeks I'm in the frame of mind of trying to embrace it and say 'look, this is different to what was and what was meant to be for the year that was mapped out for us'. That doesn't really matter anymore, there's new challenges and we're going to face into them and be really positive about them."
Coming into the summer, the Armada Hotel usually has up to 140 staff on its books including 90 full-time staff. Thanks to these new projects, some 20 jobs have already been salvaged despite Covid-19 restrictions. "That's what it's about now, bringing the Armada into people's homes in many different ways. So with each new product, it's something that will retain a job for the summer and that's something that will retain someone on production, someone on packaging, a few hours on sales.
"This year isn't about trying to make money, really for me it's about protecting our suppliers, protecting our customers and there's a huge focus on protecting jobs."

Mr Burke predicts that due to social distancing restrictions, there will be long-term changes to "everything" the Armada does. This could see new capacities and interior layouts introduced as they begin the process of trying to deliver food and drink in a way that's safe for staff and customers.
"I think our takeaway service is going to be with us for a long time while there are any restrictions in place or while people are cocooning, while the vulnerable feel unsafe and that's a whole new business that we never focussed on. So top to bottom it's an entire new offering and as a team every part of our jobs are going to be different. Even training and upskilling has all started now while people are at home."
While remaining ever positive, John admits it will be 2022 before the hospitality sector is back on track with tourist numbers and as such has called on the Government to support the industry. He expects that while getting doors to reopen will be one challenge, surviving the winter will be the real litmus test. "Particularly in Clare we see the necessity for a strong tourism industry. Spanish Point and Miltown Malbay is just one area in Clare. I look out the window at Spanish Point House, an amazing business, the Bellbridge, an amazing business, the Coast Lodge, there's four great tourism businesses here before you start getting into self-catering, B&B and all that. The industry in this tiny area of Co Clare is huge and that's helping to drive more industry in Miltown. For me I see it as being the lifeblood of this area and a lot of other rural areas, we need supports to ride out this storm."
Scaling peaks has become a bit of a habit for hotelier John Burke, whether in business or life. In the face of a crippling blow to the hospitality sector, he has already begun his journey in conquering the hospitality sector's greatest hurdle yet.
For more information on Armada At Home and all of The Armada Hotel's other offerings, visit their website or find them on Facebook.