Conversations in parts of East Clare on the long awaited Killaloe Bypass are a daily occurrence, landowners using their right of going down the arbitration route and East Clare bats have slightly delayed the project.
In September, Clare County Council told The Clare Echo that late 2022 remains the target for completion of the proposed Killaloe Bypass, Shannon Bridge Crossing and R494 Improvement Scheme. While this remains the case, new detail on what has stalled progress has come to light at the November meeting of the Killaloe Municipal District.
An update on the Killaloe Bridge/Bypass was sought once again by Cllr Pat Burke (FG) who outlined, "There is a hardly a day that goes by when people don't ask what is the story with the Killaloe bypass. When will it be completed, will it ever be done? People are commuting to Limerick via Ogonnelloe and Whitegate for work".
Senior engineer, Sean Lenihan confirmed the tender short-listing process would begin by the end of 2019 with the scheme going to tender in summer 2020 following the completion of detailed design in March. "We would expect to award the contract in late 2020 subject to Department approval. The construction period is expected to take three years".
"Is it delayed? It's delayed I suppose, we had a fairly ambitious programme and for these things to kick in, you need the wind behind you and everything to go your way," Lenihan added. He said there were 103 separate landowners across the scheme, both farmers and homeowners. €34m was allocated for the project last January under as part of the Government's Capital Plan Review with the Department being regularly updated by Clare County Council on the progress.
He added, "Negotiations are at various stages with the 103 landowners, the valuation is captured on the day to treat which is 2016. Some of these deals can take years, we're trying to get as many of them over the line, many of them have gone the arbitration route which is taking time. Following a CPO, it can be an emotive situation, we are working closely with the landowners affected".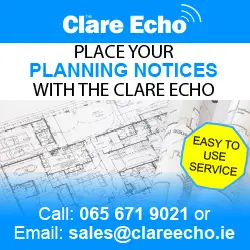 Of liaisons with the landowners, discussions with 39 have concluded, 31 "are about to be completed" and another 30 remain to be concluded. 13 of the 103 landowners opted to go down the arbitration route, "we've no difficulty in dealing with that". There are only two property arbitrators in the entire county, Lenihan flagged.
When asked by Cllr Joe Cooney (FG) if this was "slowing down the process". Lenihan replied, "It's slowing it down because you're pulling from the same people. There is nothing there that has been parked up but things have to be done in sequence". He stressed, "We are getting great comfort and co-operation from many landowners down there".
Cooney then queried if it was "highly unlikely" works would commence in 2020. "There is no point being over ambitious and no point me saying we'll definitely have one out by a certain time. There are a lot of trees and ecological issues, we have a season for hedge cutting, we are working in the water and are dealing with the bats," the engineer replied. He highlighted that the TII will have to sign off on the Bridge while the OPW have to deal with the twenty to thirty culverts on the scheme plus liaisons with Irish Water.
"I didn't realise we had bats," Cllr Pat Hayes (FF) commented. "We have about five, we need to make provisions for everything," Lenihan answered. "The communities of East Clare are getting anxious about it. The fact that there are only two property arbitrators in the country doesn't sound great. Now we're adding in bits of detail we didn't know about like the extraction of water, I don't think anyone was aware there were bat issues. It is important you keep us updated here," Hayes added.