THERE was thunderous applause and cheering as Minister of State Pat Breen was told to sit down by the Chair of last night's public meeting in Cree.
The meeting was called in an attempt to save the village's post office, which is due to close over the next few months.
The crowd, which numbered almost 400 and spilled out into the street, felt that Mr Breen failed to give a straight answer when asked if he would try to enact a Government motion aimed at saving rural post offices.
The motion, unanimously supported by 158 TDs in 2016, states: "Dáil Éireann recognises that "post offices serve a vital social and economic role in their communities [and] there is a very specific commitment in the Programme for a Partnership Government to protect the postal network".
The meeting was attended by Clare's four TDs, as well as representatives from the West Clare Municipal District, general election candidates, Independent Postmasters Group Head Tom O'Callaghan, Public Banking Forum's Gerry Duddy and Save Our Post Office Representative Gerry Loftus.
The possibility of introducing a community bank was discussed at length, but Mr Breen commented that the Government would be slow to get involved in ownerships of banks again in case it is necessary to bail them out.

"I will be there to assist the community as to how they should move forward. We have got to use the post office. If people were, we wouldn't be in the situation we're in," Mr Breen added.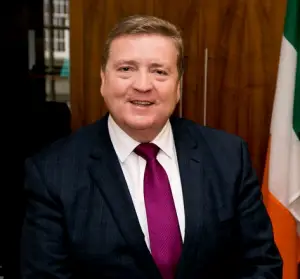 Clare's Independent TD Dr Michael Harty said that the post office is a vital social and economic entity in a community.
"Any village that loses their post office is in serious trouble," he commented.
Mr O'Callaghan paid tribute to the Cree Postmaster Jack Horgan, who also received a round of applause for his hard work.
West Clare Municipal District Cathaoirleach Ian Lynch stood up and spoke about a special district meeting held earlier that day, which went on for two hours.
At the meeting, the councillors drew up a motion asking Clare's Oireachtas members to postpone the closure of further post offices for a three year period, ensure that the necessary budget provision is included in Budget 2019 and that a multi-departmental approach to community services be adopted by the Government.
They also requested that TD's enact the 2016 motion passed in the Dáil.
The meeting heard from members of the public who were concerned about the effect the closure of the post office would have on the village.
Local shopkeeper Declan Meaney said: "If you take our Post Office, we will end up like Mullagh. Mullagh is a ghost town".

Declan is hopeful that he will be able to take over the Cree post office service, but has received no response from An Post on the matter.
The Cree community called on the TDs to do something about the closure of the post office and to put forward a motion of no confidence in the Government if they refused to help.
"If we lose our post office, I would hate to be the TD that comes around looking for support," one local man commented.
Michael 'Malty' McDonagh, who came fifth in the last general election said: "I'm glad now I wasn't elected because I would be ashamed to be here tonight. I wouldn't show my face".
Sinn Fein representative Violet Anne Wynne asked where the €50 million being invested by An Post was going and why West Clare wasn't seeing the benefits of it.

"My taxes are paying their wages. To do what? To be seen in a community hall in rural Ireland coming up to election?," another local woman added.
Public meetings to discuss the closure of post offices will be held this Thursday, August 30 at 9pm in Fanore and on Friday, August 31 at 8pm in Kilfenora.