*Aoife Keane.
One Clare girl is to cycle 165km to raise funds to help children her own age that are "less fortunate".
Eleven year old Aoife Keane moved from Naas to Ennis last year with her parents and younger brother Eoin.
"It was a hard move. It was difficult saying goodbye to my friends and moving to a new house so far away. My old school, the Mercy Convent, was really nice and I knew I would miss it but I made new friends quickly in my new school. We have been in my new house for half a year and now I love it," she recounted.
A fifth year pupil at Ennis National School, Aoife is now going to cycle 165km which is the equivalent of travelling from her old school to her present one, as the crow flies.
She explained, "A few weeks ago I ran 26 kilometres in my back garden but never set up a fundraising page. When I realised I couldn't fundraise after the event, I was really disappointed, but it made me more determined to do something else, something more extreme that would benefit charities at the same time".

From Friday to Monday, Aoife will complete the cycle in the family garage on her turbo trainer. She will cycle "almost a marathon every day" and plans to record the cycle on video to track her progress via an on-board cycle computer. "It's going to be by far the longest cycle I have ever done".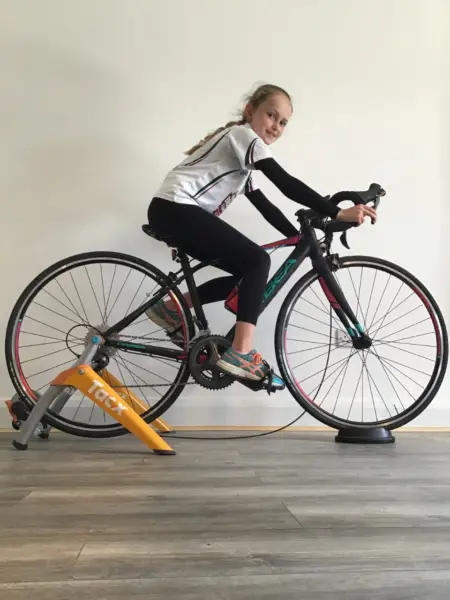 Both Clare Crusaders Clinic and Barretstown are to benefit from Aoife's efforts. "I have chosen Clare Crusaders because they help children who aren't as lucky as I am and they need lots of support especially during these difficult times. Also, I have two aunties with intellectual disabilities and they are the nicest people you could meet. I understand that Clare Crusaders is an amazing charity and I am prepared to do anything I can to help them".
"We are delighted that she have chosen the Clare Crusaders Children's Clinic as one of her charities for this donation and of course we are so proud of Aoife," Fiona Norton of the Clare Crusaders told The Clare Echo.
So far, Aoife has raised over €1,640.
To support Aoife's fundraiser, click here.