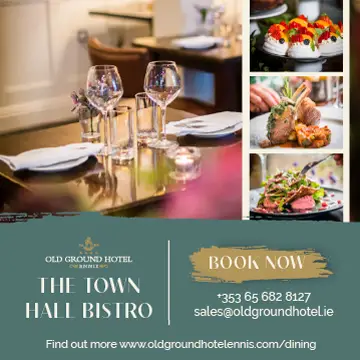 *Andrew Murphy (centre) pictured with Brendan Griffin and Pat Breen.
Managing Director of Shannon Airport, Andrew Murphy is to leave the role.
Shannon Group confirmed on Friday evening that Murphy would be departing his position for other opportunities in the aviation sector.
He first joined Shannon Group in March 2014 beginning work as the Chief Commercial Officer, 22 months later he became Managing Director. Andrew is a graduate of the Shannon College of Hotel Management and worked as a Director with Ulster Bank prior to joining Shannon Group. He previously owned DeMurfo's Coffee House in Dublin.
Commenting on his departure, Shannon Group CEO, Mary Considine stated, "Andrew has played an instrumental role at Shannon Group since the early days of its establishment and we are very appreciative of his dedication and hard work throughout his career with us. I would like to wish him every success and happiness in his new career".
Murphy is the second high-profile departure from Shannon Group in the space of one week. Managing Director of Shannon Heritage, Niall O'Callaghan announced his resignation last week.
Last month, Clare TD Michael McNamara (IND) called on Rose Hynes and the entire board of Shannon Group to resign from their positions. Shannon Airport resumed passenger flights on July 1st.