*Photograph: @thepmanofficial
Discharge of wastewater into the sea at Kilkee has prompted the issuing of a Do Not Swim notice.
On the advice of the HSE and in the interest of public health, members of the public are advised not to swim or engage in other recreational activities in the water at this time.
Irish Water is aware of the wastewater incident relating to its wastewater infrastructure. In the meantime, Clare County Council has raised red flags at Kilkee beach and removed the Blue Flag until such time as water quality tests allow for a lifting of the 'Do Not Swim' notice.
Kilkee Bay Swim had been due to take place on Saturday afternoon but was postponed till Sunday due to wind forecasts. The swim will now be postponed till a later date. The Munster Lifesaving Championships were also due to take place there this weekend.
Local Fianna Fáil councillor, Cillian Murphy lamented the lack of basic maintenance work for causing the problem. "Once again, we are dealing with the consequences of a complete failure to do basic maintenance work on our wastewater treatment system. Two years ago an electrical fault saw our beach closed for a significant period, now a burst pipe has led to another closure order. I understand water quality testing will take place on Monday, and given a clear test result, we should have the beach back open on Wednesday".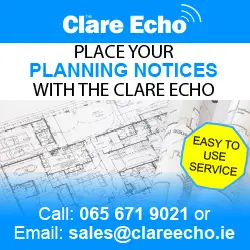 He added, "The reputation of Kilkee as a water based activity destination is damaged, local businesses and the community will have to pick up the tab".