Close to €6m has been allocated for active travel funding for cycling and walking infrastructure projects in Co Clare.
In what was the first ever major active travel investment programme for rural Ireland, the combined total of €72.8m is greater than the entire 2019 funding for national walking and cycling programme.€5,986,000 is set aside for Co Clare.
The National Transport Authority had originally earmarked €50m for this scheme but due to the volume of project proposals being developed by local authorities, it has been increased to over €70m.
General projects in the scheme include the reallocation of overall road space which will include segregated cycling lanes and widened footpaths. Cyclist parking, raised pedestrian crossings and reducing road width at crossing points as well as other improvements. The NTA will be tasked with overseeing and supporting the development of the high-quality mobility infrastructure across all projects. The authority will also ensure that projects are accessible, age-friendly and maximise comfort to people of all ages and abilities.
Minister for Transport, Eamon Ryan (GP) said the projects funded "will make a real difference to rural communities across the country and this is only the beginning".
A third of the funds will be spent on footpath works across the county, this section of the allocation will also include pedestrian crossing and public lighting in certain areas such as Doolin, Ennistymon and Lahinch.
Separate walking and cycling infrastructure projects for Kilrush are allocated €400,000 with €950,000 earmarked for village enhancement and co-creating and €450,000 for transport studies and mobility plans.
Speaking to The Clare Echo, Senator Roisin Garvey attributed the extent of the allocation to a webinar she hosted with Clare groups, Minister Ryan and Clare County Council engineers at the end of January, the interest at which "overwhelmed" the Minister. "It is active travel I've worked for fifteen years, I understand this funding better than anyone and what it will enable people to do".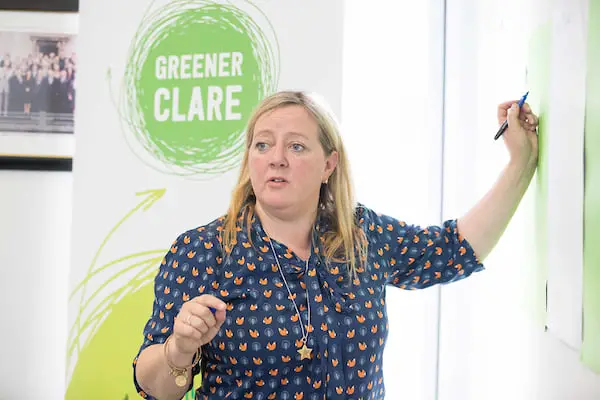 Subsequent to the works, "more people of all abilities and all ages will be able to walk and cycle more safely," Senator Garvey. She predicted air pollution and traffic congestion will drop as a result and also lead to "healthier happier children". Cars will continue to have a role on roads but the Inagh woman maintained accommodating the accesibility of all road users must remain an objective.
Deputy Cathal Crowe (FF) welcomed the announcement as a "significant investment". He stated, "I think it's a step in the right direction to ensure that active travel is getting an increasingly sharp focus and this will benefit not only the communities around Clare but also help to grow our sustainable tourism model that I think we are already head and shoulders above many counties with".
Fellow Clare TD, Joe Carey (FG) noted, "this funding has a particular focus on rural Ireland" as he praised the allocation of almost €6m to Clare County Council.
"Developing high quality walking and cycling facilities will encourage more people to switch to active travel and will contribute to tackling climate change. Connecting communities and making walking and cycling attractive, safe and accessible to everyone is what this funding will help to accomplish," Senator Timmy Dooley (FF) maintained.
Ballycasey Close Green Area – Shannon Footpaths €375,000
Bus Infrastructure – Crusheen €47,000
Cycle Schemes – Ennis €150,000
Doolin Footpaths and Pedestrian Crossing €170,000
Drumindoora Walking/Cycling Infrastructure €200,000
Ennistymon/Lahinch Footpath Improvements and Public Lighting €120,000
Footpath Package A – Ennis €360,000
Footpath Package B – Doonbeg, Kilmihil, Cross, Labasheeda, Connolly, Quilty, Carrigaholt, Kilrush, Meelick, Kilbaha, Kilmurry Village, Sixmilebridge, Kildysart, Kilmaley, Kilkee €444,000
Killaloe Footpaths €200,000
Kilrush Walking/Cycling Infrastructure 1 €200,000
Kilrush Walking / Cycling Infrastructure 2 €200,000
Lahinch Cycle Lane €175,000
Light Segregation Cycle Schemes €100,000
Lissycassey Footpaths €250,000
Low Cost Junction Tightening/Pedestrian Crossing Schemes €100,000
Low-Cost Permeability Measures €100,000
Miltown Malbay Footpaths €120,000
Pedestrian Crossings – Lisdoonvarna €70,000
Pedestrian / Cycle Bridge Package – Quin, Creegh, Doonbeg, Cooraclare, Carrigaholt, Inagh €230,000
Public Lighting – Ennis €140,000
Quin Village Footpaths €120,000
Safe to Schools Programme – Support Infrastructure €100,000
Shannon Banks River Walk €105,000
Spanish Point Connectivity €160,000
Transport Studies / Mobility Plans / ABTA (Package) €450,000
Tulla Footpaths €250,000
Urban Mobility Plans/Active Travel Network Plans €100,000
Village Enhancement, Co-Creating €950,000