Limerick's title as All-Ireland senior hurling champions may result in a more positive approach from Limerick City and County Council to upgrade a footbridge on the border, a Clare councillor has quipped.
Health and safety concerns prompted Cllr Michael Begley to table a motion seeking the removal of the chain link fencing on the parapet of the footbridge between Summerhill in Clonlara and Castleconnell and for it to be replaced with "more secure fencing" which was seconded by Cllr PJ Ryan (IND).
Numerous sections of the chain link have been replaced by wire panels recently, senior executive engineer of the Shannon Municipal District Tom Mellett replied. He confirmed, "An application to upgrade this bridge has been submitted by Limerick City and County Council, this application is through the Active Travel programme and is currently being assessed by the National Transport Authority".
In 1942, the wooden and concrete bridge was constructed over the River Shannon by the Seventh Engineering Field Coy to facilitate the movement of soldier between Castleconnell and Doonass. During the second World War in order to protect Ardnacrusha Power station and Parteen Weir at O'Briensbridge, the 12th Desmond Infantry Battalion was stationed in Castleconnell and the Clare 26th battalion Engineering company was stationed in Doonass House.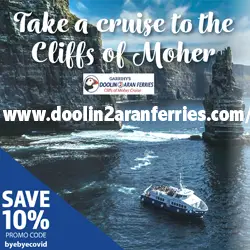 Before this footbridge was erected, a passenger ferry operated further up the river from the early eighteenth century. The Postal authorities also operated its own boat and the local postman made the crossing every day from Castleconnell post office to deliver post to the Clonlara district.
Speaking at the March meeting of the Shannon MD, Cllr Begley stressed the need to put an emphasis on the works. "The parapet of this bridge is done with chain link, once you open one link you can run it and open a whole host of sections, it has been opened up but it's not good enough," he outlined.
Up to 100 people are using the footbridge on a daily basis with the figure rising further on weekends, the Clonlara representative stated. Clare County Council must "be strong" in their dealings with their Limerick counterparts, he added. "They don't tend to go out of their way to give any attention to that bridge until repairs are urgently required".
"Now that they are All-Ireland Champions, they might look positively on motion," Cathaoirleach of the Shannon MD, Cllr Pat McMahon (FF) quipped.