SINN Féin General Election Candidate and Shannon Councillor Mike McKee has expressed his disappointment over An Bord Pleanala's refusal to grant Aldi planning permission in Shannon.
"Anger has very much subdued into disappointment at this stage because we have been used to having decisions like this being taken against us having a main street in Shannon for far, far too long. So there will be some anger but there will be more disappointment I believe," Cllr McKee commented.
Aldi appealed An Bord Pleanala's decision when they rejected planning permission a year ago.
Cllr McKee doesn't hold out much hope of Aldi coming to Shannon any time soon, as he doubts a high court case would make a difference.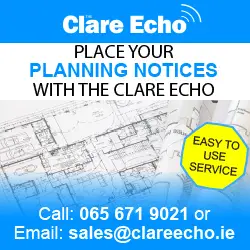 "I'm not sure would a high court case reverse that or would Aldi even try and do that. I doubt if it would change the decision. So all in all, for Shannon it's disappointing.
"We had hoped all along it would open up the street scape for us on the main road, and that's not going to happen for a long, long time to come," he added.
The planned Aldi site sits opposite the Lidl store in the Shannon Town Centre and Cllr McKee hoped that it would help open up the streetscape of the town and bring more visitors to the area.
"If you go to any European city or town, where you see a Lidl you'll see an Aldi very, very close by and they seem to complement each other and we had hoped that people from the surrounding areas would have come in to visit Aldi because Aldi has a pretty loyal following and unfortunately that's not to be at this stage," Cllr McKee said.