*Sarah Breen & Emer McLysaght. Photograph: Al Higgins
Sarah Breen's first and last trip to Clare was a life-changing one, she is returning alongside co-author and best friend Emer McLysaght next month for the 2020 Ennis Book Club Festival.
Published in August 2017, Oh My God What a Complete Aisling was an instant hit for best friends Sarah Breen and Emer McLysaght who created the character and wrote the books. They followed it up with The Importance of Being Aisling and Once, Twice, Three Times an Aisling and are currently working on a film adaptation of the first book.
Aisling was not brought to life in a book until four years ago but she has existed for some time. What started as a Facebook group for their circle of friends later spawned into the creation of the series. "When we set it up there was no such thing as WhatsApp or group messaging of any form, we set it up as a place for our group of five or six friends could share our Aislingisms".
"We didn't expect anyone outside of ourselves to ever join it, slowly a new person would join or someone would say it to their friend, it wasn't an overnight success but it just grew and grew. It was not monetised, it was just something we did to have a laugh, we never intended to make money off it or turn it into a job, it just grew and grew and was how we were offered our book deal," Sarah told The Clare Echo.
Common comparisons have been made that Aisling is the culchie version of Bridget Jones. It's a label both Breen and McLysaght are quite content with. "Real writers" regard the writing routine of the successful duo as "chaotic".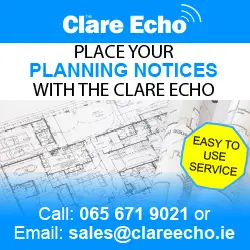 They are currently working through the fifth draft of the film's screenplay. "It's not as easy as translating it to the screen, you have to change it so much, for the type of film we're doing there is a formula so it's been really hard I'm not going to lie, it's one of the hardest things I've ever done. Multiple times when we're working together on it we're like 'why did we sign up to this' but it is really taking shape, the feedback we're getting is great which is brilliant for our confidence, they seem to be really happy with what we're doing, it's been quite the learning curve".
"A young Emma Thompson" would be their dream actress to play Aisling, however they concede that the absence of a time machine makes this impossible. "There are so many talented actors in this country, two years ago I never heard of any of the girls in Derry Girls for example, they are all amazing. We're hoping to find an incredible Aisling, it could be someone unknown, a breakout person".
Book five will be the last of Aisling as agreed in their contracts but the possibility of coming back in twenty or thirty years is not ruled out. "We always said that we didn't want to drag the arse out of it, we wanted to leave people satisfied and hopefully wanting a bit more than flogging a dead horse. The success of the book has opened doors for us, there are other things we are being offered and other opportunities".
"It will be hard and very emotional when we do the fifth one, we have a vague idea but we don't know what is going to happen. I can see us needing to go out to have a bottle of wine and a bit of a cry somewhere, it will be the end of an era, Aisling has given me and Emer the opportunity to work together, we're best friends, we always said it would be nice to do something together at some stage because she worked in radio and I worked in magazines. We owe Aisling a lot and we will definitely be sad to see the back of her".
From Borris in Co Carlow, Sarah has only visited Clare once. That was twenty eight years ago for a family wedding in Ennis. "On the way down to Ennis we stopped somewhere for food, I got food poisoning from a chicken sandwich and I was really sick at the wedding. I haven't eaten meat since, I have been a vegetarian since then. That was 28 years ago, that was my experience of Ennis, a lot of vomiting".
On Friday 6th March, she will return to Clare alongside Emer as they form part of an impressive lineup in glór for the Ennis Book Club Festival, "I hope there will be less vomiting, more sightseeing and meeting lovely Clare people next month"