Failure to install 'adequate infrastructure' in Clare's rural communities will accelerate their demise, local councillors have warned.
A progress report from Irish Water surrounding wastewater treatment plants for villages in the county without such facilities was sought by Cllr Joe Cooney (FG) at the December meeting of Clare County Council.
He stated in his motion to the floor, "It seems to be progressively more difficult to achieve planning permission for the onsite wastewater treatment system even though site assessors recommend that sites are suitable in the countryside in order to revitalize our rural communities".
New public sewerage schemes are planned for Ballyvaughan, Clarecastle, Kilrush, Kilkee and Liscannor, Irish Water advised in a written reply. Construction of wastewater treatment infrastructure is to commence in Kilrush, Clarecastle and Liscannor next year while planning is to be submitted for upgrades to Ballyvaughan and Kilkee in 2021.
Irish Water insisted they were making "real and tangible progress working with local communities to deliver critical infrastructure which has suffered from years of historic underinvestment".
Alarm bells sounded for councillors as the response outlined that Irish Water's investment plan "prioritises public health and safety by targetting agglomeration where there is no treatment for raw sewage or where the treatment is not in compliance with the EU Urban Wastewater Treatment Directive" and that the utility company has "no statutory role where there is currently no network".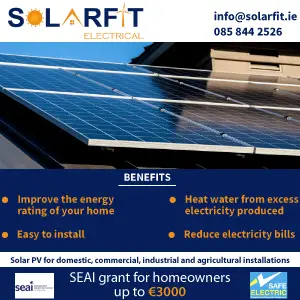 As he acknowledged the plans for five areas in the county, Cllr Cooney flagged that the response "doesn't answer the motion". The East Clare representative stated, "We are all well aware that a number of villages are lagging behind for the proper infrastructure. Little or no progress has been made but we are still working hard on it. The reply from Irish Water has nothing whatsoever with what I had down. I will keep fighting for the proper wastewater systems in rural parts, if not we will struggle to keep good people in our rural areas. Quite possible that small villages like the ones I'm talking about will have land dezoned in the next County Development plan if the infrastructure is not in place".
Cooney continued, "If we don't keep fighting there will be no facilities and then there will be no people. If we don't start somewhere we won't need to start at all because the people will have moved on".
Cllr Pat Burke (FG) described as "outlandish" Irish Water's statement that they have no role in areas without a network, "I'm shocked, didn't realise Irish Water had no role in the village of Broadford". No reference to this was made at previous meetings with Oireachtas members and the Broadford Action Group, he said. "There seems to be an abandonment from Irish Water. We need to make sure we have the basic infrastructure. We need to think outside the box," Cllr Pat Hayes (FF) added.
Seconding the proposal, Cllr Michael Begley (IND) revealed that "disturbing news" had emerged in Meelick which stipulated that any upgrade was "dependent on an upgrade to the existing drainage system". He felt that it was "inappropriate for the Government to do that type of thing, to allow a project proceed further and do nothing about it".
Development in Meelick is restricted because of the sewerage issues, Cllr Pat O'Gorman (FF) maintained. He said locals hopeful of building a house there were now forced to move to areas such as Sixmilebridge or Limerick instead. A "prototype" for the regeneration of villages has already been identified, Cllr Gabriel Keating (FG) suggested as he referred to the example set in Labasheeda and Carrigaholt.
Absence of a wastewater treatment plan has put the "world class designation and marketing" at Doolin under threat, Cllr Joe Garrihy (FG) cautioned. Cllr Joe Killeen (FF) recalled that An Bord Pleanála overturned a Clare County Council decision to grant planning for a new business in Doolin "because of lack of wastewater treatment. We need to get progress on that. You have to have a level playing field and try accommodate rural villages".
Quoting his party colleague, Cllr PJ Kelly (FF), the view was expressed by Cllr Cillian Murphy (FF) that West Clare would be left behind if Irish Water persisted with its current approach. "We may as well put a gate across the road on the N67 and shut it because that is effectively what is happening".