A NEW IT solutions company is exceeding all expectations after being established in County Clare earlier this year.
Ability IT was set up by local IT expert and businessman Brian Hall. Having worked in the industry for 20 years, the Kilmaley native spotted a gap in the market as companies struggled with their IT requirements following the arrival of Covid-19.
Operating out of Market Street Car Park in Ennis, the company offers a wide range of IT solutions to start-ups, sole traders and established SMEs, specialising in helping businesses to consolidate their office and operational IT requirements with one supplier. Services offered include EPOS, merchant services, printing, office equipment, phone solutions and more.
Brian set up Ability IT in March and planned to continue working part-time in his previous role while the company grew. However demand has surpassed early expectations and not only has Brain shifted his focus entirely on the new venture, he expanded his team as he supports clients in all corners of the country along with a number of SMEs in County Clare. Ability IT now employs the services of a receptionist, a phone seller, with an additional engineer coming on. While supporting a range of industries, Brian notes there has been a particularly strong uptake from the retail and hospitality sectors.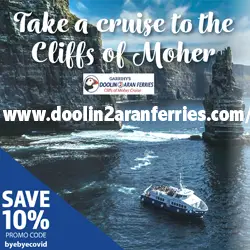 When reflecting on setting up Ability IT, Brian observed clients struggling to deal with multiple providers which motivated him to find a solution that would better serve SMEs. "Over lockdown there were big changes in how businesses operated, people being laid off work or working from home. I saw from working in the industry that there was a gap for SMEs looking for IT services. During Covid I started looking into it and got it ready and I launched it this year," explains Brian. Brian grew up with IT in his family business and consolidated his credentials recently by putting himself through college to gain accreditation.
"The company I most recently worked with mainly worked with the printing industry and I saw that there was a massive drop in support for customers when there were issues with IT, printers and other systems in the office. So the customers were left high and dry until the issue was resolved and they'd have one provider blaming the other and nothing getting done, so I had the idea that you'd have a company that would give a full solution to a business, offering everything from their IT to their printing to their EPOS system and merchant services, so they're only dealing with one supplier and one point of contact. There was no reason why you couldn't offer a top class service and keep companies going when they really needed it."
Brian maintains that "a complete solution for a lot of companies is better than trying to deal with multiples and it can save them time and effort and give them an easier system to deal with".
"Our number 1 thing is support and that's what we're known for and we will endeavour to get problems resolved very quickly."
Ability IT offer round the clock support for their contracted customers with additional support offered by their partner providers. Brian is encouraging potential clients to visit the demo showroom in Market Street Car Park.
To contact Ability IT Solutions, call 065 681 0068 or visit abilityit.ie.