Month's mind mases are now being prepared in Kerry and in his native Cooraclare for the late Fr. Kevin McNamara whose sudden death shocked parishioners and his many friends in both counties.
By Tony Mulvey
Since his death in hospital while awaiting a planned procedure, many well deserved tributes have been paid to the 66 year-old who was much loved and described as a larger than life person, one of the most inspirational priests to serve in the Diocese of Kerry. Also one of the best known members of the clergy in Ireland, he was charismatic, kind, caring, compassionate, a special person with enormous faith who with his captivating voice touched the lives of so many lives. In their tributes his former parishioners said he was a great source of comfort to people in times of need and reached out to all walks of life and shared his talents to help others. He could relate to everyone in a simple and down to earth way.
But at all times he was a proud and passionate Clare man and a great supporter of the county's hurling and football teams. He was proud to shout "Up the Banner" on many occasions and in a variety of places.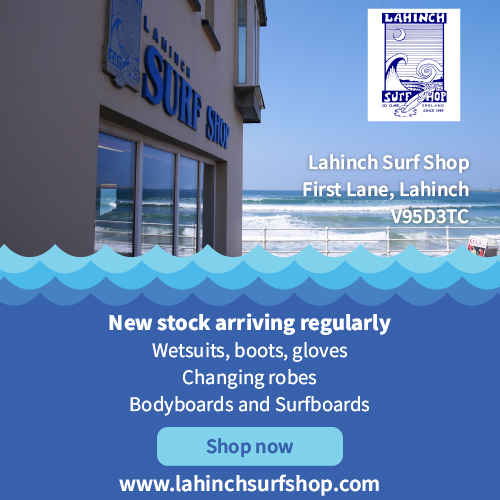 Fr. Kevin, as he was affectionally known, was seen as an inspirational, good and decent man and was exceptional in his ability to plan for the future. He was also noted for the way in which he reached out in an excellent way to young and old and showed great commitment with his ability to relate to everyone.
He was also well known for his generosity and had a special welcome for Clare friends on a visit to Killarney. Each year on February 14th he brought Valentine's Day gifts for the congregation at mass, gifts of flowers for Mothers Day and sweets for children at Christmas time. "We were blessed to have Fr. Kevin in our lives", one parishioner said.
An outstanding communicator, he wrote weekly columns for different publications over the years and the novenas he organised attracted huge crowds. Controversial at times, he regularly spoke out on different issues, one being his objection to the depiction of confession on RTÉ's Fair City last year.
Because of his popularity he was hugely in demand to perform wedding and baptismal ceremonies.
A son of the late Tom and Mary McNamara who had a shop in Cooraclare, Fr. Kevin was ordained in 1981 as a member of the Sacred Heart Missionaries. His first mass was in a ward of St. Vincent's Hospital, Dublin where his mother was a patient. It was attended by Fr. Kevin's father and sister. His mother died three days after his ordination.
He commenced his missionary work in Liverpool. He then served with the Missionaries of the Sacred Heart on the Western Road, Cork; in Kenmare for a brief period in 2004 and was based in Killarney from 2005 to 2012. Later he was transferred to Rathmore, Kneevaguilla, and Knocknagree where he spent three years. He then went to North Kerry and for six years was extremely happy and tremendously popular in Moyvane and Knockanure.He made great improvements in the parish, opening a parish office, revamping both churches, restoring the old parish hall, introduced meals on wheels for the elderly, established a radio link and during the Covid lockdown celebrated masses in the Doorway of Hope in Moyvane. He said mass at the side door of the church and parishioners could drive in to the church grounds and hear mass while remaining in their cars.
On a personal note he was disappointed at hearing that he would be leaving be leaving Moyvane as a result of the diocesan changes announced by the Bishop of Kerry last October. He was on his way to his new parish in Glenfesk before he got a chance to have his next projects off the ground in Moyvane -sheltered housing for the elderly in the parish and a permanent outdoor Stations of the Cross in the grounds of Moyvane church. He always looked forward to visiting his beloved Cooraclare and from Moyvane it took him less that one hour travelling via the car ferry. However, from Glenflesk it was a much longer journey to his home place.
Fr. Kevin treated the Moyvane parish newsletter with pride and took steps to have it distributed throughout the parish and beyond. Prior to his sudden death he had prepared a newsletter for the New Year and in it he spoke about the light to help you in darkness. He referred to the weekly newsletter as a receipt for those who attended mass.
After his death on December 21, his final journey home commenced on December 26 when large crowds attended the reposing at Glenflesk and Moyvane churches. For the last time he made the ferry crossing from Tarbert to Killimer and on to Cooraclare church where his funeral mass was celebrated by the Bishop of Kerry, Ray Browne, on December 27.The homily was preached by a close friend, Fr. Teddy Linehan, Tralee who told the congregation he was doing so at the request of Fr. Kevin following a conversation he had with him. In his tribute he said Fr. Kevin walked alongside many people in the journey of his priesthood in the different parishes he served in, he brought life and energy wherever he went.
He said he was a priest of the people and a gifted communicator. He had a unique gift of being able to talk to people, young and old, wealthy or poor, people who were sick or people that were healthy, people that needed a kind word or people that needed a word of encouragement. He met people where they were at. He met then in supermarkets, he met people on the streets, in a pub after a wedding reception or a baptism. His funeral mass in Cooraclare served as a reminder of all he did for his parishioners when the pandemic hit, not least in the form of organised drive-in masses, stations of the cross and meals on wheels.
Fr. Kevin felt the loneliness of being by himself but he turned that loneliness into a huge strength by helping to organise meals on wheels so that people living on their own could have a hot meal, Fr. Linehan said.
Though he spent years in Kerry his heart was in Clare and one of the symbols of his life was that of a picture of Cooraclare village. So too was the symbol of the Sacred Heart Missionaries, his chosen order, and his rosary beads.
His coffin was draped with the Clare and Everton colours, marking his love of sport and one of his newsletters was also presented as a symbol of his life.
"Fr Kevin had a huge heart-what a life he had- how many hearts he touched. His work is done: he is now receiving his All-Star in Heaven", Fr. Linehan concluded.
Songs aired at mass were two of his favourites The Ciffs of Doneen and the Chapel Gate of Cooraclare.
The funeral took place after mass to Dromelihy cemetery where Fr. Kevin was laid to rest alongside his parents.
Sympathy is expressed to his sister, Geraldine Condren, brother-in-law Dave, niece Niamh, nephew Caimin, his extended family, neighbours, Bishop and priests of the Diocese of Kerry, conferees in the Missionaries of the Sacred Heart, his parishioners and a host of friends.