*John Torpey. Photograph: John Mangan
Hurling is the world's fastest field game played on grass, for thousands exponents of the art form they have flocked to Torpeys in their endeavours to master the craft.
Manufacturing hurleys is another creative spark which Torpey hurleys have seen evolve from the small to the very big bás and now their latest bambú venture. The rise of Clare hurling in the 1990s gave John a timely boost to bring the business to a larger demographic.
"I nearly didn't make it as a hurley maker in 1995," John confessed when sitting down with The Clare Echo. All because of a business deal with a Shannon company where he was approached to make a million metres of curtain poles a year. He travelled to Sweden and Germany as part of his research for this, the acquisition of a machine for manufacturing plus the construction of a shed to store 40ft of spruce worked out at a bill of £100,000. Disaster struck when the deal fell through as problems emerged within the company that led to its downfall.
Left with a loan of £100,000 to pay and a machine at his disposal, the form of the Clare hurlers would prove to be the saving grace the Belvoir native required. "Clare were hurling good, I still had one machine for making hurleys, as look would have it the size on the bás of the hurleys were much smaller then than they are now, that machine was able to make four hurleys at a time, it is down 50 percent now because the bás of a hurley is much bigger".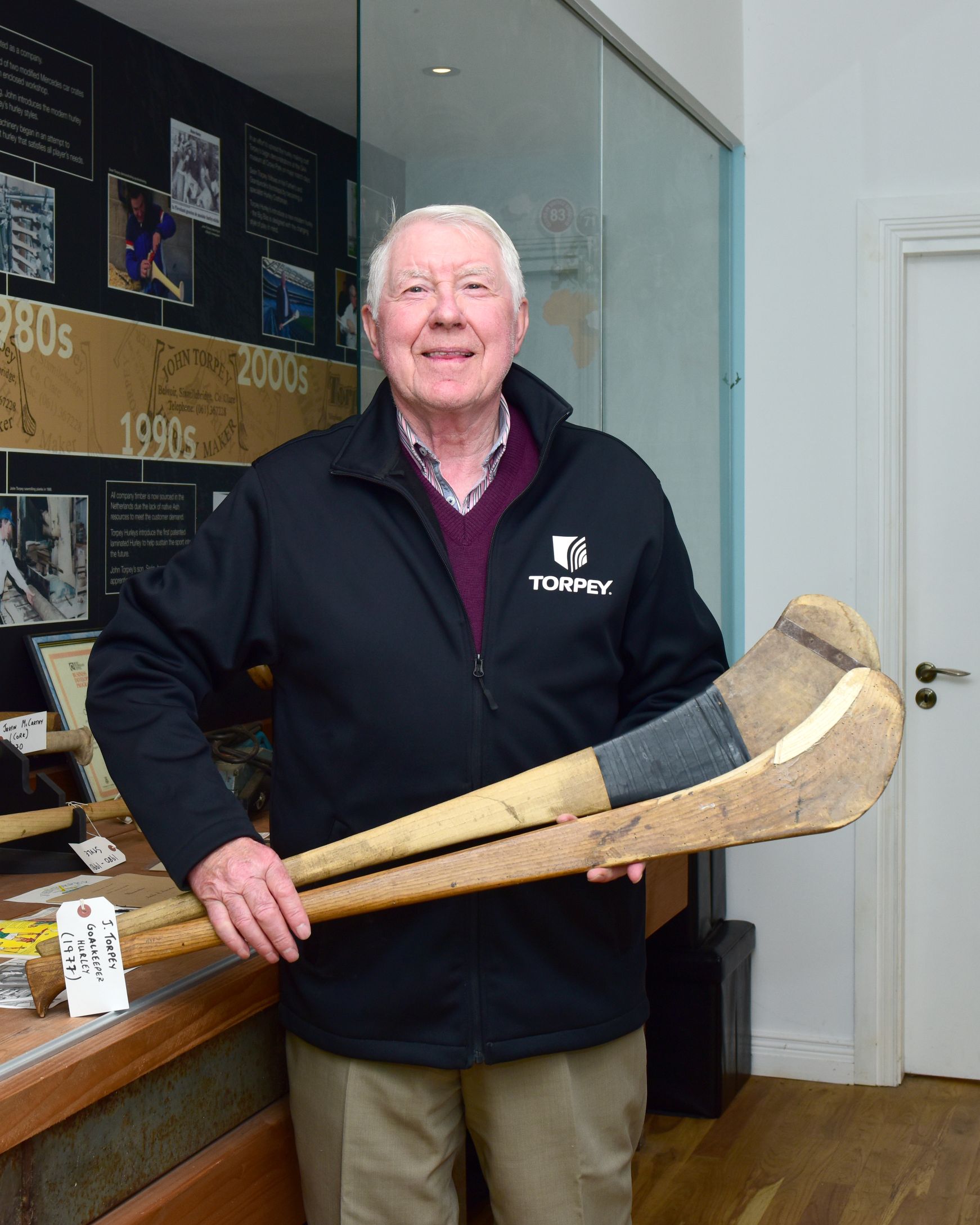 In a twelve hour shift he could make 100 hurleys but that did not include removing the tops and heels, sanding and branding. Demand was high and his reputation was building but John outlined, "It didn't alter the fact I was down £100,000". Perseverance would be one of his strengths, after all he would finish his goalkeeping career for O'Callaghans Mills at the age of 52 with the Juniors having made his senior debut aged 15.
Davy Fitzgerald, Brian Lohan, Fergie Tuohy, PJ O'Connell and Conor Clancy were among Torpey's main clients on the Clare team of 1995. As the final edged closer, pressure was building both within the Banner ranks but also on Torpey. "They were in the All-Ireland and I had no timber," he revealed.
A long-time friend of his Pat Staunton living in "great timber country" of Wicklow and former Antrim full-back Ger Rogan would save the day by providing half a pallet of ash to set John up to see out the season, "I got beautiful ash and it made my name for me". His time living in the Garden County would help, indeed John won an All-Ireland junior hurling title while lining out for Wicklow in 1967.
Though he may not have got on the scoresheet during the All-Ireland Final of 95, John took immense pride in having produced the hurleys used by the five men. I'd be so proud when I'd see the lads that were using the hurleys," he added. "Conor Clancy was great, he didn't take any prisoners. Fergie put some great balls over the bar, PJ O'Connell would get the crowd going when he started running".
Torpey had a love for making the hurleys belonging to Brian Lohan. "Brian Lohan minded his hurleys, one Sunday he was playing a careless game in Ogonnelloe one evening and some fella lay down on his hurley and the first thing you do is pull like the devil to get it out from under him, he broke his beautiful hurley and I still have it, it is the only hurley I ever repaired in the middle of the handle for, it is in our museum now in the factory, Brian would never come and pick his hurley, I would know exactly what he wanted.
"Davy was the same, his hurley was very light on the pole which loads of people didn't like but Davy had a special hurley, I never sent him out without seven or eight hurleys in the bag, that's how good a friendship myself and Davy had. It was great looking after lads at the time. PJ would come out to me on a Saturday evening before a match, we would have a chat and we might not talk about hurling at all, that was the way it was. Fergie came to me one evening and said there was a ball that didn't go over the bar it dropped short and he was saying 'that feckin hurley didn't put it over the bar on Sunday for me' and I said shur if you hit it a little bit harder it would go over. We had good fun always, I loved making hurleys for lads like that, they appreciated their hurley, they knew what they wanted and I knew what they wanted".
To this day, he has a strong friendship with all of the five and John is forever grateful for the impact it had on his enterprise that began all the way back in 1981. "It was the makings of my business, it really was," he said of the 95 success. It has been maintained with John's son Sean now running the show in Belvoir while he remains on hand to offer advice and expertise when needed.