*Photograph: John Mangan
Seven new cases of COVID-19 have been reported in Clare while the amount of cases nationally are "static".
Clare's 14 day incidence rate per 100k of the population is the fourth lowest in the country at 54.7. There are seven new cases in the county, the National Public Health Emergency Team (NPHET) stated on Thursday.
Making her first appearance at a NPHET COVID-19 briefing, Director of Public Health Mid-West, Dr Mai Mannix said there had been a "number of new outbreaks related to funerals" in the Mid-West. "It feels unnatural to us because the Irish do funerals well. None of us would want our family funerals to be a cause of serious illness for others". She cautioned the need to be careful surrounding a wake-house.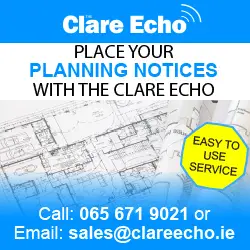 Workplace outbreaks have been observed in the Mid-West, Dr Mannix flagged. "Slippage" at smoke breaks is leading to "a lot of congregation" and a subsequent rise in close contacts, she flagged. "It happens in workplaces and it also happens during break times because people relax and forget you have to social distance at those times".
Employers must continue to encourage working from home, Dr Ronan Glynn stated. "We want people to work from home for the next two, three to four months," the Deputy Chief Medical Officer commented.
No new deaths related to the virus are known across the country. Since March 2020, 4,566 persons have died because of COVID-19 in the Republic of Ireland.
Health officials are aware of 582 new cases nationally. 156 are in Dublin, 23 in Meath, 19 in Donegal, 15 in Louth, 14 in Kildare and the remaining 198 cases are spread across 20 other counties.
Speaking at Thursday's NPHET press briefing, Chair of the NPHET Irish Epidemiological Modelling Advisory Group, Professor Philip Nolan said the highest incidence of the virus is in the 19-24 age-bracket and the lowest is in those aged 65 plus. Up to 25 percent of cases are from workplace settings, he said.
Cases are materialising in schools, he said with more expected in the coming weeks. "Nonetheless, the number remains a very small fraction of total cases in the population". The number of new cases are "static or declining slowly," he said. The incidence has plateaued with "no clear pattern by age-group".
Professor Nolan cautioned that an increase is "clear and significant attendances in workplace settings and clear decreases in the number of hours spent at home".
Hospital data from 8am on Thursday showed that 83 persons remain in intensive care, they are among the 345 in hospital because of COVID-19, 24 of which were admitted in the past 24 hours. Professor Nolan said there has been a "continued decrease in numbers in intensive care but one might worry it is not decreasing as quickly as it has been in previous weeks".
Latest vaccine data from Monday details that 620,580 vaccines have been administered. 165,398 persons have received both doses.
"I know people are absolutely exhausted," Dr Glynn acknowledged. He stressed the need for a fourth wave to be prevented while the majority of the population wait to be vaccinated.