Confirmed coronavirus cases in Clare has remained at seven as reported by the National Public Health Emergency Team.
On St Patrick's Day, Taoiseach Leo Varadkar (FG) stated that the amount of cases in the country would hit 15,000 by the end of March. Following the publication of Saturday's figures, an additional 102 Covid-19 cases have been recorded bringing the total in the Republic of Ireland to 785. On the island of Ireland, the total figure is 893. On Saturday, the global death toll from Covid-19 passed 12,000.
Data provided by the NPHET is of Thursday's 584 cases. This includes the county by county breakdown of which Clare's tally remains at seven as was the case the day before accounting for 1% of the country's total. Of the 584, 55% are male and 44% female, 157 cases stem from 29 clusters.
Neighbouring counties, Galway (21) and Limerick (15) have currently presented with more cases than Clare. They along with Dublin (320), Cork (88), Kildare (18), Wicklow (17), Westmeath (14), Kilkenny (11), Meath (10) accounted for 89% of the 584 cases.
44 years old is the median age of the analysed 584. 13 cases which equates at 2% have been admitted to ICU while 30% have been hospitalised. A quarter of all instances involve health care workers.
More cases have been from community transmission (179) than travel abroad (148) to date, 97 are from close contact with a confirmed case while a further 160 are under investigation.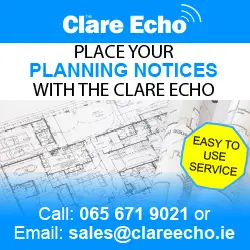 With further testing being carried out in Clare, the figure here is expected to rise over the coming weeks. Members of the public are advised to follow health and safety guidelines as issued by the HSE on best practice and social distancing.
Earlier today, Clare County Council erected additional signage at Kilkee highlighting the need for social distancing. The local authority appealed to the public to adhere to guidance issued by the HSE. It followed calls for the closure of public car parks at Lahinch and Kilkee with both coastal locations recording an increase in visitors despite pleas for the public to limit their social interactions.