*Photograph: John Mangan
Fifteen new cases of COVID-19 have been diagnosed in Co Clare.
A total of 675 new confirmed cases are known across the country. 199 are in Dublin, 104 in Cork, 67 in Meath, 50 in Limerick, 41 in Kildare and the remaining 199 cases are spread across another 19 counties.
Co Clare has one of the lowest 14 day incidence rates per 100k of the population of the virus. It has the twentieth highest rate at 249.1 which is below the national rate of 299.
An increase to the country's death toll has been recorded. The Health Protection Surveillance Centre has today been notified of 6 additional deaths related to COVID-19 bringing the death toll to 1,896.
Within the past 24 hours, 19 hospitalisations related to COVID-19 have been recorded. 41 persons are being treated for the virus in ICUs across the country with a further 287 in hospitals.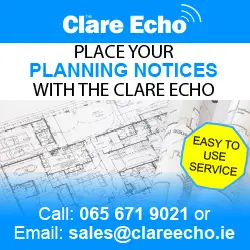 Chief Medical Officer, Dr Tony Holohan appealed for the public to follow recommendations when it comes to Coronavirus. "If you have symptoms of COVID-19, you must self isolate and phone your GP for further advice. If you have been referred for a test or are awaiting a test result, you must self isolate.
"If you are a confirmed case of COVID-19 you must self isolate for 10 days. If you are identified or have identified yourself as a close contact of a confirmed case, you must restrict your movements. Stay informed on the public health advice around COVID-19 and be prepared to protect yourself and those around you," he added.