IT TAKES guts to open a home interior store at the beginning of a property crash, but Home Gallery did just that and has come out smiling at the other side.
"The day we opened, the news headline that day was 'It's official, we're in recession' but we kept going and we opened.
"We had a very positive reaction from the very first day and the people of Clare were so supportive of us and got behind us and we have grown from strength to strength every year," Des said.
Des and his business partner Annette spotted a gap in the market for an interior store that not only offered essential bulky furniture, but also the equally important finishing touches.
To celebrate a decade in business, Home Gallery is holding a massive sale as a thank you to all of his loyal customers, starting this Thursday.
There will be some serious bargains, from half price sofas to 35-60 per cent off bed-linen and 30-50 per cent off home accessories.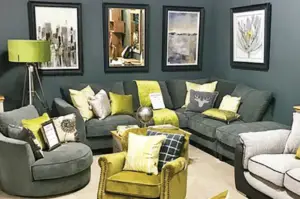 The Home Gallery Ennis team, made up of Des, Simona, Elaine, Brendan and Esther, pride themselves on their outstanding customer service.
"The staff are highly trained, they have a lot of experience of putting schemes together. So if someone is wondering how to put a room together and they're a bit confused as to whether this would work or that would work, come in and we can give you the time and spend a bit of time with you and help you," Des added.
Home Gallery offers an unmatched selection of products, which will allow every customer to create the perfect look for their space, with free parking as an added bonus.
Home Gallery stock sofas, armchairs, dining furniture, occasional pieces, coffee tables, lighting, artwork, chandeliers and a huge selection of bed linen among other pieces.
Customers have been known to drool over the bed linen selection, which features offerings from Holly Willoughby, Catherine Lansfield and Karl Lagerfeld.
Home Gallery has also recently added a rug gallery with over 100 styles to choose from and even more on the way.
"People in Ireland are very proud of their houses and we spend a lot of time at home in the evenings on the long nights so we like to have our spaces comfortable and we like to have our own bit of personality in the spaces we live in," Des added.
When Des and Annette opened the store 10 years ago, the home interior trends tended to move more slowly than the fashion world.
This is no longer true and interior trends are now on a par with their fashion counterparts.
Des loves staying on top of the latest styles and always ensures his customers are bang on trend.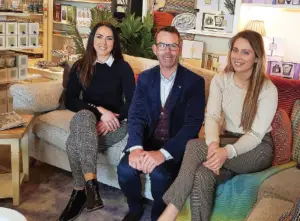 Des explains masculine colours like grey, teal and navy have been the dominant hues for the last couple of years.
Though they are great base colours to work with, Des believes that injecting a burst of colour is key to creating positive vibes in your home.
"I do believe people react to different colours. Colour makes them happier, people do respond to it. There's a psychological aspect to colour and I think it's very important to have colour in your house. Adding some colourful cushions, a rug or picture is very important and easy to achieve," Des said.
"The biggest trend at the moment is combining charcoals and greys with blush pink, mauve and also combining dark greys with yellows and mustard," Des added.
Des is very conscious of the fact that the local community has been very good to his business and he wants to make sure that he gives back as much as he can.
Home Gallery often supports local charity events by offering prizes, lending furniture and offering sponsorship.
"It's very important. We rely on the local community to support us. We support them as well where we can," Des added.