For the second day in succession, six new cases of COVID-19 have been recorded in Co Clare while ICU numbers have dropped below 50.
Clare (37) continues to have the fourth lowest 14 day incidence rate per 100k of the population across the country.
On Tuesday, NPHET stated that six more persons in the county were diagnosed with the virus. 44 persons have tested positive for COVID-19 in Clare over the past fortnight.
Nationally, there are 358 new cases with 166 in Dublin, 39 in Donegal, 16 in Kildare, 13 in Offaly, 12 in Meath, 12 in Limerick and the remaining 100 cases are spread across 18 other counties.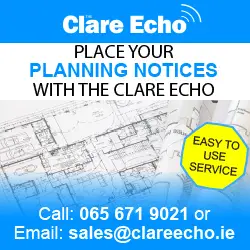 An additional 18 deaths related to COVID-19 are known in the Republic of Ireland. Of the deaths reported today, 7 occurred in April, 3 occurred in March, 3 occurred in February, 3 occurred in January. 1 death was reported as occurring before January. The median age of those who died was 85 years and the age range was 46-102 years. There has been a total of 4,803 COVID-19 related deaths in Ireland.
Figures from 8am on Tuesday has detailed that 48 persons remain in critical care because of COVID-19, they are included in the tally of 205 hospitalised of which 11 were admitted in the past 24 hours.
1,063,666 doses of COVID-19 vaccine have been administered in Ireland as of Sunday. 314,216 people have received both doses.