THE COUNTY BOUTIQUE is celebrating fifty seven years at its current location at 57 O'Connell Street. 
Fashionable Genes
While the story of County Boutique in No. 57 O'Connell Street, Ennis, established by Merty and Frank Culligan on October 14, 1966, in its 1760s limestone building, the seeds of retailing were sown much earlier, in the 1870s when Gwen and Maeve's great, great grandfather, John Moloney, operated two drapery stores in High Street (currently The Kilkenny Shop) and O'Connell Square, their daughter, Minnie, married a Merchant of Ennis, Denis Roughan of Bindon Street, in 1892. He operated Roughan's Hardware store on Abbey Street and their daughter, Rita Roughan continued until the 1980s.
Since 1966
Merty Culligan hailed from County Kildare and brought her love for beautiful clothes to County Clare, via Arnott's and the Shannon Airport Duty Free in the 1950s, before opening the store in 1966 with her husband, Frank. She had a great eye for fashion, which Gwen and Maeve believe they too have inherited and enjoy sharing with customers every day. County Boutique built a reputation as a go-to store in Ireland early on, with a regular American clientele too, who regularly wrote to Merty, looking for the most up-to-date fashions from Ireland and Europe. Merty was known as an excellent businesswoman and was also a trendsetter in the Midwest, sourcing the finest fashions from Europe.
From a young age, Maeve and Gwen watched closely as their mother ran The County Boutique. Gwen says, "She was very tactile. Every time Mum went to buy something, she touched it before she bought it. Everything was about how things felt and we both have that, the more important thing to us is before you look good, you have to feel good. We just love fashion and both of us love spotting a trend."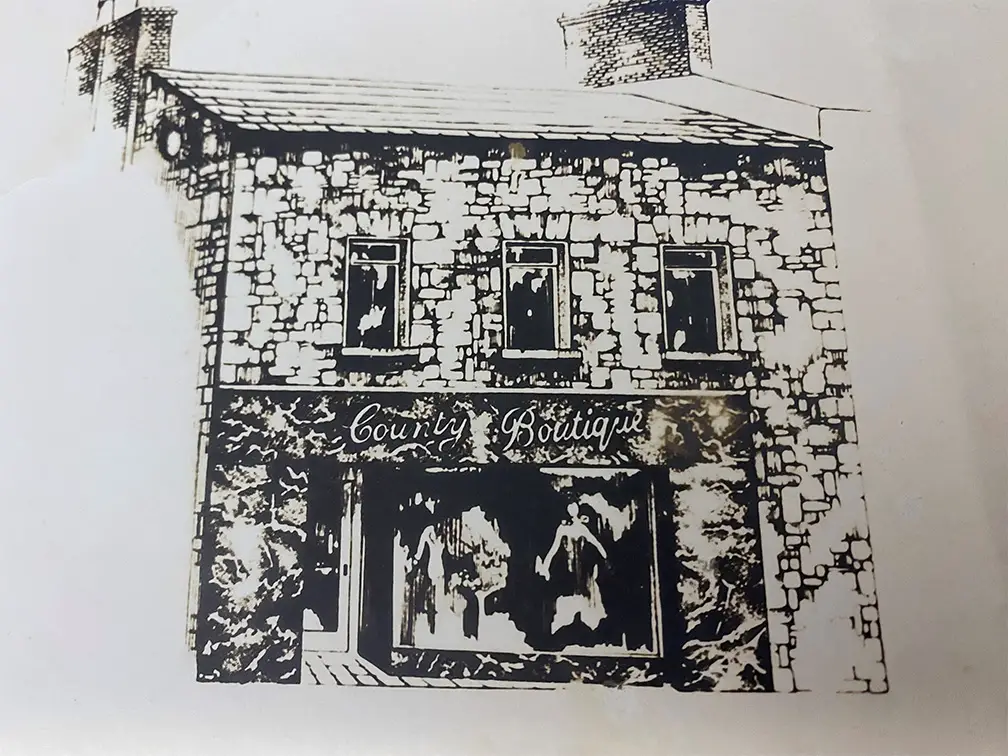 Top Tips
Use a fabric shaver on your favourite knitwear and coats to give them a new lease of life!
Avoid impulse purchases by buying items that work with pieces in your existing wardrobe or matching pieces if buying more than one item.
Translating the trends
An eye for spotting trends and translating them for their customers is one of the key ingredients to the success of Gwen and Maeve at County Boutique. At the core of the business is providing investment pieces that customers can wear year after year and will see them returning to update key pieces in their wardrobes.
"It is essential that customers look at the cost per wear of their clothes, creating wardrobes that cost them less in the long run and buying into a sustainable ethos," say Maeve. The trends for this autumn include wearing cream from head to toe, pared back, everyday clothes made in good fabrics, trouser suits, variations on combat trousers, wide leg pants, sequins and dresses are still popular.

Maeve and Gwen
Maeve and Gwen are advocates of sustainable fashion and their mantra, inherited from their mother, is 'buy less, buy well, make it last'. "We believe in good quality at the best price, something that will last you," notes Gwen. They go as far as recycling packaging for sending out online orders.
Gwen officially started in The County Boutique in 1990 and oversaw a significant expansion of the store in 1995, extending their premises to the rear where once the Foresters' Club operated. Gwen was joined by her sister Maeve in the business in 2001 and together they have grown the business in Ennis, whilst also establishing a sister store in Nenagh in 2014. "The manager there is Gemma (Flannery) McSherry and her mum was our mum's best friend, so there's a strong connection there." In 2021 they introduced a new up-dated website www.countyboutique.ie to allow customers nationwide and further afield to shop online.
Maeve admits that it's a privilege to work alongside her sister in running The County Boutique. The pair place great importance on providing exclusivity and their main brands are exclusive to them in County Clare. "It's great to have each other in times of difficulty, we bounce things off each other and we do all the buying together, mainly to London, Paris, or Copenhagen."
Speaking about The County Boutique's offering, Gwen is grateful of their loyal support base, with customers who started shopping at No. 57 aged in their 30's continuing to shop there into their 80's "and a whole new customer base that the passage of time and our online website has brought us". She stresses, "The customer drives everything – all our decisions are based on what people are asking for. We like to think that we offer our customers great quality at the best price, affordable luxury in other words".
Maeve continues, "We are so grateful to the wonderful colleagues we have and have had, many with us for a long number of years such as Mary O'Dwyer, Moira Hill, Bridie Hanrahan and Catherine Shannon. We would not have survived and thrived without them."
"Most of all, we would not be where we are today without our fabulous customers so a massive thank you to them for shopping with us and trusting us," adds Gwen.