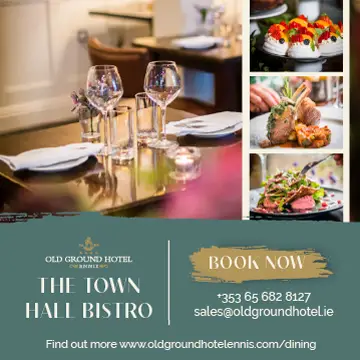 *Photograph: Martin Connolly
CLARE'S newly amalgamated Garda Division with Tipperary is comprised of six Superintendents but just one of these will be based in Co Clare while there are 33 less Garda members since 2018.
Effective since August 27th, the Division is led by Chief Superintendent Colm O'Sullivan who is primarily based in Ennis. He told The Clare Echo that he will also be working out of Tipperary, "I can't expect a person in Clonmel to travel all the way to Ennis to see me and likewise I couldn't expect a person from Loop Head to travel all the way to Thurles to see me. I've more time here, my base is here".
The six Superintendents attached to the Division are Supt Edmund Golden, Supt Ollie Baker, Supt Kieran Ruane, Supt John Ryan , Supt Conor Dillon and Det Supt James Tierney.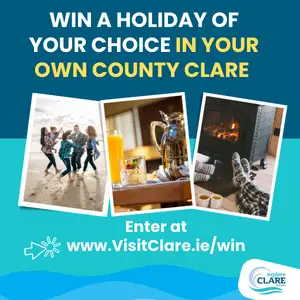 Of these six only Supt John Ryan will be based in Co Clare, the former Kilrush Superintendent is now working out of Ennis Garda Station with responsibility for the Clare Community Engagement area which stretches from Ennis to Kilkee to Ballyvaughan and Shannon .
Two-time All-Ireland winning Clare hurler Ollie Baker though he has responsibility for the East Clare and Tipperary North Community Engagement area which includes Killaloe, Scariff, Ogonnelloe, Tuamgraney, Mountshannon and Whitegate will be based out of Nenagh. Killaloe has not had a Superintendent since 2012.
Supt Golden and Supt Ruane will be working out Thurles and Clonmel Garda Stations respectively. Supt Dillon is leading the performance assurance functional area while Detective Supt Tierney is overseeing the crime equivalent. Neither of the duo will be working out of stations in Co Clare but will be covering the county.
At Tuesday's meeting of the Clare Joint Policing Committee, Cllr Alan O'Callaghan (FF) questioned the implication on policing resources in East Clare with the area now under the governance of a Superintendent based in Nenagh.
Speaking at the JPC meeting, Chief Supt O'Sullivan stressed that the amalgamation came about following a Government decision. He offered assurances to Cllr O'Callaghan that the quality of service in An Garda Síochána will not be impacted.
Although parts of East Clare are split under the model, O'Sullivan said the public can still bring their issues to any Garda Station. "Tulla is under the responsibility of John Ryan but they could be happy to pass Tulla on the way home and go to Scariff, it could be dealt with in same way, there will be no change in the delivery of these services. The rumours that Garda stations will close, that won't happen. If a person is living in Scariff or close to Scariff, their local Garda Station is Scariff, the only thing that has changed is the Superintendent is now in charge of a larger area and it is a larger functional area".
He said the Garda Division now has a Detective Superintendent which it hadn't previously. The changes will allow Gardaí "more time to do what they are supposed to be doing, we have four superintendents involved in community engagement and two with a divisional portfolio".
O'Sullivan insisted, "Clare is not getting a different service to Tipperary". He added, "it is important to have Gardaí with a divisional portfolio in the centre of the division, it wouldn't make sense to have one in Loop Head where they could be in Clonmel one day a week, they are in the centre of a geographical area where they have sensibility to get to an area far quicker".
When it was pointed out by Clare TD, Cathal Crowe (FF) that the majority of senior positions are "still in Tipperary", the Chief Supt replied, "that has to be got away from, this is a Government policy, these are the function areas recommended by the Commission of Future policing".
With Kilrush and Ennistymon no longer having a Superintendent, "there needs to be confidence in the system introduced," Cllr Joe Killeen (FF) stated.
"A couple of years ago, there was two Inspectors in Clare, there are now detective inspectors with responsibility for crime, an inspector based in Shannon for roads policing, we have four other inspectors based in Clare, one of which is in Kilrush. We have more inspectors than we had in 2011," O'Sullivan responded. He continued, "the way we do our business is changing but the service that has been provided has actually improved because we have teams of dedicated inspectors to deal with the crime".
There has been a reduction of 33 Garda members in Clare since 2018, Chief Supt O'Sullivan stated. "We are no different to any organisation, in Dublin they can't get people to go in as teachers, COVID hit us bad, the Garda training college in Templemore closed for two years and we had a reduction in numbers, people coming up to retire did and people reaching threshold for retirement, every Garda has to retire at 60 but some choose to retire at 52 or 54, they are entitled to do that and they have left".
Speaking to The Clare Echo, he elaborated on this point, "When I say 33 less Gardaí, overall it is down 23 Garda members across the Clare Division because some of those, yes at Garda rank we're down 33 guards but some of those were promoted into the rank of Superintendent and remained within the Clare Division or if they were transferred out they were replaced with Sergeants. We increased the number of Sergeants and Inspectors but we lost overall 23 people".
Mayor of the Ennis Municipal District, Cllr Pat Daly (FF) said the reduction of 33 Gardaí across the county was "very serious when you look at burglaries, thefts, drunk driving and assault. I hope we can get extra Gardaí in Clare because there is a lot of concern with what is going on in Ennis with cars seriously damaged in the train station, fighting on the streets and the drug problem".