16 more deaths and 266 new cases of COVID-19 have been recorded in the Republic of Ireland with most recent detail for Co Clare showing an increase of five cases.
A total of 1,319 COVID-19 related deaths have occurred in the country following confirmation that a further 16 more people that have tested positive for the virus have died.
An extra 266 cases are now known by the Health Protection Surveillance Centre (HPSC) as of 11am on Monday May 4th. It brings to 21,772 the amount of personnel that have received a positive diagnosis since the outbreak of the virus here in February.
Latest data for Co Clare which is from Saturday May 2nd state that there are now 245 cases. This is an increase on five from those diagnosed on Friday. The county still accounts for 1.1% of all cases in the country. It is the second highest increase in 24 hours of all Munster counties for this period but Clare still has the second lowest amount of cases in the province.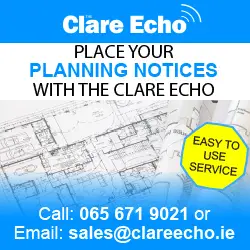 Offaly 314 (+9)
Kerry 298 (+3)
Kilkenny 259 (+1)
Clare 245 (+5)
Laois 237 (+3)
Longford 213 (+60)
Wexford 185 (0)
Roscommon 174 (0)
Waterford 140 (+1)
Carlow 127 (+1)
Sligo 117 (+2)
Leitrim 70 (+3)#COVID19
Longford with the second biggest increase across the county in 24 hours

— Páraic McMahon (@thepmanofficial) May 4, 2020
Detail from Saturday's 21,437 cases across the country show no change in the breakdown of cases by gender, 58% are female and 42% male with 49 years old still the median age. 2,840 of all those diagnosed have been hospitalised and 364 have been admitted to ICU.
Healthcare workers account for 6,211 of all cases with Dublin the COVID-19 hotspot (49%) in the country. Community transmission is attributed to 63% of cases, close contact to 34% and travel abroad at 3%.