*Photograph: Martin Connolly
A lack of progress on a greenway section from Ennis to Lahinch has been criticised by a county councillor with others stressing the need for the public to see the West Clare Greenway is progressing.
Earlier this month, €1.8bn in funding for sustainable transport, cycling and walking greenways was announced by the Government as part of the Budget.
€225,000 was recently obtained by Clare County Council under the Department of Transport's Carbon Tax Fund which will advance the appraisal, concept and feasibility of the West Clare Greenway.
Significant construction costs have been flagged by senior engineer, Seán Lenihan. He expected a €600,000 cost per km of the West Clare route working out at a bill of €51m.
An updated report with details on "likely completion dates for the sections of the previously commenced portion of the West Clare Greenway from Ennis to Lahinch," was requested by Cllr Johnny Flynn (FG), Cllr Ann Norton (IND), Cllr Alan O'Callaghan (FF) and Cllr Pat Daly (FF) at a recent meeting of the local authority.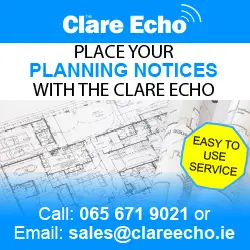 Lenihan advised that factors such as funding, land acquisition and statutory consents impeded the ability to give a timeline for completion. Working in tandem with local landowners and communities, he expected that the pilot phase of the project would be delivered by 2025 and the entire scheme by 2029. He believed it would result in "a wonderful piece of infrastructure for the county".
Reasons for the lack of progress on the Ennis to Lahinch scheme were requested by Cllr Flynn, "this hasn't progressed further since 2006 and 2007".
Difficulties may arise along the route from Ennis to Kilrush and Kilkee, Cllr Ann Norton (IND) felt. "It would be brilliant to have another amenity to draw people into the county," she stated. "I would like to see things progressing a small bit so we know the opportunity has not gone away. Everyone wants to be out walking, cycling, staying fit and healthy".
"Greenways have brought huge tourism products with it, I have no doubt Corofin will benefit from the West Clare Greenway," Cllr Pat Daly (FF) predicted.
Praise of the efforts to date was voiced by Cllr Ian Lynch (IND). "There are going to be difficulties everywhere but we have to keep going bit by bit and show people we are making progress".