BLUEBIRD Care, a leading homecare provider, is delighted to announce it has been successful in securing tenders to provide care for older persons in all nine Community Healthcare Organisations across Ireland.
The jobs, which will be spread across the country, will vary from Clinical Nurse Managers to Care Assistants and will add to the already outstanding team of 1,800 in place.
The homecare provider will be creating 20 new jobs in Clare owing to an increased demand for services in the local area and the regional growth of the company.
A recruitment fair will take place in Bluebird's local offices in 7 Market Place, Ennis, on September 12 between 10am to 4pm.
Local Franchise Director Kay Leahy said: "Bluebird Care are proud of the high-quality professional service they provide across Clare. We are delighted to announce that we are seeking to recruit a number of new staff in the coming months.
"These additional staff will allow us to increase our capacity and the professional range of services we provide to our customers. We're encouraging anyone who may have an interest in working in this exciting care sector to join us at our open day to learn more about the work we do."
The awarding of these contracts has accelerated Bluebird Care's growth plans for 2018/2019 and has led to the recruitment of over 450 new jobs across its 26 offices.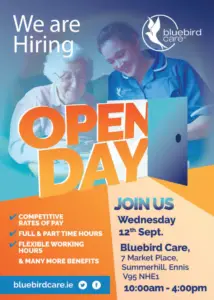 Driven by over 20 per cent growth over the last year, these roles will enable Bluebird Care to deliver high-quality, person-centred care for clients with a diverse range of needs.
With roles available across the country, including Kildare (30 openings), Dublin West (25 openings), Wexford (25 openings), Clare (20 openings), these jobs will be firmly rooted in the community, with a range of full and part time roles available.
MD of Bluebird Care Brian MacGoey commented: "We are proud to announce that Bluebird Care will be creating 450 jobs, adding to our already high calibre team of more than 1800 who are providing invaluable care day in day out across Ireland.
"Winning nine out of nine contracts with the Community Health Organisations further endorses Bluebird Care's commitment to standards of care and our ability to attract the best people.
"We are committed to providing high-quality, safe and effective care in our client's own home which is, more often than not, their preferred place of care. Our unique and dynamic working environment allows for rewarding and flexible employment opportunities for potential key staff.
"With this in mind, we are delighted to begin recruiting caring and compassionate people to join the Bluebird Care team.
"We are now inviting all interested and qualified persons to attend their nearest open day, details can be found on Bluebirdcare.ie, or to drop into your local Bluebird office to learn more about developing a gratifying career with one of Ireland's leading homecare companies, which holds the EIQA Q Mark for quality."