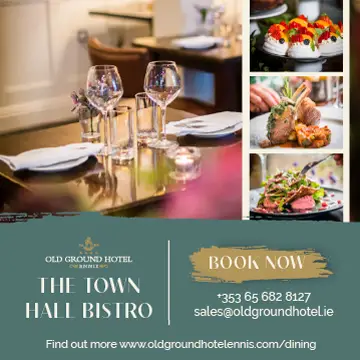 *David Fitzgerald is developing into one of the real leaders of the Clare team. Photograph: Gerard O'Neill
Eoin Brennan dishes out his player ratings following Clare's draw with Limerick on Sunday.
Brian Lohan's charges drew with Limerick 0-24 1-21 and in doing so kept their unbeaten status in this year's championship and also guaranteed a date with their neighbours in the Munster Final.
1: Eibhear Quilligan
Wasn't busy shot-wise which is unsurprising against a Limerick side content to shoot the scoreboard out rather than the lights. Couldn't do anything about Kyle Hayes' goal but outside of that wouldn't be tested again. Distributed puck-outs well considering the lack of space and Limerick's noteworthy physicality and provided an outlet for the full-back line in general play too, especially in the opening half.
Rating: 7
2: Rory Hayes
An outstanding swordsman at the top of his game whose swashbuckling performances have lit up the championship for Clare so far and made him a permanent starter on the National Team of the Week. Was left isolated with Seamus Flanagan for long periods but it's a sign of his current confidence that the Wolfe Tones defender didn't alter his trademark attacking style or revert to a more cautious approach.
Rating: 9
3: Conor Cleary
A much-anticipated rematch with Aaron Gillane didn't ultimately materialise but Cleary handled Kyle Hayes superbly, not only matching his noted physicality but was excellent in spoiling and beating his marker to the punch. In fact, the Kilmaley defender even followed the back-to-back All-Star out the field. Couldn't be faulted for the goal either. Produced his best display of the championship so far ahead of a fourth clash with Limerick in three week's time.
Rating: 8
4: Paul Flanagan
Another assured performance from the Ballyea defender who had to balance sweeping in behind Clare's last line with following roaming marker Conor Boylan out the field. Did lose the Na Piarsaigh impact player for the goal as Boylan caught a puck-out to race through and eventually offload to Kyles Hayes. However, Flanagan's unflappable coolness under pressure was immense and after Boylan was withdrawn, Graeme Mulcahy didn't fare any better on him.
Rating: 8
5: Diarmuid Ryan
Took time to get into his considerable stride but his hook in the 15th minute to stop Conor Boylan from shooting on goal provided the spark to quickly move through the gears for another leadership filled showing. Picked off an excellent point at the same juncture in each half and even teed up fellow wing-back David McInerney for another. In fact, Ryan actually outscored his marker Tom Morrissey who only managed a solitary point.
Rating: 8
6: John Conlon
Had to be disciplined in Clare's engine room as Limerick attempted to drag the Clonlara man out of position. Controlled matters well in the centre of the defence while also using David Reidy's [the Limerick one] deep-lying role to be a valuable puck-out option for Eibhear Quilligan. Teed up Tony Kelly for his first point from play from one such restart while his move to follow Reidy over to the sideline to eavesdrop on John Kiely and Paul Kinnerk's instructions was brilliantly entertaining.
Rating: 8
7: David McInerney
Remarkably for a player that only scored twelve points in his first 39 championship appearances, David McInerney's 2022 renaissance at wing-back has already yielded three points in as many matches. Indeed, the Tulla man is one of only five Banner players to score in every game along with Tony Kelly, Ryan Taylor, David Fitzgerald and Diarmuid Ryan. Did as well as possible on Gearoid Hegarty and roamed the left wing well in an attacking sense in the second period.
Rating: 8
10: Cathal Malone
It was quite difficult to hurl or find space in a kiln-like congested middle third but physically Malone was able to match Limerick's central generals and gain a foothold. Didn't get on the scoreboard but was just as effective in directly setting up three points for others including a remarkable linkage with Diarmuid Ryan as the Sixmilebridge player teed up his Garneyside neighbour for both of his singles.
Rating: 7
22: Jason McCarthy
Only McCarthy senior's fourth ever championship start and due to Ian Galvin's suspension, his first of 2022 as aside from a late cameo against Tipperary, he had seen little action so far. Appeared to be brought in to add a physical edge to Clare's midfield against Will O'Donoghue and Robbie Hanley but much like his partner Cathal Malone found it extremely claustrophobic to operate fully and was withdrawn at the break in favour of debutant Shane Meehan.
Rating: 6
8: David Fitzgerald
Getting better and more influential with every passing game and is now a real leader on this team.
Was a real force of nature up and down the right wing all afternoon and gave Dan Morrissey a torrid time when running at him. Set the tone for the derby battle with Clare's first point from distance before doubling his tally at the start of the second quarter. Was the architect for three more for others including the final point for Ryan Taylor.
Rating: 9
12: Shane O'Donnell
Not as central or prominent in possession or puck-outs than the previous ties against Tipperary and Cork but worked hard for the team and because of the attention he garners, his runs made space for Tony Kelly in particular to exploit and invariably score. Did also win a free for Kelly to ensure a half-time stalemate and will require no additional motivation when facing Limerick once more in the Munster Final.
Rating: 6
15: Ryan Taylor
Took time to adjust to the physical demands of the most intense Shannonside derby in living memory but once switched to midfield for the second period, grew exponentially into the contest to pull the strings and take advantage of the increasing space due to the inevitable fatigue on both sides of the divide. That was clearly demonstrated by securing two of Clare's last three points, both of which could have been goal chances if the timing weren't so critical.
Rating: 7
11: Tony Kelly
Clare supporters are privileged to be able to witness such breath-taking mastery on a regular basis as Kelly has been utterly sensational since the return of life from the first lockdown in 2020. Really thrives against Limerick anyway but this time he almost singlehandedly stood up to the All-Ireland champions to rack up 16 of Clare's first 19 points in just 44 minutes. That included five points from play, one from almost on the end-line in the second half. Mesmerising performance.
Rating: 10
14: Peter Duggan
Much like Shane O'Donnell, Duggan wasn't to the fore as much as in the last two provincial outings when tormenting Tipperary and Cork to raid for a combined tally of 1-5. Stationed at full-forward throughout on Sunday but despite having a height superiority, was marshalled well by Mike Casey. Didn't score but broke an early puck-out for Kelly to score while also having a hand in two of the last three points to ensure that he will contest a third Munster decider.
Rating: 6
13: Robin Mounsey
After revelling in the spaces and defensive chasms that Clare's rotating forwards created in his first two championship appearances, Mounsey wasn't\t afforded the same leeway against the three-in-a-row Munster champions on Sunday. In particular, Limerick's seasoned conditioning caused the versatile Ruan to lose possession in the tackle and was eventually replaced near the turn of the final quarter by the experienced David Reidy.
Rating: 6
Subs:
19: Shane Meehan
Was named to start against Tipperary only for a hamstring injury to deny him the opportunity to finally make his senior championship debut. It finally happened on Sunday and was totally worth the wait as Meehan added significantly to Clare's armoury, both in attack with a late point as well as foraging deep for valuable possession
Rating: 7
26: David Reidy
A welcome and celebrated return from knee surgery for his first appearance in three and a half months and got straight back into the action.
Rating: 6
25: Aron Shanagher
Introduced too late to be rated